Micronesia Escapes & Hideaways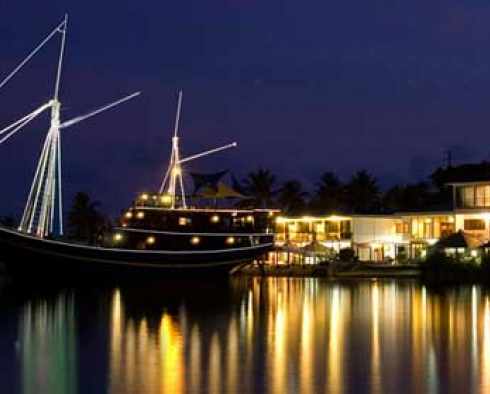 on the beach, From £137
Manta Ray Bay Resort
Yap, Micronesia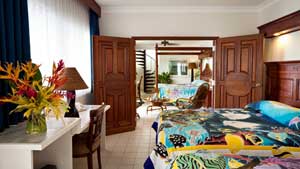 Manta Ray Bay has all of the services and conveniences for divers and non-divers alike. Take a dip in the infinity pool and soak up some Micronesian sun.
ACCOMMODATION
The motif of the entire hotel is marine life with each of the rooms individually decorated in tropical elegance. Each room bears a fish name, and is decorated accordingly, with photographs and paintings of that fish, hand-carved door, hand carved key chains and handmade bedspreads.
Each of the uniquely themed rooms offer air conditioning, refrigerators (upon request), IDD telephone, Internet Access and in-room TV and DVD player.

The Deluxe Ocean View rooms are our finest rooms. These rooms feature stunning ocean-views, king sized beds, private patios and unique interior features. Some of these rooms have private plunge pools, or fantastic stone showers or even a private rooftop jacuzzi! They are all unique and equally elegant.
Each individually themed Ocean View Room features a breathtaking view of the lagoon. Wake up to a beautiful sunrise reflecting off of the still waters. Ocen View Rooms are well appointed in tropical style and featues either one or two queen-sized beds. Some rooms even have water beds!
Each unique Standard Room is well appointed in tropical style and featues either one or two queen-sized beds. The standard rooms are on the opposite side of the resort with views of the hills and beyond.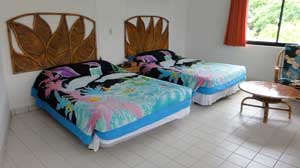 AMENITIES & FACILITIES
Mnuw restaurant & bar
The Mnuw is the most unique restaurant and bar in Micronesia if not the world. She is a 170ft (55m) Phinisi schooner from Indonesia with 3 dining decks, 2 bars and her kitchen all on board. Start your day with a gorgeous sunrise during breakfast. Or, unwind after a full day of activities with a cold beer or tropical beverage while swapping sea stories. Imagine, rough-hewn beams and floors, teak walls, wall sconces, cozy nooks, the wooden aroma and decoration of times gone by, intimate lighting, now you can "feel" the Restaurant.
Located on the main deck of the "SV Mnuw", Manta Ray's very own hundred year old South Seas Schooner, enjoy the fine view through panoramic windows and then let us pamper you.
The food is inspired by Asian, local and European recipes with generous portions which are both wholesome and delicious. Daily delights such as homemade pizza, hamburgers and cheeseburgers and fresh fish sandwiches can be found on the daily menu.
A delicious "finger food" is the "Yap Wrap" - grated tapioca mixed with spicy pork or chicken and wrapped and baked in a banana leaf. Home made succulent deserts and ice cream creations add to the overall dining experience.
Top this off with our very own micro brewed beer from its very own Stone Money Brewing Company and you begin to understand why this restaurant is a hard to leave venue.
On the roomy top deck of the Mnuw is the "Crows Nest Bar," and there's no finer place to imbibe a bit in the open air overlooking the sea. It is a great place to end a day of diving, sipping on a tropical beverage prepared right before your eyes or a tasty stone Money brew on tap. Full menu from the restaurant is also being served up here as well.
On the GIGANTIC movie screen, the resort often shows a mixture of Yap's finest diving, guest productions and mainstream movies. There's nothing quite like watching a movie outside, on the deck of a schooner, on a tropical island, with a nice cold beverage after a day of breathtaking diving.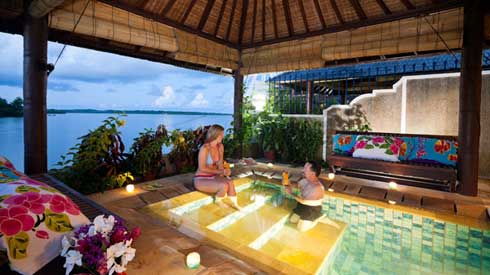 SPA
The Taro Leaf Spa was opened in February 2009 and takes the best of everything that is Yapese to bring you an experience that will, relax, energize, invigorate, revitalize and harmonize you. The decor of the spa is based on island themes and all of the products use locally sourced plants.
The spa has a welcoming reception and waiting area, which is filled with exotic fragrances. You will be given your own Taro Leaf robe and shorts to change. Each guest will have their own private locker to keep valuables secure.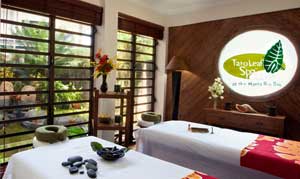 The Taro Leaf spa has two treatment rooms. Frangipani is named after a beautiful fragrant flower that grows in abundance around the island. This room has two massage beds, so it is ideal for two friends to have treatments at the same time. The wooden paneling and abundance of flowers makes this room feel at one with nature. Kokoris, named after the white ginger flower that grows on the island, is the second treatment room, which has a massage bed and a stone bath, Almeria. This bath is hewn from one piece of solid rock and polished to a smooth finish. This room opens out into private garden with relaxing waterfall to make the whole setting feel very tranquil indeed.
There are a wide range of treatments available, so there is really something to meet everyone's needs, whether you have tired muscles from a day's diving or you just want to pamper yourself for a few hours.
DIVE CENTER
Yap Divers, located on the premises, offers a full service dive shop, all levels of instruction, Mares & Oceanic rental equipment, morning and afternoon two tank dives to either the Manta sites or the reefs and walls. A number of specialty dives are also offered on a daily basis - Mandarin Fish, Macro, Shark Feed and night dives. NITROX is also available for all dives.
2015 Accommodation Rates (USD $)
Standard Room
Single: $179
Double: $258
Ocean View Room
Single: $209
Double: $278
Deluxe Ocean View Room
Single: $289
Double: $378
*Extra person (max. 2 pax): $99/pp
*Room rates include breakfast
*Yap State requires a 10% hotel tax to be added to room rates above.
*Full Meal Package: Lunch & Dinner = $49/per day
*Extra $33 for late check out (check out time 6pm), plus 10% tax
*Extra $89 for "Midnight Special" (check out time 1am), plus 10% tax
* Rollaway beds are available upon request
*Children Rates:
- Children under 4 years old sharing parents' room are free of charge (including snorkeling and tours when accompanied by parents).
- Children 4 to 10 sharing parents' room pay 50% of the above rates (including diving and tours when accompanied by parents).
- Children 11 to 15 sharing parents' room pay 80% of the above rates (including diving and tours when accompanied by parents).
browse all escapes & hideaways
* NOTE. Prices indicated on this website are shown as a guideline only and may be subject to currency fluctuations, banking fees and other changes outside our control. Pricing information is available in
other currencies
.