Philippines Escapes & Hideaways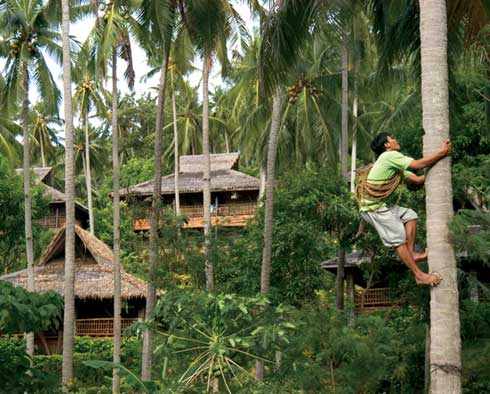 on the beach, From £16
Coco Beach
Puerto Galera, Mindoro Oriental, Philippines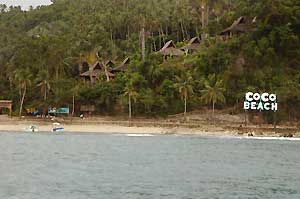 A Symbiosis favourite, Coco Beach is located on its own private beach in a cove wrapped by steep, richly forested hills. Construction is entirely from renewable, native materials - coconut wood, bamboo and nipa palm thatch - that blend perfectly into the natural environment.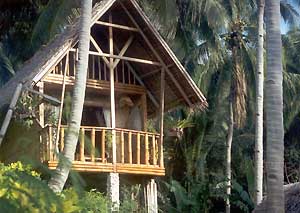 Coco Beach Island Resort is staffed by local families from the Puerto Galera area all of whom have a stake in the resort's success, and this all helps to contribute to the cozy ambience and uniquely Filipino style. This is a happy place. What it loses in professionalism it more than makes up for in charm.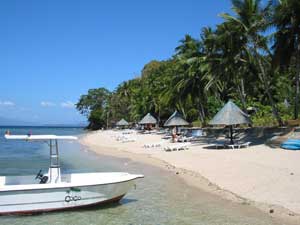 Coco Beach is the largest hotel in Puerto Galera with around about 100 Rooms but, since it is sited on a huge 10 hectare area, every cottage feels wonderfully private. Plenty of room for its four restaurants, two swimming pools, tennis court, hanging bridge, basketball court and children's playground... all designed to blend in with the natural environment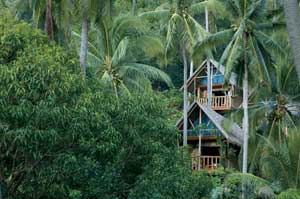 Although the huts are made entirely of native materials, Coco Beach's Danish and Filipino owners have incorporated many contemporary touches to make it comfortable. All rooms have their own private shower and toilet.
Dive Shop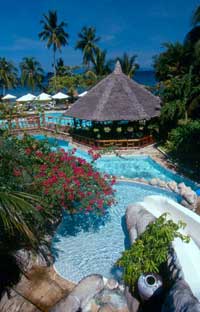 Coco Beach Divers, the in house dive centre, is well equipped with up to date Scubapro and Seaquest dive gear for rent. There is a large area for equipment wash-off and an area for safekeeping, class/video room, etc.
Bar and Music Lounge with Billiards
A place to relax in the evening, the huge round bar is a good place to sit with a good drink and talk with other guests or with the bartenders who might challenge you some cork games or a round of billiard.
Other facitilies
Internet Cafe
Medical Clinic: open from 8:00am to 8:00pm. Doctor and nurse on call 24 hours a day
Beauty Parlor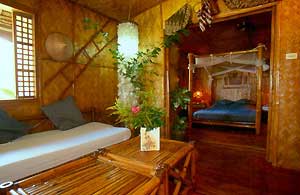 Library: a small selection of books, mostly love novels.
TV - Video Room
And many more
Full size Basketball and Tennis Court
Sports facilities
Swiming pool with separate Children's slide
Swiming pool with Jaccuzi
Coco Fitness Gym
Hammer Jeep
Massage Room
Tailor Shop
Accommodation:
There are several room types at Coco Beach: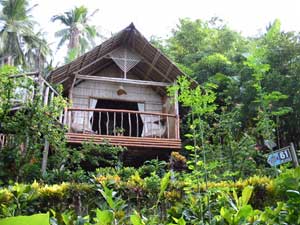 Banana Deluxe House
A single house with only one room plus bathroom located on the hillside with excellent views out to sea. They are very private - so private that there is not even a door to the large balcony - just a curtain separating you from the nature.
Super Banana Deluxe
Similar to an ordinary Banana House but with a small attic upstairs suitable for up to two small children. These houses are located highest up the hillside and may require a 10 minute to walk reach.
Bungalow / Old Classic Deluxe
These are the original rooms - each bungalow contains two rooms and are good for families or for two couples who want to stay near each other. All bungalows have a private balcony with hammock and seaview. Only 2 of these rooms are on ground level, but quite far from the restaurant.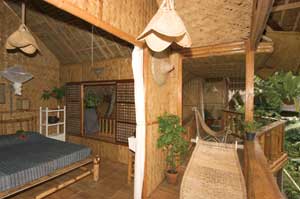 Suite Room

From the outside it looks similar to the bungalow deluxe rooms... but inside it is a lot larger. Each has a small sitting area with the bedroom separated by a sliding door. It has it's own private toilet and bathroom... And it's own private balcony with hammock.
Family Deluxe Room
4 very large two-floor cottages with a total of 16 family deluxe rooms. These are Coco Beach's most luxurious rooms.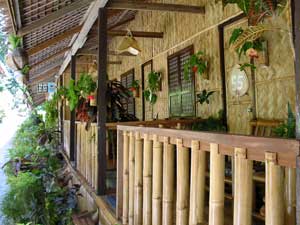 Standard Room
Located at the back of the resort near the basketball and tennis courts, no seaview. Contained in s a single building, rooms are small but squeeze in up to 4 persons using a a unique bunk bed system - actually 3 beds, 1 double bed and 2 single beds.
Heritage

Heritage is a single building that has twelve air-condition rooms, each named after tribes in the Philippines. Each room has one day bed downstairs and a stair going to the attic where two more beds are located, a bathroom and separate toilet. Heritage is located at the back of the cove so there is no seaview. The Fiesta Pavilion is on the top floor which can accomodate up to a thousand guests. The Heritage is typically booked by local companies for overnight conferences.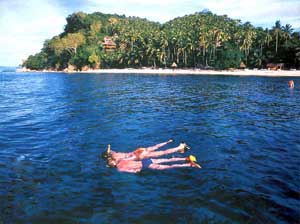 At a glance::
* Name : Coco Beach Resort
* Destination : Philippines
* Location : Coco Beach is set on a private beach on the northern tip of Mindoro Island, accessible by boat from Puerto Galera or from the string of nearby beaches: Sabang, Small La Laguna or Big La Laguna. From Manila, 4 hours by road and ferry (or private boat).
* Seasons : Year round. Best time Jan to June. Typhoons possible July to December.
* Capacity : 200+
Room Facilities
Room Types : Several different kids of rooms including private chalets with panoramic views to the sea, family rooms, air-con rooms high on the hill behind the beach
Showers & toilets : en suite
A/C : Some
Hot Water : Yes
Safety boxes: in every room
Electricity : 220V, 2 pin (flat)
Entertainment: Pool, kayaks, dive centre, beach volleyball, bar & restaurant
Safety
* Fire warning system : Yes
* Fire extinguishers : Yes
* Fire escapes : N/A
Dive location & resources
* Dive location : All the dive sitesof Puerto Galera. including the famous Verde Island
* Dive facilities : Fully equipped dive centre offering PADI dive courses fom beginner to instructor level
Room Rates 2011-2012 (per room in USD)
Season:
Lean
Regular
Peak
Standard
44.80
67.20
89.60
Deluxe
67.20
89.60
112.00
Suite
Hilltop
Heritage (A/c)
89.60
112.00
134.40
Seasons:
Lean: 01 May to 31 October 2011
Regular: 01 November to 30 April, excluing Christmas & Easter Holy Week
Peak: Christmas (22 Dec to 01 Jan) & Easter (21-24 April 2011)
Prices include 12% Government tax
browse all escapes & hideaways
* NOTE. Prices indicated on this website are shown as a guideline only and may be subject to currency fluctuations, banking fees and other changes outside our control. Pricing information is available in
other currencies
.