Philippines Escapes & Hideaways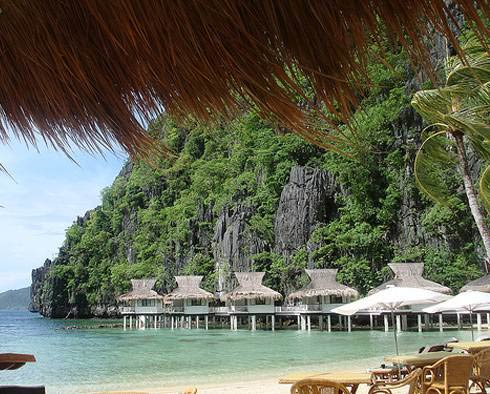 on the beach, Price upon request
Miniloc Island Resort
El Nido, Philippines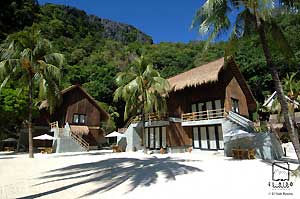 Miniloc Island is set in a cove with a backdrop of sheer limestone cliffs. It has crystal clear water teeming with different kinds of tropical fishes. At the end of the pier, guests can snorkel alongside 3-foot long groupers and hundreds of sergeant majors, damsel fish, fusiliers, and other multi-colored tropical fishes.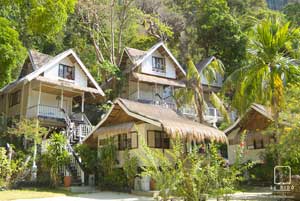 El Nido Resorts continuously proves to be one of the best resorts in the world, proof of it are the first class facilities and impeccable service, not to mention the numerous recognitions it has received both from the local and in the international scene. The prestigious Philippine National Tourism Awards has bestowed Miniloc Island with numerous Resort of the Year awards for (category) A Resorts.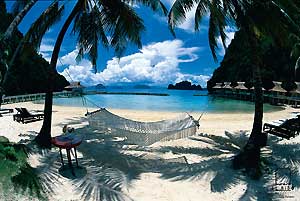 The resort has been elevated to Kalakbay Hall of Fame for successively winning the Resort of the year awards. In the international scene, El Nido Resorts is one of the twelve honorees and the only Philippine property to have made it to the prestigious Conde Nast Traveler Green List 2006. The honorees, consisting of resorts, tour operators and destinations, were chosen based on their environmental preservation efforts, involvement with local communities and the quality of guest experience.
Location: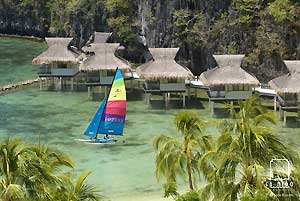 Miniloc Island, with a total land area of 224 hectares, is one of the largest islands in the El Nido Protected Area. Fringing the island are coral reefs that are good for snorkeling and diving. It is most famous for its lagoon - the most popular of which are the Big and Small Lagoons - which make an ideal site for kayaking, swimming, and snorkeling.
The other half of the El Nido Resorts duo, Miniloc Island Resort is set in a cove and is often associated with dramatic cliffs and hidden lagoons, not to mention its fine white sand beach.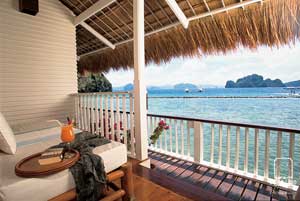 20 Exciting Land and Water Activities
El Nido Resorts guarantees its guests of an incredible list of free activities such as:
1 Guided tour at the Big Lagoon
2 Kayak in the small lagoon
3 Snorkel at the Miniloc house reef
4 Swim with our 1.5 meter jackfish
5 Relax at the Pangulasian Beach Club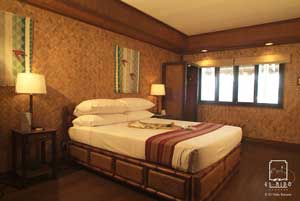 6 Hike to panoramic Pangulasian lookout
7 Introductory dive
8 Photograph Snake Island's sandbar
9 Explore Cudugnon Cave
10 Sunset cruise or cocktails at our Wreck Bar
11 Bottom fishing
12 Mangrove tour and birdwatching (subject to tide)
13 Hike and kayak at Lagen
14 Introductory rock climb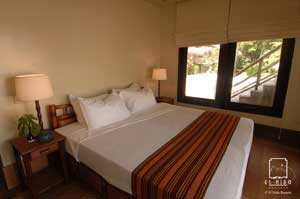 15 Sunbathe in over 100 private locations
16 Learn to windsurf at the resorts
17 Hobie cat sail around the islands
18 Kayak at your leisure at our three islands,
19 Pedal boat at the resorts.
20 Volleyball and badminton at the beach clubs
Accommodation: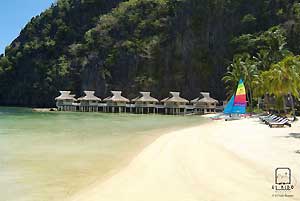 Miniloc Island Resort has a total of 43 native-style cottages and rooms, all built from local materials. There are six accommodation styles to choose from: 7 Water Cottages and 5 Seaview Rooms built on stilts, 12 Garden Cottages and 4 Family Cottages surrounded by tropical plants, 3 Cliff Cottages nestled high in the hillside and 12 Beachside Rooms. All cottages and rooms are built facing the sea and have private verandahs that offer views of the cove and the nearby islands.

The local flavor extends to the interior of the cottages and rooms from the wooden floors and walls made of woven bamboo slats (locally called sawali) to furniture hand-made from natural materials such as bamboo and rattan.
All cottages and rooms have the following features: Individually controlled air-conditioner
Mini-bar
Writing desk/dresser
Room-to-room telephone
Daybed inside the room for Garden Cottages and in the verandah for Seaview Rooms, Water Cottages, and Cliff Cottages
Private toilet and shower facilities with hot and cold running water
Bath amenities including bio-degradable soap and shampoo
Hair dryer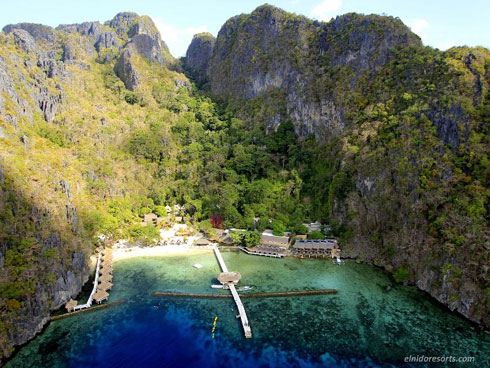 FACILITIES & SERVICES
Miniloc Island is one perfect destination for a tropical holiday with family and friends, honeymoon, or even business meetings as it provides the facilities and services fit for the said activities. At the Clubhouse terrace is the restaurant where guests have a view of the cove, the sea, and the nearby islands. The restaurant serves a selection of local and international cuisine, both buffet-style and a la carte.
Also located at the Clubhouse are the resort boutique and an air-conditioned conference room that can accommodate up to 40 persons.
The pavilion bar, game area, and video room are located at the center of the beach area. Nearby is the Marine Sports Center which is fully-equipped with snorkeling and diving gear, kayaks, windsurfing boards, aqua-bikes, and hobie cats.
Beach beds and bamboo cabanas are also lined along the fine white sand beach, especially made for those who wish to soak up the sun.

General Info
Name : El Nido Resort - Miniloc Island
Destination : Philippines
Location : El Nido, Northern Palawan,
Seasons : Low Season: June 1 to October 25 High Season: January 8 to May 31 November 5 to December 19 (except peak)Peak: January 1 to 7 February 16 to 25 April 1 to 8 April 27 to May 6 October 26 to November 4 December 20 to 31
Capacity : 130 (max. no. guests)
Room Facilities
Room Types : 7 Water Cottages built on stilts 5 Seaview Rooms built on stilts 12 Garden Cottages surrounded by tropical plants 4 Family Cottages surrounded by tropical plants 3 Cliff Cottages nestled high in the hillside 12 Beachside Rooms
Showers & toilets : Each room has a private toilet and shower with bath amenities and a hair dryer.
A/C : Yes
Hot Water : Both hot and cold running water are available in every room's shower facilities.
Entertainment :
Electricity : Electricity (220 volts, 60 cycles) is available 24 hours. Outlets are for plugs with two flat prongs. Transformers and adaptors are available at the resort.
Safety
Fire warning system : Smoke detectors are available in each room.
Fire extinguishers : Bedroom corridors are equipped with a fire extinguisher.
Fire escapes : The escape routes are clear of obstruction at all times.
Dive location & resources
Dive location : Palawan Diving
Dive facilities : 0
browse all escapes & hideaways
* NOTE. Prices indicated on this website are shown as a guideline only and may be subject to currency fluctuations, banking fees and other changes outside our control. Pricing information is available in
other currencies
.