Philippines Escapes & Hideaways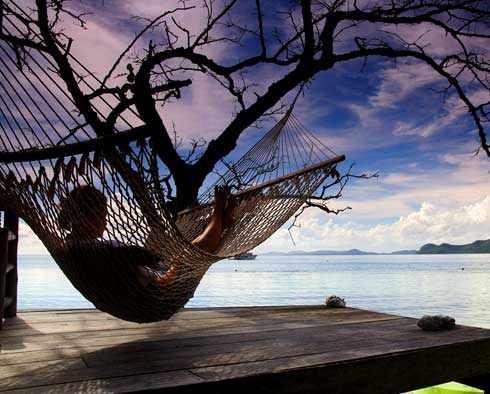 on the beach, Price upon request
Sangat Island Reserve
Busuanga And Coron, Philippines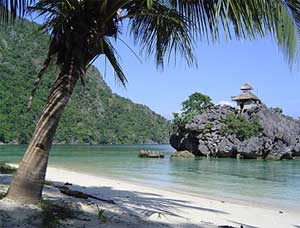 Sangat Island Reserve is located on a strip of brilliant white sand beach backed by towering karts limstone cliffs in Coron Bay, Northern Pawan, The Philippines. Right in front of the resort is one of the many Japanese WWII shipwrecks that litter this group of islands known as the Calamian Group, providing some of the philippines most exhilarating scuba diving.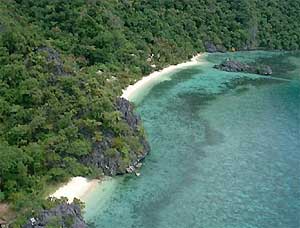 The resort has ten exclusive, individual cottage-style accommodations, all based on local architectural style and using local materials. All cottages offer exquisite views over the beach and Bay of Coron. Full decks on the cottages provide lovely views of the horizon in the day and the stars at night.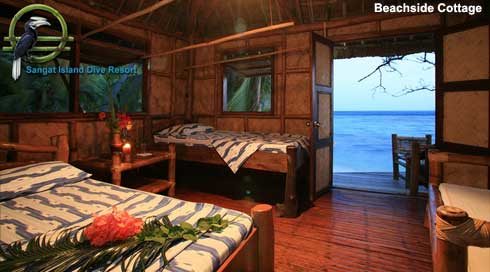 There are Beachfront Cottages, complete with all amenities and a chance to be lulled to sleep by the sound of the sea, and Cliffside Cottages where the guest awakes from sounds made by the variety of the island's bird life.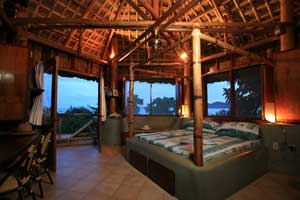 All cottages offer full bathroom and shower facilities and sleeping accommodations for up to three people. Designed and built according to the pattern utilized by the local peoples, only local materials are used by master craftsmen from the neighboring islands to build our cottages. In order to minimize damage to the ground cover, all cottages are built on stilts with overhanging decks for daytime relaxation. All cottages also have hammocks.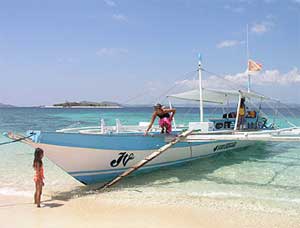 Sangat Island Reserve also has a wide variety of boats available for use. Our boats are designed and built by local craftsmen and can be used by the guest for a variety of activities. Boats, in fact, provide for all the logistics on the island as Sangat Island, ringing with limestone cliffs, is very difficult to traverse unless one is traveling by sea.For the real nature lovers who want the privacy of their own beach with the most exotic surrounding, Sangat Island Reserve now has available for rental a beautiful native style villa.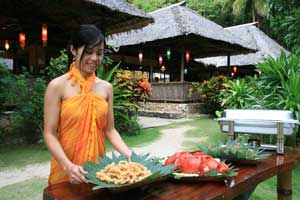 Sangat Island Reserve's beach-side restaurant offers international cuisine served buffet style. You will always be served a combination of fresh seafood delicacies and meats, vegetables, salads and fruits. Most of the foods are caught or picked on the day served. An emphasis on freshness and health are the objectives of the local Chef. All meals are buffet style with a wide variation of cooking styles from east to west.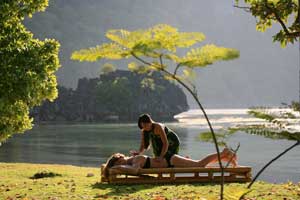 At the bar you can taste exotic cocktails, international wines or the famous local San Miguel beer. The closing hour is up to our guests.The natural white beaches of Sangat and surrounding islands, crystal blue and fresh water lakes of nearby Coron Island provide a wide variety of exquisite swimming opportunities for children and adults.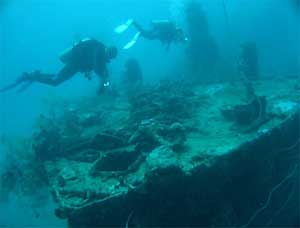 Sangat Island Reserve also houses a diving facility with a PADI certified instructor. Dive courses are offered for all levels of diving. In addition to diving equipment, the resort offers full snorkeling equipment. The unique location of the resort provides access to more than 12 shipwrecks within a one hour distance from the beach (6 within 10 minutes). Resort facilities include a diving centre, restaurant, lounge and bar. The beachfront setting provides easy access to snorkeling and boating activities.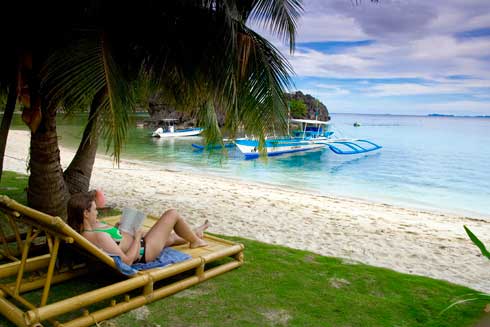 General Info
Name : Sangat Island Reserve
Destination : Philippines
Location : south coast of Busuanga
Seasons : Year round, typhoons possible June to December. Best time Jan to May
Capacity : not many!
Room Facilities
Room Types : Single, Double, Triple bedroomss
Showers & toilets : en suite
A/C : No
Hot Water : No
Entertainment : Diving, snorkelling, Kayaking, Island Hopping, Caluit Wildlife Park day trip possible
Electricity : 220V
Dive location & resources
Dive location : Coron Wrecks
Dive facilities : Inhouse Dive Centre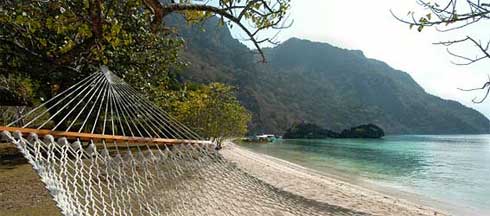 browse all escapes & hideaways
* NOTE. Prices indicated on this website are shown as a guideline only and may be subject to currency fluctuations, banking fees and other changes outside our control. Pricing information is available in
other currencies
.