Vietnam Escapes & Hideaways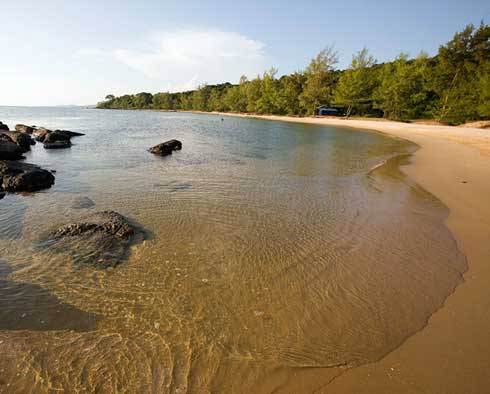 on the beach, From £39
Mango Bay
Phu Quoc Island, Vietnam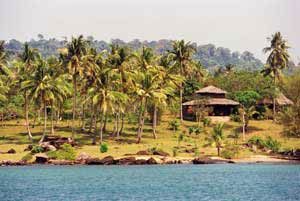 Mango Bay, 15 minutes north of Phu Quoc airport, offers an uniquely relaxing atmosphere with two deserted white sand beaches facing Vietnam's best ocean sunset.
This is a low density resort, driven by a passion for the environment, intelligent use of materials, and a strong support for island culture. Mango Bay is ticked away off the beaten track, with Vietam's first rammed earth bungalows, enclosed by beach and protected forest.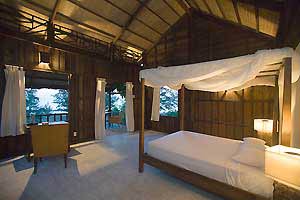 There are no aircons, television sets or telephones in the rooms - this is Phu Quocs first genuine eco-resort.
Most rooms have open sea views and offer mosquito nets, overhead fans, al fresco bathrooms and solar powered hot water.
The resort covers twenty hectares and includes one kilometer of coastline, two beaches - "Coconut Beach" and "Casuarina Beach" - and is surrounded by protected forest. Vegetation comprises endemic plants only, most of which date from before development occurred. Offshore there is a reef and smooth rocks, offering great snorkeling amongst coral and fish.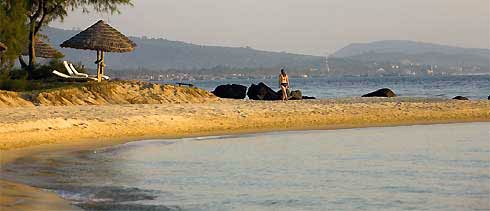 Accomodation
Accommodation at Mango Bay comprises 31 rooms and bungalows, spread along 700m of beach, and set in 20 hectares of indigenous natural forest and garden.
All rooms have been constructed using natural materials from the island.
Interiors are furnished with overhead fans, locally-made four poster beds and wooden furniture, and cotton mosquito nets. Most rooms have outdoor bathrooms overlooking the forest behind. Hot water is provided through solar panels.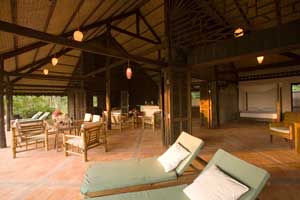 Reef House
A 120 sqm private house set on a ridge with spectacular views to the sea, comprising 2 double bedrooms and open-plan living/dining room. Perfect for a family or group of friends. Catering facilities include fridge, BBQ and CD player. Breakfast and other meals can be served in the Reef House by arrangement. Adjoining this is a separate stone bungalow with double bed and en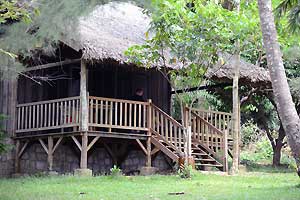 suite bathroom that is well situated for extra kids or nanny. Garden bathrooms.
Plantation Bungalow
11 large wooden bungalows (40 to 60 sqm) with leaf thatched roofs, spacious balconies, and views to the sea. Garden bathrooms.
8 rammed earth bungalows: Solid, cool rammed earth walls, leaf thatched roofs and spacious decks. All are equipped with ceiling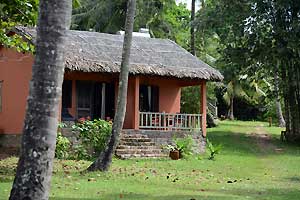 fans, four-poster beds draped with cotton mosquito nets and wooden furniture. Outdoor bathrooms with solar powered hot water look straight out into jungle. These are the first Rammed earth buildings in Vietnam, an efficient environmentally friendly building technique using locally available soil to form walls with an attractive natural finish.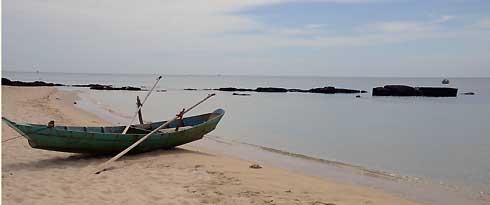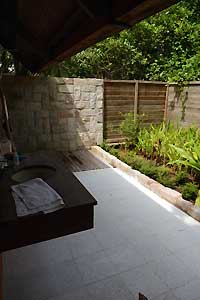 3 Fishermen's Cottages; these are traditional Phu Quoc fishermen's houses, transported and reassembled individually. They make spacious rooms, suitable for families. All have outside bathrooms, natural wooden decks and four-poster beds draped with cotton mosquito nets cooled by ceiling fans.
Family Bungalow
At 65 sqm with a double bedroom and en suite open-air bathroom, and a living room/2nd bedroom. Private balcony facing the sea. Garden bathroom.
5 "Verandah" Rooms: the Verandah is a large wooden and shaded area, built from 60 year-old seasoned timber. The Verandah rooms are more communal in nature and look out under the shadow of coconut palms onto the sea. Cotton mosquito nets and ceiling fans. All have private bathrooms, one of which is outdoors.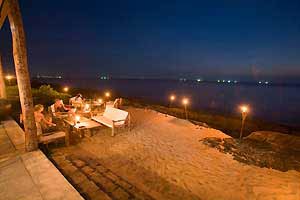 Mango Bay's restaurant sits right on the sea, atop smooth rocks against which the waves gently lap. The restaurant is casual, open air, built on a large tree frame, with leaf-thatched roof, rammed earth walls and hand-finished aggregate floor. Can sit 40 with ease and comfort.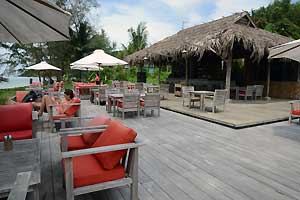 A 270-degree view, through three open sides, covers both north south and the inland natural vegetation. Guests can swim from the restaurant, or just sit and enjoy the finest big sky sunsets in Vietnam, with calm seas broken only by fish and fishermen. A shower is available if you wish to stop by for a drink straight after a swim.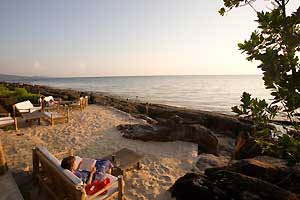 Mango Bay prides itself on an excellent seafood based menu. Fresh local seafood, and other ingredients are all sourced from the island's daily markets. They are cooked with love and presented simply and beautifully. Besides fresh fruit shakes and ice-cold beers, we are proud to have the best wine selection on offer on the island.
Decaf and herb teas are available. Breakfast at Mango Bay is included in room charges and includes coffee or tea, baguette with butter and jam and a fruit plate.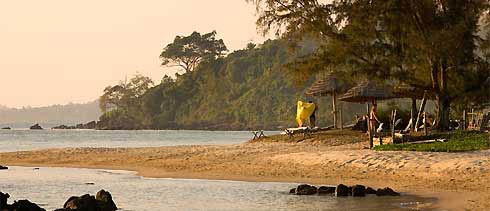 ENVIRONMENT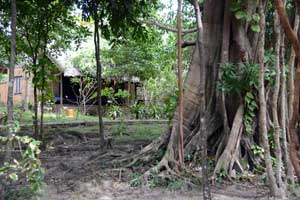 Onshore, the island is dotted with neatly nurtured pepper plantations, sustaining the country's largest pepper production concentration at its highest quality.
Above and around the pepper plantations lie sweeping banks and hillsides of natural forest – the largest stand of virgin forest in the southern part of Vietnam.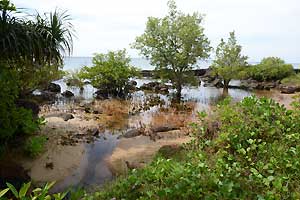 Aside from a rich ecology of creatures and plants – hornbills, eagles, bats, kingfishers, monkeys, gibbons, lizards and deer; orchids, rare timber, vanilla and cinnamon, Phu Quoc boasts its very own native species of dog – the highly intelligent Phu Quoc ridgeback. In the past the French used these beautiful animals for hunting elsewhere but they seem happiest living on the shores of the island.
Vegetation comprises endemic plants only, most of which date from before development occurred. Mango Bay grows its own crops of mangos, cashew nuts, apples, sour sop and pepper.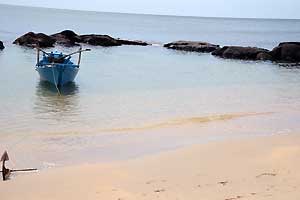 Offshore there is a reef and smooth rocks, offering great snorkeling amongst coral and fish. Birdlife is substantial. A couple of sea eagles are regulars at Coconut Beach and visit daily.
The owners believe in stewardship of res
ources for future generations. The forest immediately behind the resort is sustained and nurtured by Mango Bay. Thousands of trees have been planted under supervision over the past few years.
Recycling of waste, solar po
wered water heating, natural and locally sourced building materials are all constants of the management's approach.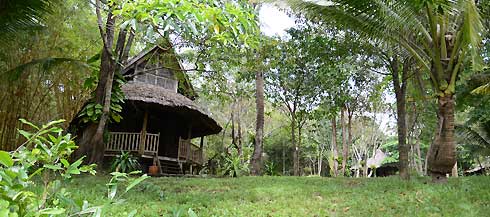 Prices in USD
Room Type
May-Jun
Sept
Jul-Aug
Oct-Nov
Mar-Apr
Dec-Feb
2012

2013
2012
2013
2013-2013
Verandah
55
55
85
85
100
Rammed Earth
70
70
110
110
125
Fisherman
65
70
100
110
125
Family
85
95
125
140
160
Plantation
85
95
125
140
160
Reef House
170
185
250
275
320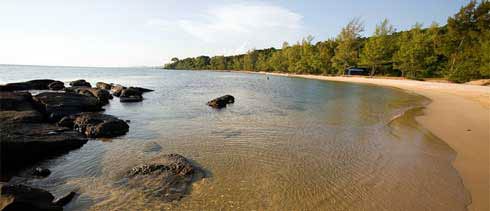 browse all escapes & hideaways
* NOTE. Prices indicated on this website are shown as a guideline only and may be subject to currency fluctuations, banking fees and other changes outside our control. Pricing information is available in
other currencies
.