Vietnam Escapes & Hideaways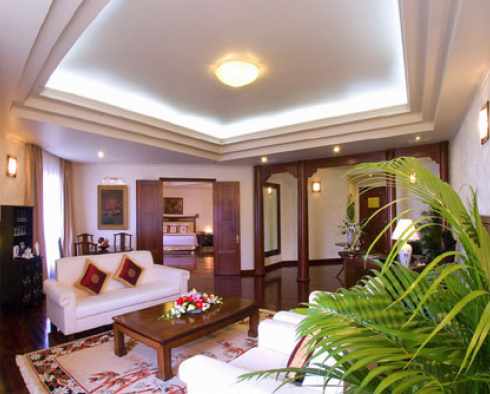 in town, Price upon request
Rex Hotel
Saigon, Vietnam
The Rex is just one of a number of hotels whose past is linked with well-chronicled historical events. However, for over 80 years the RexHotel has stood as one of Saigon's best-known landmarks.
Originally built as a French garage in the early 20th century, the Rex Hotel was expanded into a 6-floor trading centre in 1959, owned by Mr and Madame Ung Thi, King Bao Dai's relatives.
It was leased to the AmericanCulturalCenter in 1960, at which time the Abraham Lincoln Library was established on the ground floor. During the Vietnam war the American Information Service made its base at the hotel, which soon became the favorite haunt of U.S. officers and the scene of daily press briefings to foreign correspondents, or "five o'clock follies", as they were called.
Located in the heart of the Ho Chi Minh City, the Rex Hotel was rebuilt to become one of the city's most incredible addresses. It prides itself to offer guests many high-class facilities including 289 individually designed guestrooms, a range of function & meeting room's ideal for wedding, business or events, the La Cochinchine spa, and six in-house restaurants, cafe and bar.
The Rex Hotel's rooms and suites strike a balance between comfort and tradition, all carefully chosen to be enjoyable as original Vietnamese decor.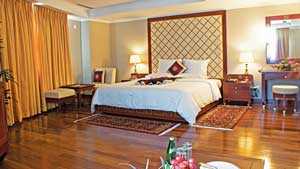 As one of the largest hotel complex of its kind in Ho Chi Minh City, the Rex offers unique products and sheer luxury within the three wings: New Wing, East Wing & West Wing.
286 guestrooms including 80 luxurious Suites and 01 Presidential Suite.
All rooms fully equipped with ADSL, wifi, IDD telephones, satellite TV, fire-alarm, in-room electronic safes, air-conditioning, hairdryers, tea/coffee making facilities and mini bars. Complimentary newspapers and magazines
Turn-down service
Rose Garden Grill & Beer marks its reopening with a total new image, exposed a wood floor, a white roof and inviting open air corner for enjoying fresh air. Whether you're craving meaty ribs, grilled oyster, or grilled wild pork with sate sauce, Rose Garden is a place for you. Soul food fans won't be unhappy with Grilled Minced Beef Paste on Lemon Grass with Peanut Sauce, Sautéed Australian Beef with Peppercorn, Grilled Horse Meat with Fermented Bean curd Sauce or Grilled German Style Veal Sausage with Sauerkraut & Potatoes…
Looking for the perfect beer to complement that juicy steak or smoky grilled chicken leg? You're sure to be impressed with the restaurant's top selections guaranteed to match up well with grilled meats and veggies on a sweltering summer day. Delicious, nutritious and refreshing, beer is a 100-percent natural way to unwind after a long, hot day. From wheat beers to summer ales and brisk lagers, the flavor possibilities are endless, so why not break out of the mass-market mold this summer with Budweiser, James Boag, Hoegaarden, Grolsch, Hofbrau, Moa Noir, Warsteiner Premium Verum Draft and much more…
Rooftop Garden - Known as "One of the Best Bars Of South East Asia" voted by the Newsweek Magazine in 1996, one of "1000 places to see before you die" listed by Patricia Schultz - the American Travel Writer.
Overlooking the very heart of the city, the Rooftop Garden is the place that the memories still remain, of which it recalls the world to its past famous calling "Five O'clock Follies", where international correspondents covered the Vietnam war, U.S officers and GIs had their drinking niche during the 60s.
Here you will be welcomed by warm & friendly staff 24 hours a day, and enjoy a round-the-clock meals & casual fare or savor your favorite evening cocktail. A variety of high quality drinks to suite everyone's taste.
Cung Dinh Restaurant - A fine dining restaurant that certaintly impresses gourmets with tasty Vietnamese dishes and traditional performance in a unique ambience of which its decoration is after the feudal Vietnamese royal court.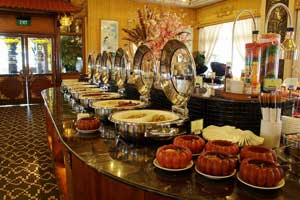 Diners can order authentic royal cuisine or specialities from Ha Noi, Hue or Sai Gon, such as various preparations of lobster, fish, and lotus rice. Live Vietnamese music often features a monochord and 16-string zither, or various solo performances. In addition, diners may hear the T'Rung, an instrument used in ethnic minorities' folk songs.
Hoa Mai Restaurant - Traditional Vietnamese cuisine together with Asian favorites with the addition of folklore music and dance will add up to an unforgettable dining experience.
Teppanyaki - An ideal place with authentic Japanese décor, suitable for a small group gathering in a warm and intimate, but yet luxurious atmosphere.
Tea Lounge - An airy and spacious lounge, facing to the sunny side garden. Ideally for intimate parties, banquets and company celebrations.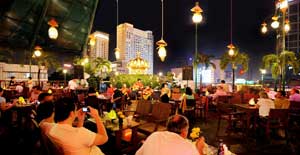 The Bingo Club is reserved for foreign patrons only. Please remember to bring your passport. We look forward to seeing you there. Good Luck!
The newly opened bingo club provides foreign guests the finest location in Ho Chi Minh City to try their luck on various games. Rex is proud to be able to offer many games, some for the first time available in Asia
La Cochinchine spa – is really 4 spas; the first spa being the Hand and foot care spa for inexpensive treatment in a luxury setting, The next spa areas are separate Men and women's spas; these areas feature large change rooms, Hydrotherapy areas with Vichy shower, herbal steam room, hot water Jacuzzi, and cold water Jacuzzi.
There are treatment rooms that feature showers for body scrubs and wraps additionally there are massage and facial rooms and a Thai massage rooms.
browse all escapes & hideaways
* NOTE. Prices indicated on this website are shown as a guideline only and may be subject to currency fluctuations, banking fees and other changes outside our control. Pricing information is available in
other currencies
.