Vietnam Escapes & Hideaways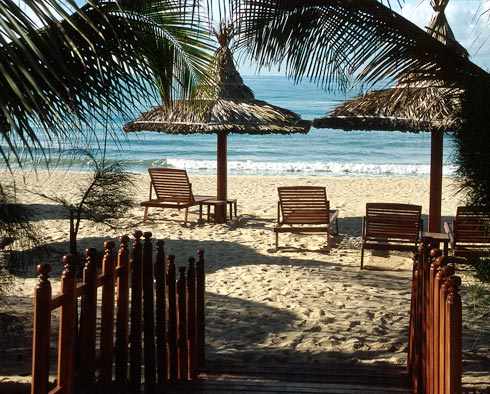 on the beach, From £84
Coco Beach Resort
Phan Tiet, Vietnam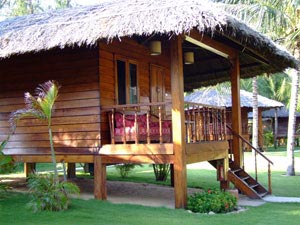 Coco Beach Resort was set-up in 1995 as the first Beach Resort in South-Vietnam by a French-German couple, Daniel and Jutta, who are still managing the Resort today.

Located on a small piece of land in the middle of Mui Né Bay, Coco Beach Resort has only 34 rooms, all facing a private Beach and the Ocean.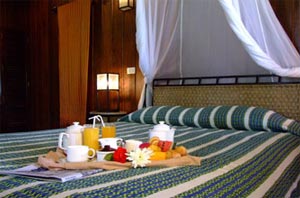 Sleeping
Coco Beach Resort has only 34 individual bungalow (one bedroom) and villa (two bedroom) accommodation (with a choice of queen size or twin beds) - these dotted across pretty manicured gardens.

The charming thatched roof bungalows and villas – discreetly reached by a series of small pathways –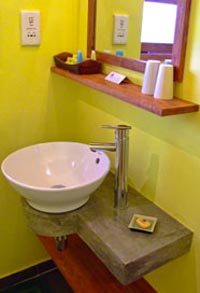 provide total privacy with their own private terraced areas and all face out to the resort's private strip of beach.

Although of an international standard with all modern amenities provided – rooms feature air-con, mini-bar, hairdryer, IDD telephone, room safe and stylish bathrooms – Coco Beach accommodation still offers a laid-back, traditional rustic charm, with tasteful ethnic décor touches both inside and out. To emphasise the relaxation element, televisions are not provided in the rooms.

Easting & Drinking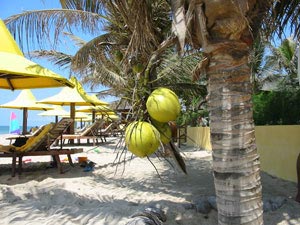 Paradise Beach Club
Open for breakfast, lunch and dinner, Paradise Beach Club is a nautically themed, timber beach restaurant right on the beach. Great cuisine served here features a wide choice of Asian specialties (Vietnamese and Thai), salads, pasta, meat and freshly caught seafood and fish.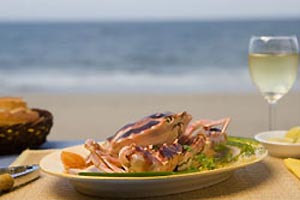 Additionally, every evening, an informal Seafood Barbecue is hosted here. Choose from dining at the bar, tables, or on Malibu-style lounge chairs gazing out to sea, perfect for catching stunning Mui Ne sunsets.

The Champa Restaurant is open only for Dinner and offers an excellent menu where the accent is placed on Mediterranean flavours. In the afternoon a selection of Coffees and Teas from all over the world are served here with an assortment of home-made pastries.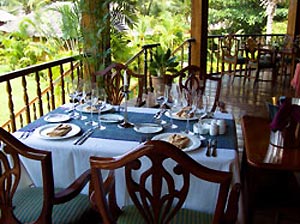 And for dinner, Champa Restaurant offers excellent cuisine with a large selection of fine wines and cigars. Décor is polished floorboards and delightful ethnic decor reflecting the regional culture.

Soft romantic lights, great service and a superb view out over the swimming pool and tropical gardens all combine to make this a pleasurable and romantic fine dining experience.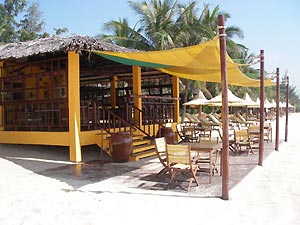 Beach Bar
Open from 9am to 7.30pm with an unbeatable location directly on the beach. Put your feet in the sand or sit in the wind-protected inside area.
Coco Beach's Beach Bar serves snacks, ice-creams, cold drinks and offer a large selection of cocktails to sip as the sun goes down.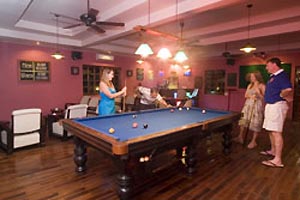 Dany's Pub
Centred around a 70 inches wide-screen plasma TV and our antique billiard table, this sports-bar offers a large variety of imported beers as well as an exhaustive list of cocktails and shooters. A cozy, comfortable decoration and subdued lighting give this bar a truly British Pub atmosphere. Open from 14:30 till late...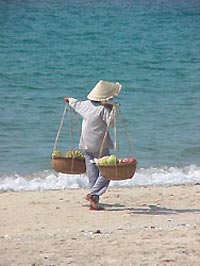 The Beach
The Bay of Mui Ne has the reputation to be the most beautiful seaside spot in Vietnam. After just a few minutes on our private beach, you will certainly agree.

And to relax even better, we offer you the possibility to get a full body massage while listening to the Ocean, everyday from 09:00 to 17:00.

Watersports at Coco Beach:

Motorboat for Waterski or Cruising
Sea Kayaks
Sailing Dinguies (Laser)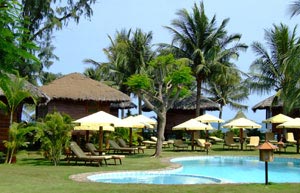 Swimming Pool
Coco Beach features a free-form swimming pool with whirlpool and children's pool, surrounded by comfortable long chairs for sunning.

Around the lush gardens you'll find plenty of hammocks to relax in.

A kids playground, table tennis and soccer are also close to the pool.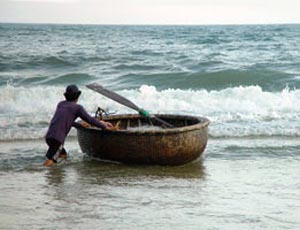 Attractions on and around the Mui Ne Peninsular

The Ocean Dunes Golf Club is a very well maintained 18 hole links course (Nick Faldo design), and a challenge for even the most skilled player. Resident Golf Pro Kenny Saunders can help you improve your game.

And the newly opened Sealinks Golf Course also offers 18 very challenging holes with beautiful views over the Mui Ne Bay.

Guests at Coco Beach receive a preferential green fee rate on both courses.

Coco Beach offers an extensive choice of half day and full day excursions to discover the area, including: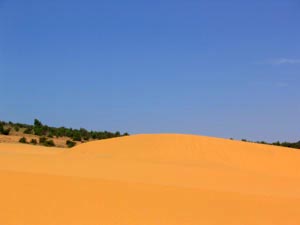 SAND DUNES
Take an excursion to Mui Ne or to the White Lake and discover these amazing dunes. A Jeep (and a driver) is available to take you there daily morning or afternoon, although we recommend an early morning start.

MOTORBOAT RIDE TO MUI NE
If you want to see what the coast looks like from a fisherman's point of view, you should try out a ride with Coco Beach's Motorboat. Start early at around 8 am and drive slowly along the coast to Mui Né. There you can see the fishing boats, of which you normally only see the lights at nighttime.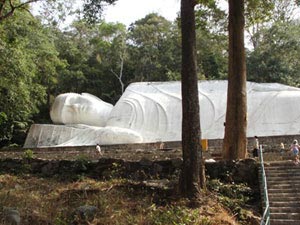 TA KU MOUNTAIN - SAKIYAMUNI BUDDHA
Ta Ku Mountain lies 25 km from Phan Thiet on the way to Saigon. After a 40 minutes drive, you'll arrive at Ta Ku Mountain, you will board a cable car for the ride up the hill. After a short climb through the forest, you will see a 49m long, 10m high lying Buddha statue. A breathtaking view over the valley also awaits you. These sights can be savoured while enjoying a picnic lunch.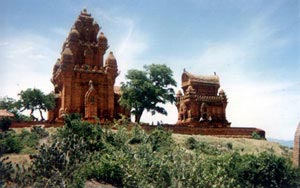 PHAN THIET CITY TOUR
Discover the City of Phan Thiet by Cyclo! The tour includes a visit to the Fishing Harbour, the Market, the Chinese Pagoda, the Ho Chi Minh Museum and a coffee break in a local coffee house. On the way back to Coco Beach, stop to visit the Po Chanus Cham Towers adorned with carvings of dancing goddesses. These towers are the remains of the ancient Champa Kingdom, which ruled the area until 1692.

NINH THUAN FULL DAY TOUR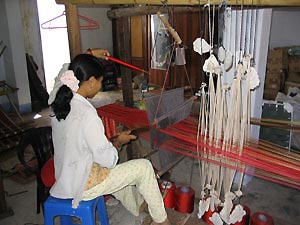 After a 2½ hour ride, you will reach a typical Cham Minority Village, where you can see how the famous Cham Fabrics are woven. Then continue to visit the PoKlong Garai Cham Towers, before having Lunch on the Ninh Chu Beach. Time to relax and swim before heading back to Phan Thiet.

DALAT - 2 DAY / 1 NIGHT TOUR
If you didn't have the chance to visit the highlands area yet, you may want to consider a 2 day trip to Dalat. The trip from Coco Beach to Dalat takes only 3 hours, passing through the sand dunes first and then winding up the mountain roads until arriving in the province of Lam Dong - the Flower Province of Vietnam. Beautiful landscape, cool weather and friendly people.
browse all escapes & hideaways
* NOTE. Prices indicated on this website are shown as a guideline only and may be subject to currency fluctuations, banking fees and other changes outside our control. Pricing information is available in
other currencies
.