Vietnam Escapes & Hideaways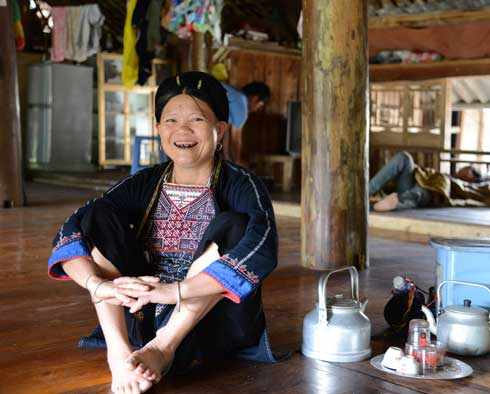 in the bush, From £12
La Vie Vu Linh Eco-lodge
Yen Bai, Vietnam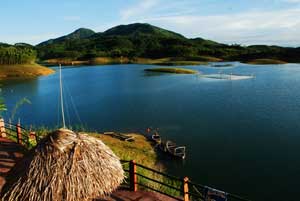 Located on the shores of North Vietnam's largest lake, La Vie Vu Linh is not a resort, but an ecolodge and a school, and the spirit of the place lies somewhere in between homestay and lodge. It is a sustainable development project acting in 3 main fields: education, environment, eco-tourism.
Education: the Vu Linh team is mostly composed by young local apprentices. In order to train them and to get them involved directly in the development of the project, a school has been opened to teach foreign languages, computing, accounting…
Environment: the project aims to be an ecological model for the region, by planting fruit trees, treating water, producing bio gas. The lodge is built mostly with natural materials (wood, bamboo, rammed earth and palm leaves for the roof), using as little concrete as possible.
Tourism: the part that economically supports the project. Earnings are reinvested to develop quality facilities for visitors who wish to come and discover the region. Benefits also cover the school and the ecological project expenses.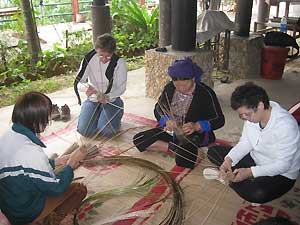 Tourism provides the main economic support of the La Vie Vu Linh project, providing 70% of the school's needs while the remaining 30% comes from self-funding, including the organising and hosting of special events. It is intended that the project will gradually evolve the teaching programme, adapting to the learning ability of the apprentices and the human resource needs of the project as a whole.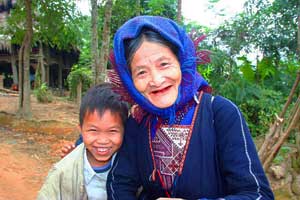 When you stay at La Vie Vu Linh, you will experience a genuine cultural exchange by sharing all the natural moments of the day with the local people - meals, discovery activities, cooking, drinks, sometimes ceremonies, and even some everyday work such as caring for fruit trees, building a traditional boat, or painting. On request, we can hire local artists for some simple representations, but most of the time, we interact with the local culture more than "watch it".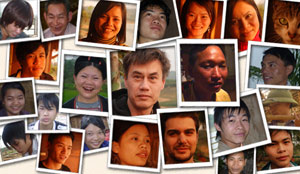 The team is composed of youngsters of several families from the villages around the Vu Linh area. The difference is that it is possible for the visitors to communicate directly with the villagers and staff of La Vie Vu Linh project, because they learn English and French at the La Vie Vu Linh school.

Accommodation at La Vie Vu Linh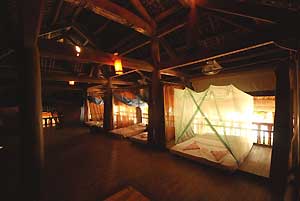 The main sleeping area is in an ethnic Dao wooden house on stilts. This house can accommodate up to 21 people in alcoves of 3 people, offering relative privacy, in a common area. Naturally venting through the roof and under the floor, the house features the traditional Dao beautiful roof style with massive, decorated beams, roofed in palm leaves, providing coolness in summer and warmth in winter.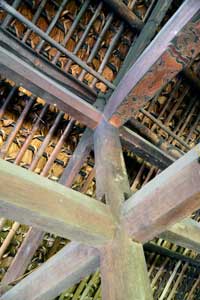 Comfortable floor mattresses are provided to sleep on with individual mosquito nets, pillows and blankets.

A square hearth in the floor is used for an open wood fire during colder months, the smoke helping to seal the roof and eliminate insects.

Washing facilities are provided by 2 two large, shared bathrooms, one with a traditional bath, just behind the main sleeping room.

Connected to the original house is a newer component with a radically different design from the traditional one, although wholly constructed from natural materials, mainly by compressed bamboo and wood.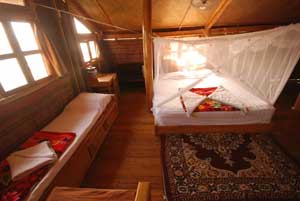 This house has 2 duplex studios with private bathrooms that can accommodate 2 to 8 people on two floors, with views over the lake. Each studio has 1 king size bed, with up to 3 optional individual mattresses in the second floor, private bathroom (including a large bath), air-fans, and a cool box with fresh drinks.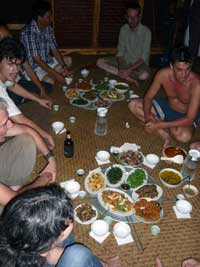 Eating at La Vie Vu Linh
At the end of each day hosts and guests eat together in the traditional Dao way, sitting on the floor and sharing delicious, freshly cooked local food, often accompanied by shots of rice whiskey with exhortations bidding good health! Other meals can be ordered from the kitchen, as required, or pic nics can be arranged depending on your day's activities.
Activities
There have a number of activities to keep you and your family occupied during your stay at La Vie Vu Linh. For those looking for a cultural immersion, you can:
Learn to cook in the traditional Dao way
Discover about the local plants and how to use them for medicine or for cooking
Learn how to catch fish and shrimps using traditional nets
Build bamboo constructions such as boats or huts
Practice traditional Dao weaving, or learn about other Dao arts and crafts
Depending on the time of your visit you might be able to participate in a Dao ceremony, help with the rice harvest or ploughing fields
Less immersive but still fun, you can:
Discover Thac Ba Lake: Tour in Ngoi Tu and in Thac Ba Lake by boat and by foot (4 hour trip).
Make a short cruise on Thac Ba Lake in a traditional boat and learn how to paddle with your feet
Rent a bicycle and explore Ngoi Tu village and the surrounding countryside
Rent a bamboo raft and explore the lake at your own leisure
Chill out and play around the Lodge with games such as ping-pong, badminton, petanque and chess
Swimm in Thac Ba Lake
Vu Linh community is located around 200km northwest of Hanoi and is a perfect start point for an exploration of the stunning northern part of Vietnam with its dramatic mountain passes and colourful minority tribal villages.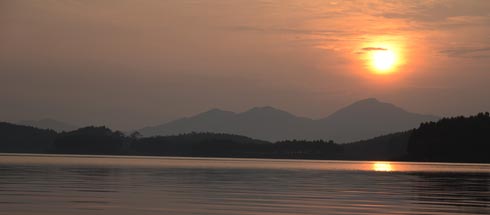 browse all escapes & hideaways
* NOTE. Prices indicated on this website are shown as a guideline only and may be subject to currency fluctuations, banking fees and other changes outside our control. Pricing information is available in
other currencies
.