Cambodia Cycle Touring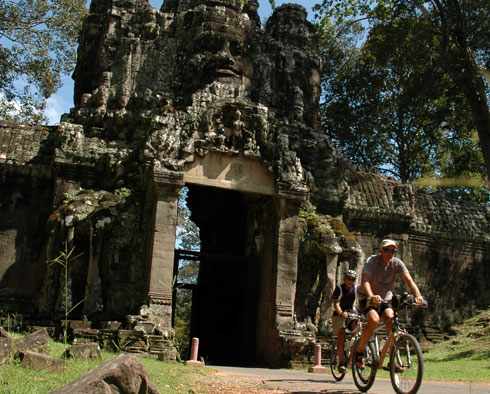 Price upon request
Bangkok to Saigon Cycle Challenge
Overview
|
Itinerary
|
About the charities we support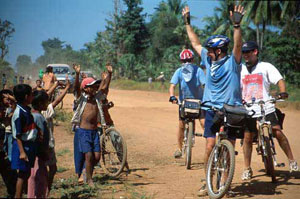 The Bangkok to Saigon Cycle Challenge is an exceptional 18 day, 1,200km mountain bike journey through three of South East Asia's most exotic countries, Thailand, Cambodia & Vietnam. The ride includes a 2-day stop at the majestic Angkor Wat -- the world's largest temple complex and a World Heritage site -- plus a day in the riverine capital, Phnom Penh, with its faded French colonial grandure.
As paticipant David Mantrop put it, the Bangkok to Saigon cycle challenge is "the toughest vacation you'll ever love!".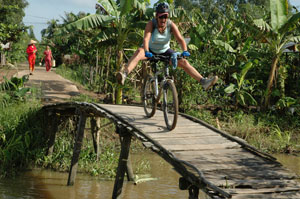 Over the 18 days cyclists travel through 3 contrasting countries -- Thailand, Cambodia and Vietnam -- and visit 3 major cities (including 2 capitals). Stand in awe of Angkor Wat, the world's largest religious edifice; sail across Southeast Asia's largest lake, the Tonle Sap; and experience the wonderful watery world of the Mekong Delta.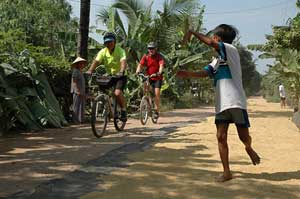 In addition to experiencing the highlights of the Southeast Asia trail, you will also be raising funds for less privileged children.
This fully supported cycle ride introduces you to the life and lives far away from the tourist track, where your senses will be bombarded with the sights, sounds, and smells of the Orient -- with each border crossing you will discover a new and very different country.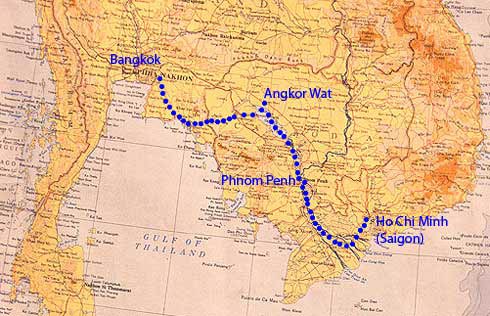 **2010 was the 10th and final year of running the Bangkok to Saigon Cycle Challenge as an annual charity fundraiser event. However it remains an exceptional adventure and we would be pleased to arrange it on a tailor-made basis for you and your group (or use it as a basis for something similar). Costs will need to be reassessed at the time of enquiring.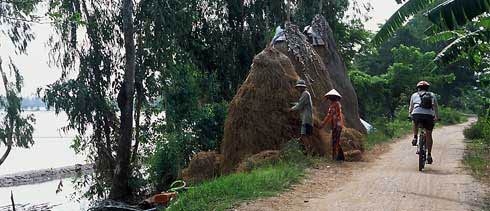 See some pictures from the B2S in 2008, courtesy of Jamie Urquhart... and from several past editions. More recently, Tim Krohn has posted his pics from the 2010 here: Batch 1 & batch 2.
Notes
THIS EPIC ADVENTURE CAN BE ORGANISED ON DEMAND TO MATCH YOUR DATES AND ASPIRATIONS. BEST FOR GROUPS OF 4 PEOPLE OR MORE.
* NOTE. Prices indicated on this website are shown as a guideline only and may be subject to currency fluctuations, banking fees and other changes outside our control. Pricing information is available in
other currencies
.