Cambodia Mountain Bike Tours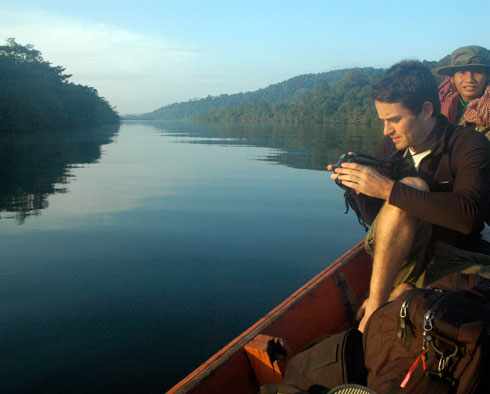 Price upon request
Chi Phat Ecotourism Adventures, Cardomom Mountains
Overview
|
Mountain Biking
|
Trekking
|
Boating & Kayaking
|
Bird Watching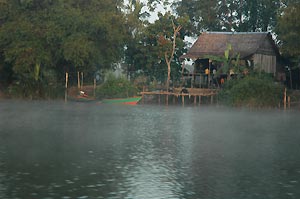 Chi Phat is located on the banks of the Phipot River and comprises four small villages (Chi Phat, Chaom Sla, Kam Lort, and Teuk Laork) of about 550 families. It is located in the heart of the Southern Cardamoms Protected Forest, an area that has been severely affected by warfare, commercial logging, and hunting. Economic development was stalled for decades due to conflict, abuse of resources and communities by big traders, and the areas' economic isolation.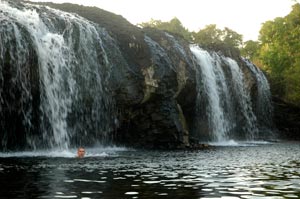 The Chi Phat Community, together with help from The Wildlife Alliance and a handful of small specialist travel companies, including Symbiosis, is developing ecotourism activities and facilities which will provide sustainable alternative livelihoods, help protect biodiversity, and enhance their local natural resources.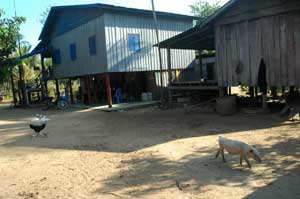 When you visit Chi Phat, revenue from your visit is shared between the local service providers and the Chi Phat Commune Fund, which is managed by the Community-Based Ecotourism (CBET) Committee. Your contribution will be used for the improvements of products and services, as well as for village infrastructure, education, elder support, and healthcare services.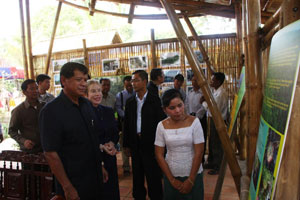 Your visit will start at the CBET office in Chi Phat where community members will be happy to answer questions about the project and area, and arrange your accommodation and activities.
The Cardomom Mountains
The Cardamom Mountains are a biodiversity hotspot. They are one of the last remaining elephant corridors and large predator ranges in the region. They host more than half of Cambodia's 2,300 plant species and are home to over 200 bird and 14 globally endangered mammal species. Illegal logging, hunting, and clearing for farms are threatening the species and the integrity of the forest ecosystems. The illegal activities are driven by poverty and commercial exploitation for the international trade of wildlife and wildlife products.

ACTIVITIES


Biking tours
The area surrounding Chi Phat is ideal mountain biking country. Hundreds of single tracks crisscross the mountains connecting villages and sites of interest, and provide a network of trails through varied landscapes.

The Community has a fleet of Trek 4300 mountain bikes for hire. You can take an exploratory tour around the village or choose from a range of guided mountain bike tours, perhaps to visit the funerary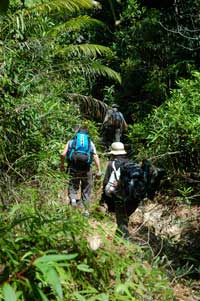 jars and coffins, bat cave, waterfalls, or the wildlife watering area of Veal Ta Prak. Chi Phat guides are experienced mountain bikers with an intimate knowledge of the area. They are familiar with the pace of mountain bike touring and can provide on-tour repairs and maintenance.

Hiking and walking tours
Hiking through the forest gives you a great opportunity to see birds and wildlife, sample forest fruits, and experience the beauty of the Cardamom's tropical rainforest. Visit waterfalls, cultural artefacts, wildlife hotspots, bat cave, and experience village culture. Our trained and First Aid certified guides will make sure your trip is safe and enjoyable.


River cruises - traditional row boat
Rivers are the lifeblood of the Cardamoms – and now you can experience cruising Chi Phat's rivers in a traditional row boat. The waterways are home to an abundance of flora and fauna including Silvered Langurs, Long-tailed Macaques, Giant and Oriental Pied Hornbills, King Fishers, and Drongos.

Sunrise Bird Watching Tour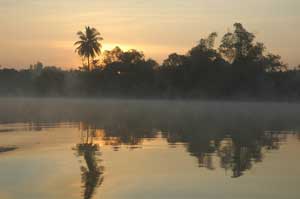 Get up close and personal with Hornbills, Silvered Langurs, Long-tailed Macaques and numerous other birds and wildlife. The tour includes traditional row boats with a local boat guide allowing you to quietly cruise down Chi Phat's beautiful rivers with quality binoculars and eco-friendly banana leaf-wrapped meals.
* NOTE. Prices indicated on this website are shown as a guideline only and may be subject to currency fluctuations, banking fees and other changes outside our control. Pricing information is available in
other currencies
.