Cambodia Music & Dance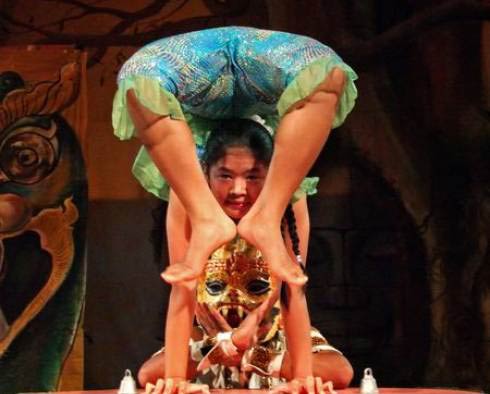 Price upon request
Phare Ponleu Selpak Circus
Eight returning refugees from Battambang have taken what they have learnt in a cultural workshop during their time spent in a refugee camp on the Thai border, and now help other refugees, Cambodia's poor, orphans and handicapped to overcome trauma through artistic expression. Phare Ponleu Selpak (PPSA) or "The Brightness of the Arts" is a non-profit Cambodian association since 1994.
They combine a circus with music, as well as providing school for students. The Phare Ponleu Selpak NGO gives Cambodian children from poor and disabled families the opportunity to "have access to culture via different artistic activities" including music, drawing drama, dancing and circus. The performances are often an opportunity for the circus to educate the community as well as the children involved about issues such as HIV/AIDS, landmines and children's rights.
The group started out on the outskirts of Battambang in Cambodia. Battambang is only a five hour boat ride (in the wet season) from Siem Reap and approximately 4 hours by road. The Phare Ponleu Selpak Circus presents shows every Thursday from 8pm-9pm. Now, they also offer nightly performance in Siem Reap (at 8pm). Additional performances are offered between November-March on Mondays, Thursdays & Saturdays, at 5:00 pm.
Private performances can also be arranged if you have a larger group.
Notes
This amazing circus spectacle can be incorporated into a Symbiosis tailor made holiday to Cambodia that can be adapted and tailored to meet your dates, preferences and passions. Please contact one of our bespoke holiday planners to create the ideal itinerary for you.
* NOTE. Prices indicated on this website are shown as a guideline only and may be subject to currency fluctuations, banking fees and other changes outside our control. Pricing information is available in
other currencies
.