Malaysia Escapes & Hideaways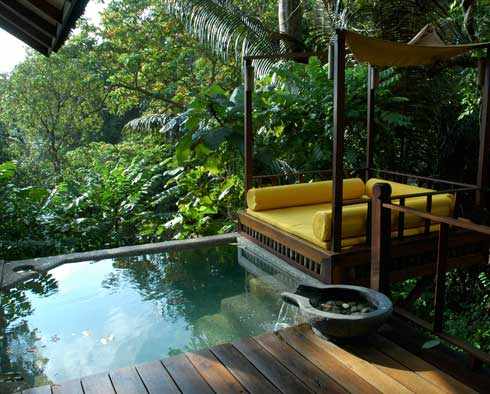 on the beach, From £71
Japamala Resort
Pulau Tioman, Malaysia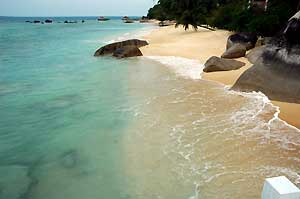 The JapaMala is a place for honeymoons and romantic escapes! Despite rapid development elsewhere, Pulau Tioman has remained largely untouched, on this little place is a real find if you are looking to get lost for a few days. There may not be a lot to do in the immediate vicinity, but it is a gorgeous place to chill out in a very natural environment, swim, snorkel and make jungle treks through the densely forested interior.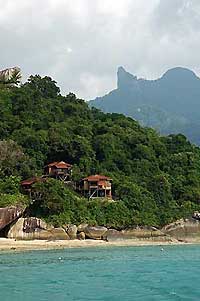 Diving can be arranged to the best of Pulau Tioman's dive spots, as well as boat trips to other parts of the island and fishing trips.
Tioman island is rich with flora and fauna. Monkeys are everywhere and large monitor lizards are commonly seen on and behind the beaches.
The top end of Pulau Tioman - 30 minutes away by boat - has one large resort and a thriving backpacker community so, if you do get bored, there is relief not far away.
Accommodation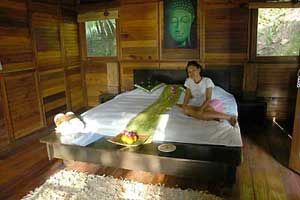 The JapaMala's charming villas and chalets are all positioned at the most breath-taking spots and are specifically designed for space, comfort and utmost privacy. While some lie remotely hidden amidst luxuriant green vegetation, others are perched high on the rocks with superb views to the sea below.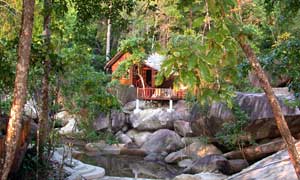 In the construction of the JapaMala, plants, animals and land have been disturbed as little as possible. It was the our goal to build around nature - to respect and preserve the inherent beauty of this destination; to coexist with all who dwell here. Great care was taken to minimize any environmental impact. No rocks were moved, no trees were cut down. As a result no two Villas are the same. Each is unique - taking on the character of the land upon which it is built.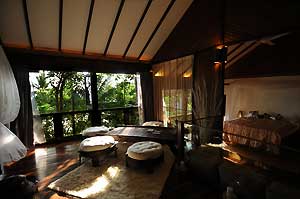 SEAVIEW SARANG VILLA
There is only one Seavew Serang villa at JapaMala - currently the largest, most lavish room at JapaMala. The word Sarang is derived from the Malay language, meaning 'nest'. This 'love nest' rests on low terrain and features a kitchenette and a semi-outdoor dining room.
Adding to the opulent comforts of a 'jungle luxury' holiday are some extra special features: a bathroom with both sky and jungle view, a private swimming pool, timber sun deck as well as a separate open-air hydro pool. Ideal for Honeymooners.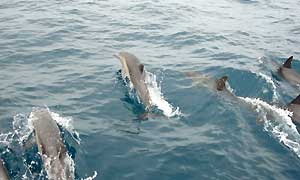 The Sarang's unique ambience owes itself to a refreshing combination of luxury and nature. Secluded and romantic, this villa evoke a dreamlike feeling of opulence and adventure - a distinctive ambience that relaxes yet inspires. One that will stay with you long after you leave our shores.
Basic treats: exclusive spa toiletries, a complete mini bar with wines, champagne, flavored teas, hot chocolate and an Espresso machine.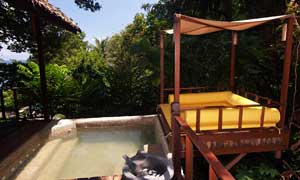 HILLSIDE PLUNGE POOL SARANG VILLA
These Plunge-Pool Sarangs are split-leveled rooms and are perched high on the hillside. These rooms also come with private features - a hydro pool, outdoor shower, timber dining deck and tanning bed plus basic treats like exclusive spa toiletries, a complete mini bar with wines, champagne, flavored teas, hot chocolate and an Espresso machine.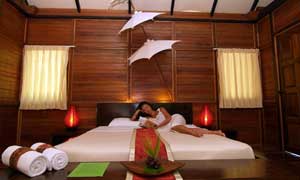 Like all the other Sarangs, these plunge-pool Sarangs bear a unique ambience - a refreshing combination of luxury and nature. Perfectly designed for a dream holiday, be seduced by its sense of adventure and some serious relaxation. Another Honeymooners favourite.
JUNGLE SARANG VILLA
Japamala's Jungle Sarangs are tucked away on the lower terrain of the resort. They each feature an open-air bath tub, with the rainforest as its backdrop - hidden enough to allow total privacy - and a spacious private living area good for dining, sunning or simply relaxing.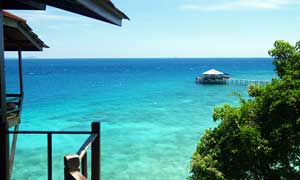 SEACLIFF CHALET
Imagine the simplicity of the traditional living space adorned with a modern chic. Stunning views of the South China Sea and balmy breezes of the sea. Bask in the most glorious tropical sunsets with a sun-down at the balcony. Each chalet is unique and offers a unobstructed view even from your shower room. Divided only by glass, take in the evening colors and the surrounding beauty of the bay below. Watch life drift idly by on the ebbing tide, the gentle lapping of waves seem to bring inner peace...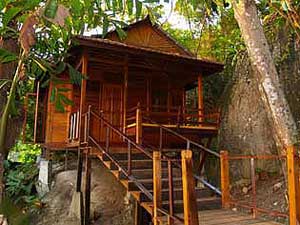 TREETOP CHALET
Perched high above the luxuriant jungle canopy, Japamala's Treetop Chalets are secluded yet situated only a short walk up from the beach. These rooms offer an entirely different resort experience - in fact their very proximity to nature make these chalets keenly sought after. Here you'll find that the sounds of the jungle predominate: the soft rustle of windblown leaves; the chirping of crickets and birds; and the foraging of wild creatures at night.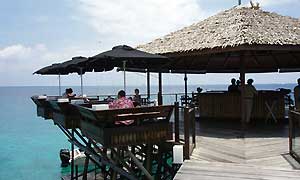 ANDI-MANDI RESTAURANT 


JapaMala's Mandi-Mandi Restaurant is the latest edition to the resort's collection of aesthetic spots. It's built on stilts to hover above the sea some 100m away from the beach front. Another open-concept dining venue with overhung pavilions becomes the perfect tanning station for sun lovers! Serves global cuisine with an Italian emphasis with a range of creative beverages. Opens for lunch and dinner only. Nightly BBQs are held here to celebrate that typical tropical romance below the stars.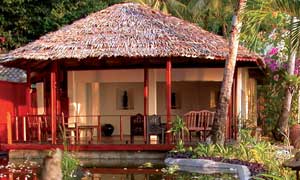 THEATER LOUNGE & LIBRARY


Don't want to miss out on an F1 race or a soccer match? Lounge around at JapaMala's AV/TV mini theatre, equipped with cable network, adjacent to the beach. Just make your request.
SAMADHI SPA 



From natural cave environments to Hydro Pools built on cliff edges, JapaMala's Samadhi Spa is designed and built to create memorable sensory as well as visual experiences. Spa experiences at JapaMala eloquently suggest the return to your natural self. Samadhi Spa personifies the state of bliss. It is a place to harvest that wellness of your mind & body and making it a definite part of you. In a natural cave environment, receive both ancient and creative therapies in nature-design treatment spaces, day or night to meet your different needs.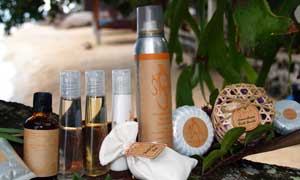 SAMADHI SPA's personal care and spa products contain 100% natural active and base materials guaranteed to contain no harmful or toxic chemicals. The range of products are formulated with 100% natural preservatives and enriched with botanical extracts, cold-pressed plant oils and aromatherapy-grade essential oils. Products are made in Malaysia.

Tioman Wildlife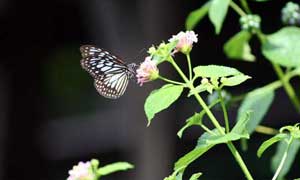 Tioman is blessed with an an idyllic archipelago of marine habitats. It is also the gateway for many migratory sea mammals like Manta Rays, Whale Sharks and even Killer Whales. There have been sightings of Manta Rays passing through the resort front as the monsoon closes in and dolphins are frequently sighted from the pier heading south. there have also been many sightings of dolphins at Coral Island, a popular snorkeling spot 45 minutes from the resort.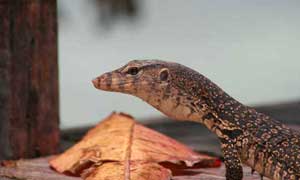 Japamala resort's surrounding hillsides are brilliant hues of lustrous green - home to many species of birds, small mammals and reptiles. The plumage of the birds is iridescent, the drone of the insect life is a steady monotone and the occasional chatter of the macaques all compose one cacophony of song and music.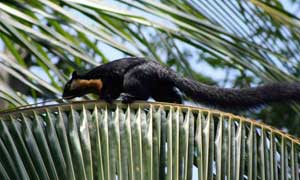 Many non-venomous snakes, including the Reticulated Python, the docile Oriental Whip Snake, Paradise Tree Snake and the Bronze-back have all been sighted around Japamala. Tioman is known for Monitor Lizards, some as big as a crocodile! You may spot an occasional hatchling or juvenile swimmer in the resort's ponds.
Activities at JapaMala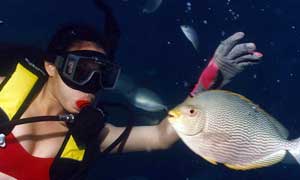 DVING
Pulau Tioman Island is a gazetted marine park and consequently is the centre of many of the region's scuba diving enthousiasts. Numerous islands dot this stunning archipelago - each no more than a simple day trip away and all holding the promise of larger aquatic thrills.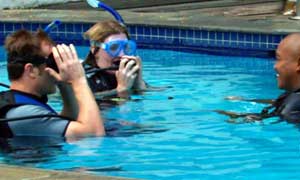 Dive courses can also be arranged from Open Water to Instructor level. PADI certification typically takes about 3 days culminating with appropriate certification and the beginning of a new adventure. Best months for diving are from March to Oct.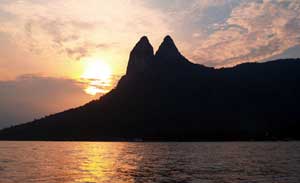 KAYAKING
Kayak for approx. 800m towards a deserted powdery white-sand beach or if you're in the mood for some exploring, kayak further to a mangrove.
OTHERS
Activities abound. You can use JapaMala as your jump-off point for
* Fishing (day & night)

* Island hopping / kayaking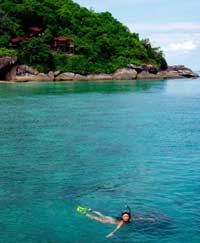 * Snorkelling
: A spectacular underwater garden lies just meters off the JapaMala Resort's shore. The house reef is home to many species of fish, stingrays and a turtle, colourful soft and hard corals decorate the reef walls plunging down to over 50 feet. Snorkelers usually either swim to this reef from the jetty or straight from the beach. For the exploring snorkeler, a beautiful, powdery and deserted white beach awaits just 800m fin-power away from JapaMala's bay.
* Jungle trekking
* Rock Climbing
* Romantic Gourmet Picnic

* Surfing (monsoon only): 
Surf trips to other parts of the island can be organized. Bring your own boards.
Other beautiful islands to go and explore :
Renggis Island (15 minutes)
Coral Island (45 minutes)
ABC Marine Park (20 minutes)

For those who wish to stay closer to the resort, simply duck dive under and snorkel around Mandi-Mandi Restaurant's jetty bottom. It bustles with life!

Complimentary use of mask, fins & snorkel.
Rates (in Malaysian Ringgit)
| | | | | |
| --- | --- | --- | --- | --- |
| Room Type | Units | 1 Apr-31 Oct | 1 Nov-31 Jan | 1 Feb-31 Mar |
| Penghulu Beach House | 1 | 2,700 | 1,600 | 2,300 |
| Seaview Sarang | 2 | 1,750 | 980 | 1,590 |
| Hillside Sarang | 2 | 1,400 | 750 | 1,250 |
| Jungle Luxe Sarang | 1 | 1,400 | 750 | 1,250 |
| Jungle Sarang | 2 | 1,000 | 600 | 890 |
| sea Cliff Chalet | 3 | 890 | 480 | 760 |
| Tree Top Chalet | 3 | 680 | 390 | 580 |
General Info
Name : JapaMala Resort, Pulau Tioman
Destination : Malaysia
Location : Located in a secluded cove on the south west coast of Pulau Tioman, off the east coast of Peninsular Malaysia. Access is by public boat from Mersing (1.5-2 hours, depending on sea conditions), or by small plane from Kuala Lumpur or Singapore, followed by a 15 minute speedboat ride along the island's coast.
Seasons : Rainy season: November to February
Capacity : 20 (max. no. guests)
Room Facilities
Room Types : Individual wooden stilt houses built on a steep, rocky hillside, cloaked in lush, tropical rainforest, interconnected by monkey walkways. Three styles: Tree Top Chalets, Sea View Chalets and Sarang Villas - the latter with private plunge pools - decorated in artistic Malay-style furnishings. All have private verandas.
Showers & toilets : en suite with shower
A/C : yes
Hot Water : yes
Entertainment : Diving (by arrangement with local Dive Centre), fishing, Jungle trekking, spa, massage, book & DVD library
Electricity : 220V, British - style square pin
Safety
Fire warning system : N/A
Fire extinguishers : yes
Fire escapes : N/A
Dive location & resources
Dive location : Pulau Tioman
Dive facilities : Nearby Dive Centres
browse all escapes & hideaways
* NOTE. Prices indicated on this website are shown as a guideline only and may be subject to currency fluctuations, banking fees and other changes outside our control. Pricing information is available in
other currencies
.