Malaysia Escapes & Hideaways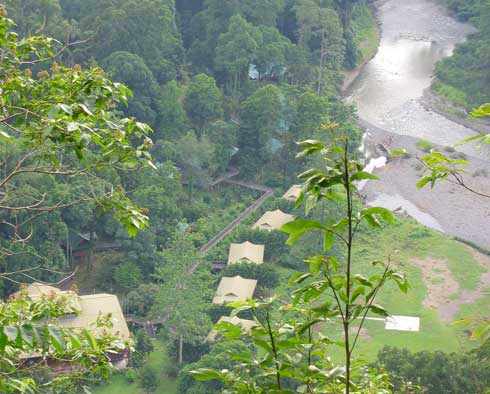 in the bush, Price upon request
Borneo Rainforest Lodge
Lahad Datu, Malaysia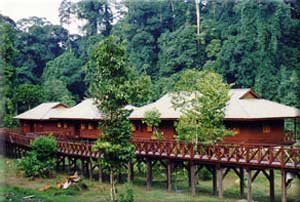 BRL is located in the Danum Valley, about 70km west of Lahad Datu in Sabah, Malaysia. It is an area of lush tropical lowland forest which has been set aside as a conservation area and includes 43,800 hectares of virgin forest and houses some unique flora and fauna. The area has been recognised as one of the world's most complex ecosystems.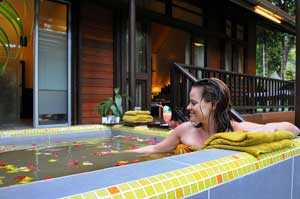 The name Danum Valley comes from the highest point, Gunung Danum, 1,093m high. The area is generally hilly but not mountainous, and lies within the upper reaches of Sabah's second largest river, the Segama and its tributaries.
Danum Valley has primary rainforest and is renowned for its rich variety of both plants and wildlife,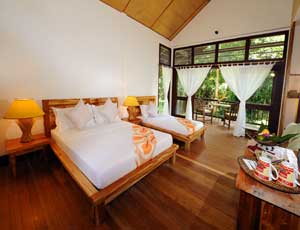 Because it is far from human habitation, it houses many of Borneo's mammals including the rare and endangered Sumatran rhino, as well as elephant, clouded leopard, Bornean gibbon, and leaf monkey. The orang utan and proboscis monkey are both found only in Borneo.
Despite the tourist area around the Borneo Rainforest Lodge receiving a lot of human visitors, it is still possible to see wildlife. The lodge is very popular for bird watchers. Over 275 bird species having been recorded,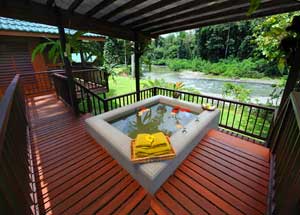 giving Danum Valley a reputation for being one of the best places for viewing Borneo's avian inhabitants. Just by sitting on your balcony you are likely to see several of Danum's feathered residents strutting and flying by. The lodge is built alongside the river so this attracts water birds. White egrets are common visitors.
By doing short walks around the area you stand a good chance of seeing mammals. The best time to spot animals is at night, and the lodge arranges night walks with a guide.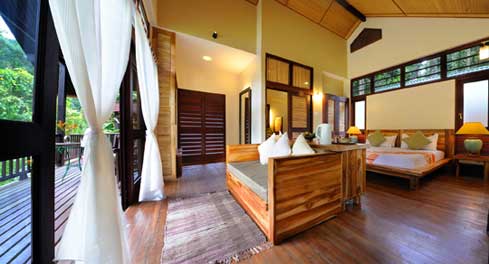 Deer are quite frequent visitors: sambar deer, barking deer and even the little mouse deer. These tiny deer feature prominently in Malay folklore.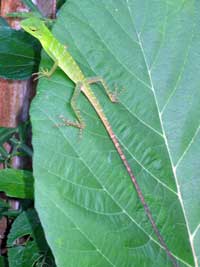 Walking along the trails at night you will see several lizards species, frogs and bush crickets. The frogs are easy to spot by the pond, as some conveniently sit on leaves. Look out for sleeping birds, standing on the branches of a tree, sheltering under leaves. Your guide's experienced eyes will help you to spot things of interest.
Joined a night drive, the expert guides, using a good spotlight, scan the bushes and trees to see what is there. Some guests have reported seeing marbled cats, resembling a small version of the clouded leopard, that are mainly arboreal and nocturnal.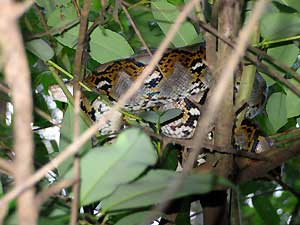 Other animals regularly seen are the civets and squirrels. The best place to see the Malay civets is on the drive in to the lodge. From the main road, it's 77km along a rough road to reach the lodge.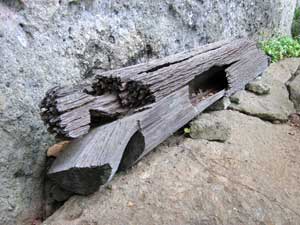 Other activities include trekking to the "coffin caves" up on the hill behind the lodge. These are Kadazan-Dusun burial sites. In the early morning the jungle is still covered in mist.
For a less steep walk, choose some of the jungle trails and over the suspension bridges.
This report from a visitor to BRL: "It was on one of these trails that I saw some elephants' footprints. The Borneo Elephant or Borneo Pygmy Elephant were recently found to be a subspecies of the Asian Elephant.
"We were having breakfast one morning when one of the photographers came in to say there was an adult male orang utan not far away. So we hurriedly set off and were in luck as the orang utan was in a tree right by the track. It was having its own breakfast, eating the bark off the young tree. After a while it nonchantly descended the tree and glanced at us and then moved onto another tree hidden in the shrub. I was really excited to see this creature as it was the first time I've seen a truly wild orang utan. I've seen them in various sanctuaries and rehabilitation places in Malaysia and Indonesia, but this one was totally wild."
General Information
Name : Danum Valley Resort
Destination : Malaysia
Location : Southeastern Sabah, about 70 km (44 miles) west of Lahad Datu
Seasons : Any time of the year
Capacity (max no. guests) :
Accommodation
Room Types : Standard & Deluxe
Showers & toilets : en suite
A/C : yes
Hot Water : yes
Further Information
Electricity : 220V
Fire warning system : N/A
Fire extinguishers : Yes
Fire escapes : N/A
Entertainment : Nature
Prices shown are per person for a 3 day, 2 night stay.
browse all escapes & hideaways
* NOTE. Prices indicated on this website are shown as a guideline only and may be subject to currency fluctuations, banking fees and other changes outside our control. Pricing information is available in
other currencies
.