Malaysia Escapes & Hideaways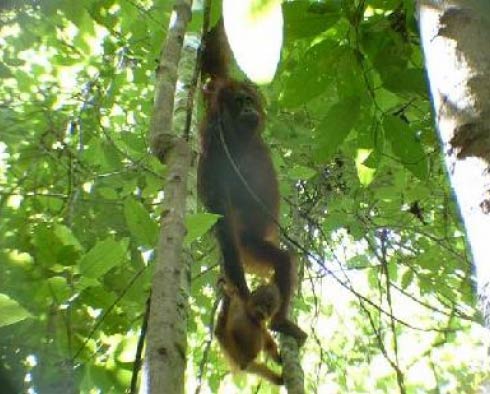 in the bush, Price upon request
Uncle Tan - Wildlife Camps
Lower Kinabatangan, Malaysia
We would like to remind visitors that the Camp is not exactly the HILTON!
Facilities are Spartan in nature. The Camp is situated in a jungle environment. It is in an old river bed by some beautiful ox-bow lakes. Insects and mosquitoes will be there. During the rainy seasons, there will be mud and pools of water along the tracks. In the recent two years, due to excessive logging, flooding occur often between the months of November and April.
The floodwater may rise high - part of the camp may be under water. Toilets too may be under water. It can be inconvenient - but it is during the floods that many more animals are seen. The monkeys stay on trees; the bigger mammals - pigs, deer and even elephants can be seen on the high grounds which become small islands. When you paddle the boat around the lakes, you will actually be moving amongst the canopies of the trees - birds and butterflies will be seen in great numbers. If it is a Tropical Rain Forest you want to experience, then Uncle Tan's Camp is the place you want to visit. Facilities are not of a FIVE STAR Resort & SPA and without 24-hour electricity from the Electricity Board; do not expect to have iced yogurt and air-conditioning. Nonetheless, you will get plenty of attention, hospitality and wildlife to observe. And. you will have plenty of good food.
Staying at Uncle Tan's Wildlife Camp is a roughing it out experience!The Camp is located in the Lower Kinabatangan Flood Plains - a Wetland and a Rain Forest. Floods can occur in a Flood Plain during the wet season; often, it rains in a Rain Forest and a Wetland isn't exactly dry.
Accommodation You will be housed in raised pondoks (huts) on a shared basis. Some smaller pondoks are divided into two rooms where two people will share a room. The pondoks are open huts with no doors or windows. The floors of the pondoks are covered with linoleum. You will have a light mattress and mosquito net. Make sure you collect a clean sheet from our Bed and Breakfast premises before leaving for the Camp.
Meals All meals are cooked for you. These include breakfast, lunch, afternoon tea and dinner. Meals are to set menus. If you are a vegetarian or need special diet, please inform our staff at our Operation Base before leaving for the Camp. Please also tell the Camp cook about your dietary requirements. You can have a morning cup of coffee/tea before the start of the morning safari. Breakfast is at 8:00 a.m. Lunch is at 12:00 noon and afternoon tea is at 3:30 p.m. Dinner will be prepared by 7:30 p.m. Dinner is the only meal that we all eat together. If you have to be late for any meal, please inform the cook to save some food for you. It is at dinnertime that we take a "head count".
Water for Cooking, making Tea & CoffeeDuring the wet season, rainwater may be used for cooking and preparation of beverage. When it is dry season, water from the lake is pumped into a tank treated with ALUM to get rid of suspended materials and filtered for cooking and making tea and coffee. Hot water for making drinks is available. Feel free to ask the kitchen staff for some when you want to make a hot drink. Bottled drinking water is sold by our staff co-operative.
Tea & Coffee Tea and coffee are available all day. If you find the containers on the serving table empty, do ask our Camp staff to make more.
Bathing & Swimming Water for bathing and washing is pumped from the lake to the bathhouse. Make use of the bathhouse for cleaning up. Try to conserve water. You are advised not to bathe or wash in the Kinabatangan River. In the recent months, big crocodiles have been spotted on River Safaris. Twice during River Safari, a crocodile was observed taking a wild pig. Baby crocodiles were also seen in the lakes - some Mama crocodiles must be around. Do not swim alone in the lake.
Staff Co-operative At Camp, the staff co-operative sells beer, canned drinks and bottled drinking water. Rubber boots are also available for rent.
Toilet/Outhouse It will be most environmental unfriendly for you to do your "business" all over the jungle. Kindly use the toilets. The toilets are "Biological Toilets". Do not put used toilet papers into the toilet. Put the used paper in the tin provided. Please flush after use. If the water drum at the toilet is empty, please get our staff to refill.
Pests in Your Huts We spray the huts with insecticide regularly. Avoid putting food in the huts especially in your pack - rats, and squirrels will bite through your pack to get at the food. Hang you food in plastic bags from the roof.
Check your sleeping place, shake out the mattress and tuck in your mosquito nets. Before you put on your clothing and shoes, shake them out first.
Electricity & Generator Many visitors come with video cameras and handphones that need recharging. We use a small generator for lightings and charging of batteries from 7.00 p.m. to 11.00 p.m. Lights out at 11.00 p.m.
General Information
Name : Uncle Tan - Wildlife Camps
Destination : Malaysia
Location :
Seasons :
Capacity (max no. guests) :
Accommodation
Room Types :
Showers & toilets :
A/C :
Hot Water :
Further Information
Electricity :
Fire warning system :
Fire extinguishers :
Fire escapes :
Entertainment :
browse all escapes & hideaways
* NOTE. Prices indicated on this website are shown as a guideline only and may be subject to currency fluctuations, banking fees and other changes outside our control. Pricing information is available in
other currencies
.