Solomon Islands Escapes & Hideaways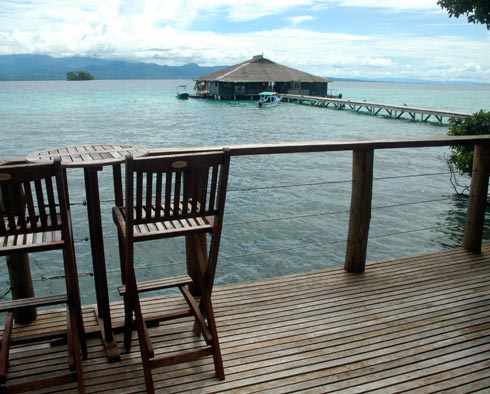 in town, From £152
Fatboys
Gizo, Solomon Islands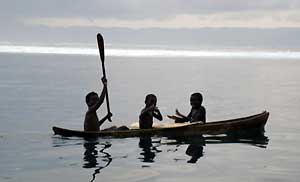 Fatboys is a charming, laid-back, beach resort situated 100 metres out atop the crystal clear waters of Mbabanga Island, an 8 minute boat ride from Gizo, the provincial capital of the Western Solomon Islands.
The name "Fatboys" is derived from the character "Joe" from the book "The Pickwick Papers" by Charles Dickens.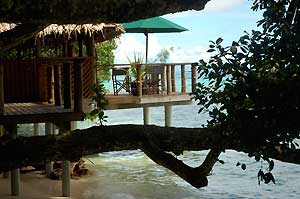 The Fatboys life revolves around drinking, eating, sleeping and making every conceivable effort to avoid work. Whilst at Fatboys the customer becomes "Joe the fatboy"

Accommodation
Fatboys' tastefully appointed bungalows are situated on the water's edge of Mbabanga Island, affording the most magnificent views to Kennedy Island (JFK fame), the majestic volcano Mt Kolombangara and beyond.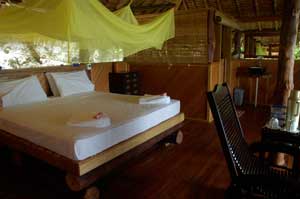 The bungalows have been constructed using a blend of traditional leaf and local tropical hardwoods. Great care has been taken and the imported furniture and bedding will ensure your stay is as comfortable as possible.

There are 3 bungalows, 2 in a duplex each with 1 Queen size bed and 3 single beds and 1 bungalow with 1 Queen size bed.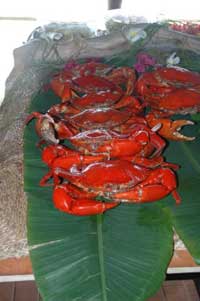 All feature:
Bedding and furnishings imported from Vietnam
240 volt power provided by in-house generator
Tea and coffee making facilities
Large Verandas with views across to Kennedy Island and Mt Kolombangara
Plus a new two storey self-contained unit contains 1 King and 1 Queen bed and a bunk bed as well as a family room, downstairs kitchen, bathroom & toilet. Big open verandas; decking, built on the beach.
What to do at Fatboys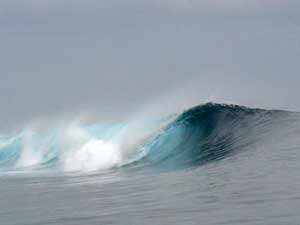 Game Fishing - Lola Resort , the world renowned fishing Mecca, is a 40 minute boat ride from fatboys through the beautiful Vona Vona Lagoon. Lola conduct fishing trips which will satisfy the most discerning angler.

Parties - Our full moon dance parties are held on the Saturday closest to the full moon.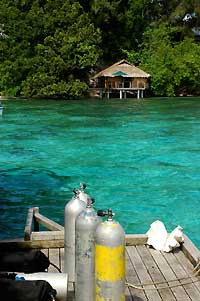 Surfing, Diving, Snorkelling, Fishing - fatboys can organise surfing, fishing trips, diving, snorkelling and other activities for you. They actively promote economic and social development for the people of the region by supporting local businesses.

Weddings - Fatboys can cater an Overwater Wedding:
Beautiful Flower Decorations
Trip for guests to private beach island
Traditional Tamure Dancing
Solomon Islands Traditional Cake Dance
Exclusively private overwater bar/restaurant for the ceremony
Fresh Lobster and Champagne Buffet
Exclusive hiring of the entire resort dependent on availability
Fresh fragrant Leis for the bride and groom
Local Minister for the ceremony
Traditional shell and floral decorations for the bride
Adopt a Coral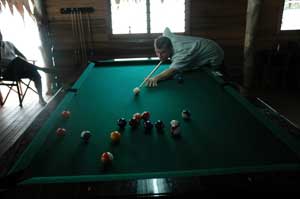 In April 2007 an earthquake and tsunami destroyed a number of villages and coral reefs in the Western Province of the Solomon Islands. Two years later, there are still many reefs where corals have not regrown, these corals provide important habitat and food source for many marine species.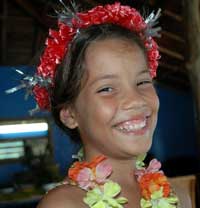 Now, thanks to a sustainable culture and farming program, we can offer guests the opportunity to help wild populations recover by adopting a coral and replanting it yourself on the reef.
These corals have been sustainably cultured and cared for by local village farmers until they reach a size ready to go back to the reef.

For less than the cost of a few drinks you can single- handedly help the reefs recover, while supporting a sustainable income for local villages.

browse all escapes & hideaways
* NOTE. Prices indicated on this website are shown as a guideline only and may be subject to currency fluctuations, banking fees and other changes outside our control. Pricing information is available in
other currencies
.