Solomon Islands Escapes & Hideaways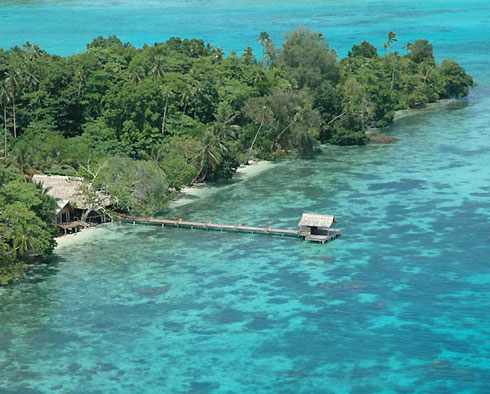 on the beach, From £161
Sanbis Resort
Gizo, Solomon Islands
Located on a secluded island in the Solomon Islands' Western Province, approximately 7 minutes by boat from the Gizo airstrip, Sanbis Resort offers one of the finest accommodations in the country, with each bungalow having its own private beach, luxury ensuite bathrooms with hot water and a terrace with a stunning view across Gizo lagoon.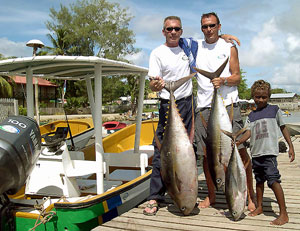 Not only is Sanbis an exquisite place to put your feet up and relax in one of the world's last totally unspoiled environments, but there is also plenty for the more active to do, including snokelling, scuba diving, surfing, kayaking, fishing, walking, island hopping and exploring the many relics of WWII.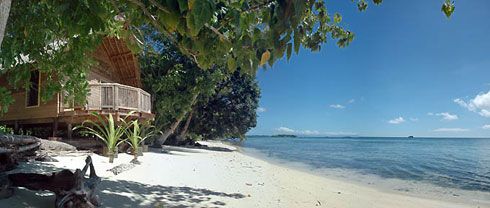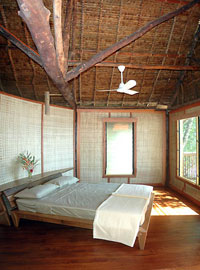 Sanbis Accommodation
To maintain total exclusivity, the resort has just six bungalows, generally limited to 12 guests at any one time. Each bungalow incorporates a modern ensuite bathroom with hot shower, has its own secluded beach and is totally separated from the others.

The beautifully appointed beach bungalows are all made from local materials, apart from the bathroom fit-outs which have a European style feel. Ceiling fans run 24 hours a day.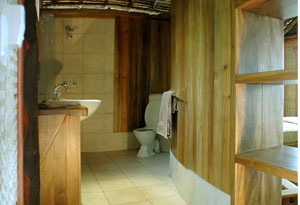 Fresh drinking water is provided daily, hot water for tea and coffee is available in thermos bottles which are replaced twice a day. Whilst you have dinner, our staff visits your bungalow for a quick clean up, spray for mosquitoes and lights a kerosene lantern so you can find your way when returning to the bungalow for the night.


Each bungalow has a small iPod speaker system. JBL On-Stage Micro incorporates the Apple iPod Universal Dock adapter and is compatible with most docking versions of iPod, including nano and 5G versions.

Although, Mosquitoes are few and far between, all bungalows have insect screens on windows and a large mosquito net over the Queen sized beds. The finest pure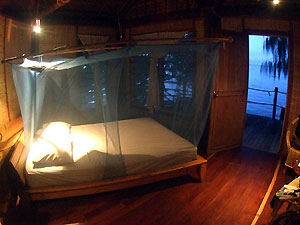 cotton sheets, (360 stitches per inch) are provided. Each bungalow has very fluffy bath towels and an additional set of beach towels to use around the resort.

Two of Sanbis Resort's bungalows are a little larger than the other four, ideal to share between 3-4 divers, a small fishing group or a family with up to 2 older children. In an effort to achieve peace and tranquility, Sanbis Resort has adopted a year round policy of not permitting children under the age of 12 years.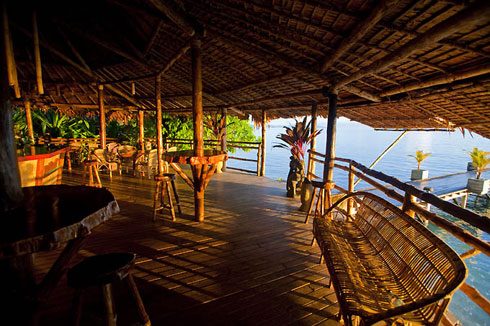 Dining

Because Sanbis is a small resort with a small capacity, the menu choice is necessarily limited but changes daily so you won't be bored. Most popular dishes tend to be crayfish tails followed by fish or chicken dishes. Good quality beef is hard to come by in the Solomons – so, have a "beef hit" before you come!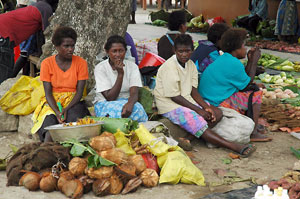 Breakfast offers a lavish with an array of tropical fruit, fresh juices, bread baked in the in-house wood fired oven, and fresh coffee.
The over-the-water SB Bar, located near the end of the jetty, provides another opportunity for wining and dining. A great location overlooking the lagoon.

The bar is open to the public, however, only in-house guests are able
to enjoy the privacy of the resort restaurant and bar located at the beach side of the jetty.

You can enjoy great Pizzas from the only genuine wood fired pizza oven in the Western Province, located in the SB Bar.

Sanbis Resort's chef creates exotic seafood delicacies, spicy island BBQ's in the reef hut and a wide variety of western style meals with an island touch.

Entrees range from a special Sashimi to delicious soups. If you like, at the Jetty house, you can even BBQ your own fish after returning from a fishing trip!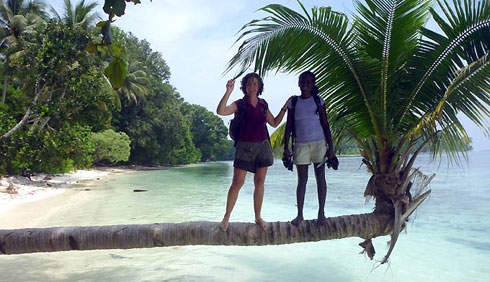 Environment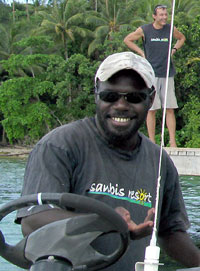 Sanbis is a very eco-friendly place. All lighting is solar powered. Sewerage is treated and the last stage is used in the gardens. As a result our reef is still pristine.

Despite being an eco responsible place, all bungalows have (proper) ceiling fans, which run 24 hours a day (at night time on inverters from the solar system).

The management and employees of Sanbis Resort have made a total commitment to the environment by way of applying the latest technologies to recycle all waste.

The layout of the resort is such, that a minimum number of trees had to be cut and, for every tree cut, approximately 5 were planted to replace it.

Internet
Wireless internet access is available at the SB Bar (bring your own laptop) and batteries for cameras, computers and the like can be charged anytime at the Resort bar/restaurant or the SB Bar.

browse all escapes & hideaways
* NOTE. Prices indicated on this website are shown as a guideline only and may be subject to currency fluctuations, banking fees and other changes outside our control. Pricing information is available in
other currencies
.