Cambodia Escapes & Hideaways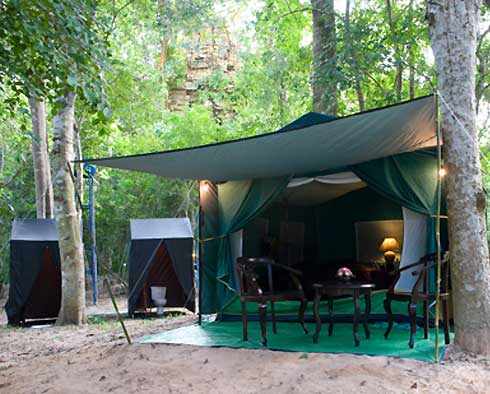 in the bush, Price upon request
Angkor Safari Tents
Siem Reap, Cambodia
Traveling in Style
In a country that still has little infrastructure except in the main collecting points of Siem Reap, Phnom Penh and Sihanoukville, there can be no better way to explore the Jungle Temples than by taking your own accommodation along with you.
Adventure vs In Style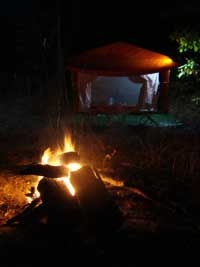 So how do we differentiate the new 'Adventure' and 'In Style' classifications? This is done in a number of ways, ranging from all new tents with connected bathrooms to an all-round higher level of service on the 'In Style' trips. If the original Temple Safari is a 3* camping experience, then 'In Style' is more like 4* boutique camping, akin to the level of service and experience at a boutique hotel. Looking in more depth, the new-look tents include fully-appointed hotel-style bathrooms, complete with flush toilet, wash basin and stylish toiletries. The furnishings are all wood, including full-size single beds, tables and chairs and clothes rails, plus an antique brass fan. Service is taken to another level, including bath robe, slippers and orchids on the bed with a turndown service. Meals are fully catered as before, but with a butler service and beer and wine is also included, not only soft drinks and water.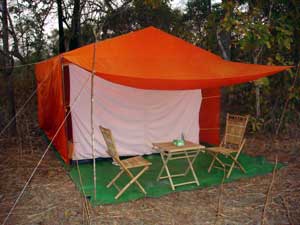 The Tents
The Angkor Safari Tents allow us to take guests to places in Cambodia that currently have no or little tourism infrastructure, ensuring a truly unique experience.
The tents are based upon the tried and tested African safari tents and are fully waterproof. Each day they are pitched at your destination by our staff on a durable tarpaulin and they consist of two layers. The inner layer comes with complete mosquito and insect protection and includes five meshed windows for light and breeze during the day. The overall dimensions of the tent are 3m wide x 4m long x 2.5m high. Yes, you heard it right, 2.5m high offering standing room throughout.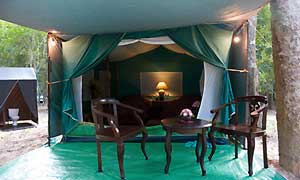 The 'Adventure' tents include a separate bathroom and shower tent located near the main sleeping tent, while the new 'In Style' tents include a connected bathroom, linked to the rear of the main tent by a small ante-room for luggage storage.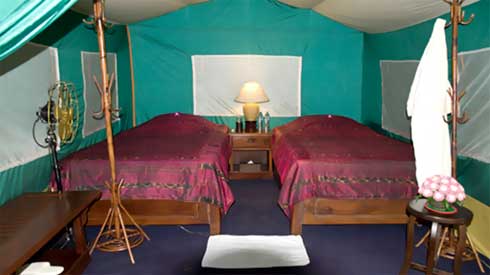 browse all escapes & hideaways
* NOTE. Prices indicated on this website are shown as a guideline only and may be subject to currency fluctuations, banking fees and other changes outside our control. Pricing information is available in
other currencies
.