Cambodia Escapes & Hideaways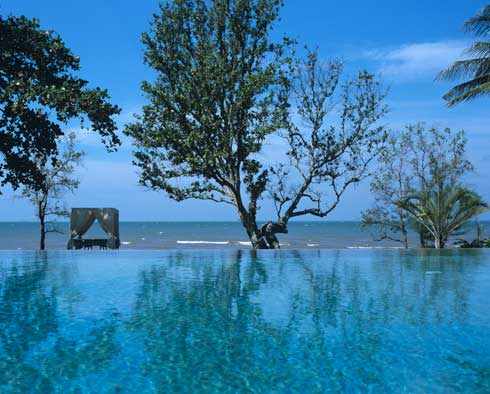 on the beach, From £115
Knai Bang Chatt
Kep, Cambodia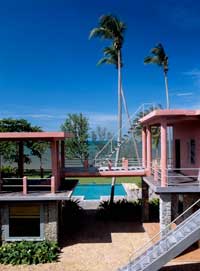 Knai Bang Chatt is an exclusive lifestyle resort located right on the Kep shoreline on Cambodia's south coast. Three striking villas combine breathtaking views and stunning architecture. created for those who appreciate the best and offering an unique sense of privacy. It is not really an hotel, but a private residence for rent on an exclusive basis.
Comprising 11 air-conditioned, individually decorated rooms in 3 striking, renovated villas, including 4 large suites, the decor is mix of contemporary and traditional, elegantly furnished with Cambodian artefacts and antiques.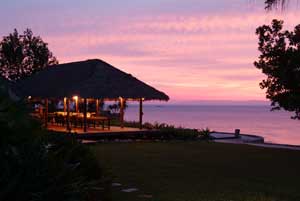 Philosophy
Knai Bang Chatt, in Khmer, means a rainbow encircling the sun. In Buddhist symbolism, this rainbow is the halo around the Buddha's head. It is this halo that Knai Bang Chatt's creators like to feel shelters and protects everyone who comes there, where a sense of the divine exudes from its location, facilities and the genuine people who greet you.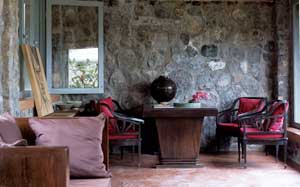 Core
Unlike other resorts, the core of Knai Bang Chatt is the essence of life in Cambodia, her rich cultural heritage, the hospitality and gentleness of her people and the authenticity of her food.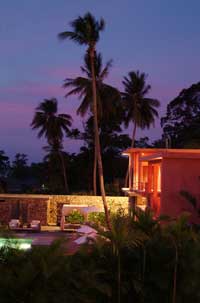 Location
Located in Kep, right on the south east coastline of Cambodia, known before the troubled years as the "Cambodian Riviera", Knai Bang Chatt offers a blend of privacy, serenity and exclusivity. The three renovated villas were built in the 1970s by protégés of Van Molyvann, Cambodia's most celebrated architect and himself a pupil of the world renowned Le Corbusier, are extraordinary historical landmarks you can now experience as your very own private home.
The villas are designed with large terraces open to views of the sea and islands. The surrounding garden space is perfect for yoga and meditation. Whether you're celebrating your honeymoon,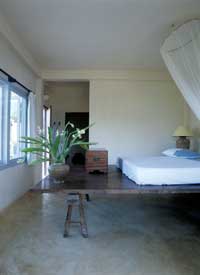 anniversary, wedding, family reunion or planning staff retreat, Knai Bang Chatt is an ideal choice. Its natural beauty combined with its sense of history and great Khmer hospitality will make for a memorable stay in Cambodia.
Facilities & wellness
Relaxation and basking in tranquility is a key element at Knai Bang Chatt. You can get an invigorating massage by qualified Shiatsu therapists by the beach or beside our salt water infinity pool. One can also unwind in seclusion during a yoga or meditation session while absorbing the magnificent panorama from one of the rooms terraces. Sessions are guided by experienced professional yoga and meditation teachers.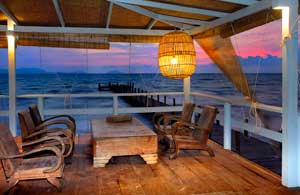 Sailing Club
The sailing club is a sunset bar and restaurant on the Kep shoreline. The restaurant and bar is a former fisherman's house complete with a jetty where you can swim and sunbathe, or simply somewhere to sit and watch the sunset and fishing boats returning home with their catches. 
Those who like to sail can take out one of the 3 Hobie Cats out for a spin, or take the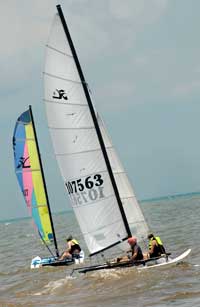 house speedboat out to sea to explore nearby islands. There are also sea kayaks, mountain bikes and motorbikes for rent.
Sailing Lessons
Private or group sailing courses are available by arrangement.
Aid program
Knai Bang Chatt is part of community development programme through its Hand in Hand Project, working to help improve the lives of over 256 families, providing education, clean water and economic opportunities through its umbrella organization Bridges Across Border. 3% of its total income goes to this project, based in Chamcar Bei. To learn more about this program or to participate, please go to www.handinhandcambodia.com.

browse all escapes & hideaways
* NOTE. Prices indicated on this website are shown as a guideline only and may be subject to currency fluctuations, banking fees and other changes outside our control. Pricing information is available in
other currencies
.