Cambodia Escapes & Hideaways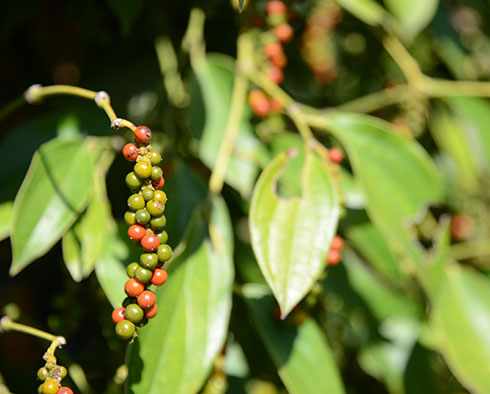 in the bush, From £27
Starling Ridge Plantation
Kampot, Cambodia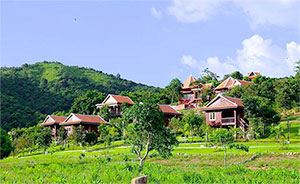 Nestled in the tranquil hills of Phnom Kon Sat, Starling Farm Resort offers a luxurious private plantation stay away from the heat and chaos of the outside world.

With stunning views over Kep National Park and the Gulf of Thailand coupled with a cooling sea breeze you can relax in an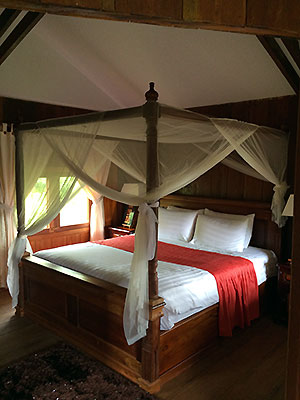 environment that is truly unique.

Lounge in one of the many kick back areas, take a refreshing dip in one of the pools, cycle one of the innumerous hill trails, hike through the forested hills, and climb aeon aged limestone karsts.

Starling Ridge Resort is a part of a family owned Kampot pepper plantation located in the heart of the world's premier pepper growing region, Kampot Province, Cambodia.

Accommodation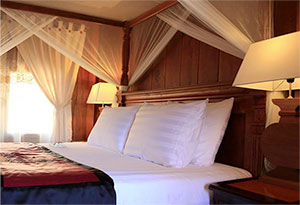 The Kampuchea Bungalows
Intimate wooden bungalows set into the hillside overlooking Starling Farm. Inspired by traditional Khmer stilt houses, The Kampuchea bungalows provide guests with stunning views over the Kampot countryside, overlook Kep mountain and the Gulf of Thailand. Each bungalow is fitted with an elegant four poster bed and modern bathroom facilities, and a choice between a large veranda or a larger interior space with a lounge and writing desk. The Kampuchea Suite is the larger version of the Kampuchea Bungalow.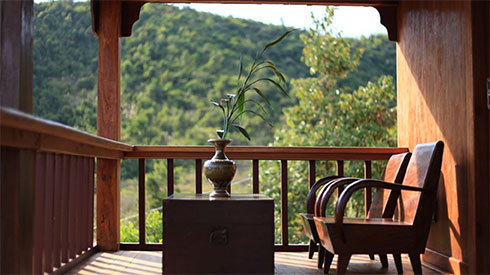 Mango Houses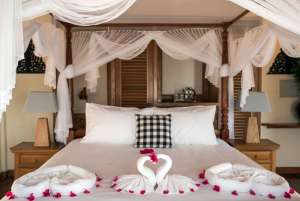 These 2 villas are situated on the top of the hill with sweeping views over the pepper plantation - directly from your double bed. The Mango Houses are ideally suited for a romantic getaway. The Mango houses are beautifully designed concrete bungalows with big balconies and an interior created around a centrally placed double bed and a deluxe bathroom.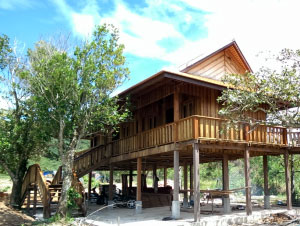 The Pepper House
The pepper house is Starling Ridge's version of a traditional stilted family house. The house features 4 rooms upstairs (two twin and two double) and a common bathroom area. Underneath the house there is a lounge area where you can relax on comfortable ratan furniture in shelter from the rain and sun. This beautiful wooden structure can be rented out on a room basis or as a complete house.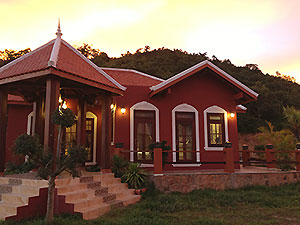 The Hermitage Villa
A beautifully appointed two bedroom villa, The Hermitage provides a home away from home with private outdoor space, kitchen, and lounge area. Combining elements of traditional Khmer and Balinese styles for the interior decoration with private garden shower. Perfect for families or couples wanting additional space and privacy. A stones throw from the family's own swimming pool, bar, and restaurant, you will enjoy comfortable luxury at The Hermitage.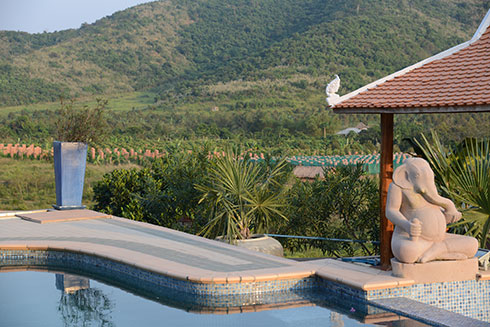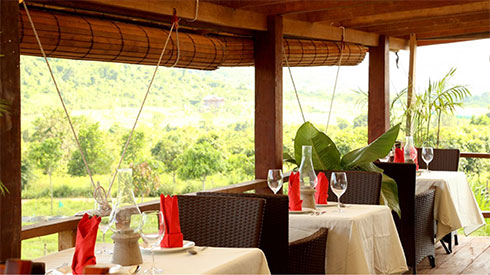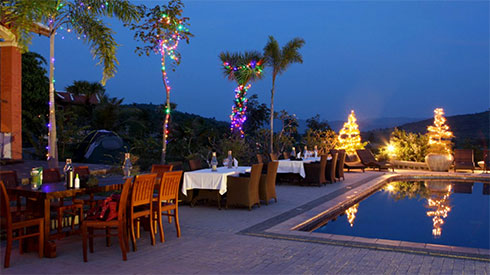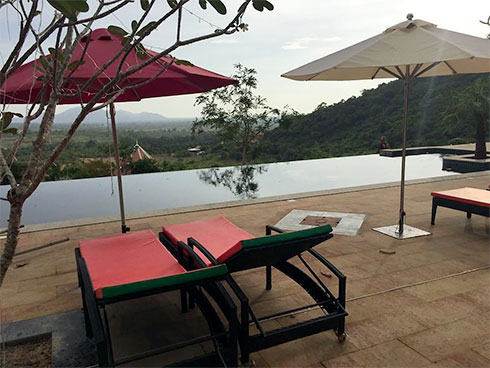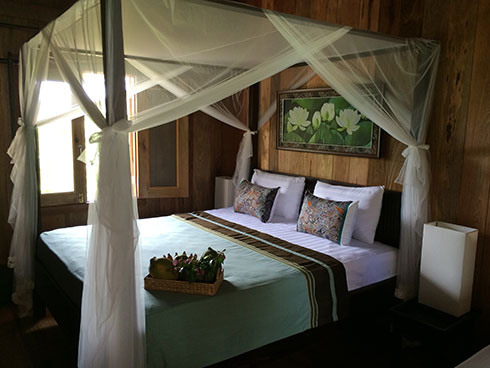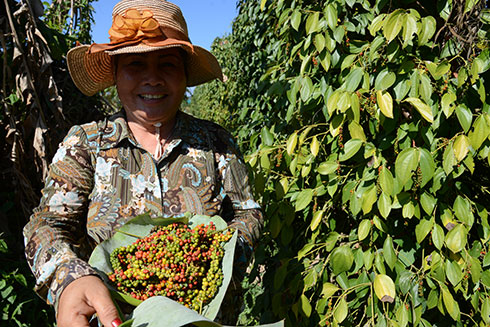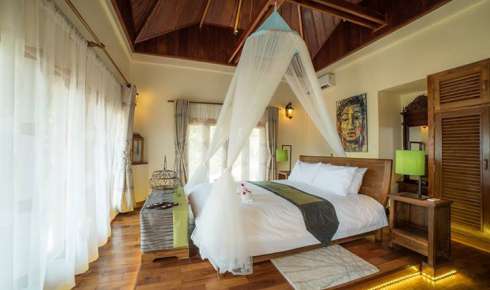 Nearby attractions

Bokor Mountain
The old French colonial Hill Station at Bokor Mountain is a must see attraction when around Kampot. After an enjoyable drive up the winding mountain road you arrive on the plateau where the air is cool and fresh, you can explore the 1920′s French-era ruins, in particular the old casino and the church.

Kep Crab Market
Every visitor to Kep should try the pepper crab cooked up at Kep Crab Market, here you can also watch the fishermen and market vendors in action buying and selling crab all day.

Limestone Caves
Around the Kampot area there are a number of interesting geological formations to explore, some are just a short trip from Starling Ridge Resort. These limestone caves contain ancient Buddhist shrines and are still a magical place to this day.

Salt Farm
Visit the salt farms around Kep and Kampot to complete your table condiment set, you can buy some of our delicious sea salt direct from Starling Ridge Resort.

Secret Lake
Popular with day trippers and locals, grab an inflated inner tube and swim in the cool waters of the reservoir, mind out for the trees poking above the water line.

Kampot Market
A real local market experience can be had by visiting the Kampot Market, full of the scents and tastes of traditional Cambodian cuisine.

Teuk Chou Rapids
The Tek Chou rapids are just outside of Kampot up the river. A popular spot for locals and tourists alike to unwind and relax in a hammock by the trickling water.

Kampot River Sunset Cruise
Hire a boat to take you along Kampot river in the late afternoon and watch the sunset from the Kampot river delta.

Kampot Zoo
An unkempt but much loved zoo is located near Teuk Chou Rapids. Soak up the adventurous and exotic atmosphere as you walk through forest paths to see the animals that live here.

Starling Ridge Activities:
Swimming pool
Café & Bar
Bicycle hire
Plantation tour
In-Room Facilities:
Writing Desk
In-room safes
Full length mirror
Outdoor tables and chairs
Tea & Coffee making facilities
Minibar
Torch
Bathroom Amenities
Hair Dryer
browse all escapes & hideaways
* NOTE. Prices indicated on this website are shown as a guideline only and may be subject to currency fluctuations, banking fees and other changes outside our control. Pricing information is available in
other currencies
.