Cambodia Escapes & Hideaways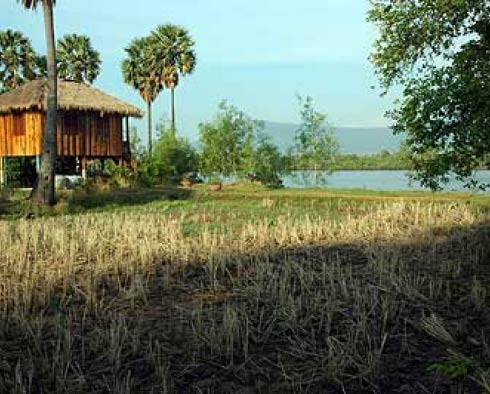 in the bush, From £20
Les Manguiers, Kampot
Kampot, Cambodia
Situated between the Kampot River (300 m wide) and rice fields, with views across the river to the Elephant range of mountains, Les Manguiers is set in a large garden of Mango trees stretching 800m along the riverbank of the Kampot River.
This is more of a homestay than a resort and is highly popular as a weekend retreat for expats living in Phnom Penh. The owners, Jean Yves & Sophea, offer maps and useful information on the area. A great place to kick back, swim in the river or explore the Kampot countryside by mountain or boat.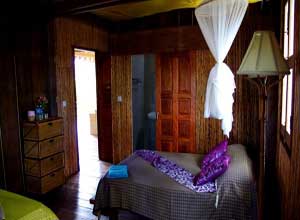 The Kampot river and its tributaries offer great kayaking (which can be rented on site) where you can explore villages, mangrove forests or paddle downstream to a couple of riverside bars, the old colonial era Kampot town itself or even further out to sea and a number of islands.
Nearby is the awe inspiring tabletop mountain of Bokor with its ruined pre Khmer Rouge era casino (now under restoration) atop an escarpment, offering dramatic views to the Gulf of Thailand. For the adventurous, challenging treks through impressive rainforest can be arranged with local guides.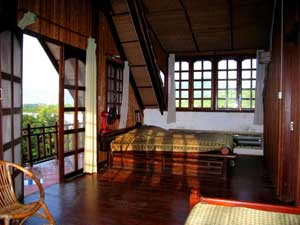 At home there is badminton and petanque to add to the entertainment.
General Information
Name : Les Manguiers
Destination : Cambodia
Location : Set in a large garden on the east river bank of the Kampot River, 3km upstream from Kampot town centre.
Seasons : year round, can be damp from May to Oct.
Capacity (max no. guests) : approx. 20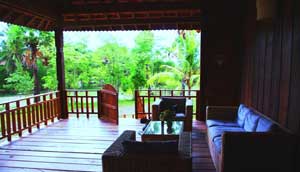 Accommodation
Room Types : Riverside stilt houses (4), each with one bedroom, private bathroom and veranda overlooking the Kampot River. Kampot Family house (1) with two twin bedrooms and one large family room (2 double beds), shared bathroom and huge common veranda. Views of the garden. Additional rooms may be available in the owner house.
Showers & toilets : En suite in the riverside stilt houses, shared in the Kampot House
A/C : No
Hot Water : Yes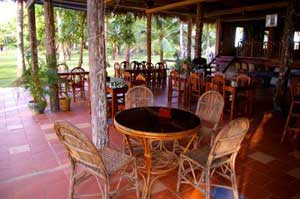 Further Information
Electricity : 220V, flat 2 pin
Fire warning system : N/A
Fire extinguishers : Yes
Fire escapes : N/A
Entertainment : swimming, kayaking, cycling, badminton, petanque, boat trips and Bokor National Park.
browse all escapes & hideaways
* NOTE. Prices indicated on this website are shown as a guideline only and may be subject to currency fluctuations, banking fees and other changes outside our control. Pricing information is available in
other currencies
.