Cambodia Escapes & Hideaways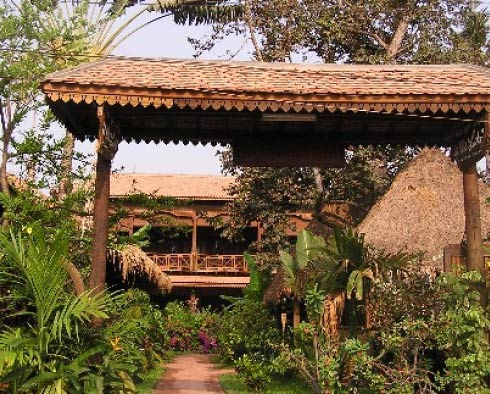 in town, Price upon request
La Villa Loti
Siem Reap, Cambodia
This new yet traditional Cambodian mansion is an elegant wood and brick country house of 8 air-con'd rooms. Located in town along the Siem Reap River on the ancient track to Angkor Wat (located at only 3,5 Km), yet just a few minutes from the old market (1,4 Km).
On the first floor the four bedrooms open on a large and fresh amply shaded terrace, which can be enjoyed privately but invites equally to a peaceful discussion with the other guests. Four rooms on the ground floor have direct access to the garden. At the entrance, a wooden Buddha figure with two bowing Apsaras welcomes you, bringing serenity and meaning to your stay in Angkor.
La Villa Loti is decorated with authentic Cambodian furniture (king-size doublebeds) and objects of quality. Some pieces of decoration are more than a century old.
Location of La Villa Loti
Siem Reap is an enjoyable village-town, which develops everyday with the ever-growing interest in Angkor Wat and in the ancestral and hospitable country where it lays, the Kingdom of Cambodia. The Villa Loti is situated in the part of town closest to the temples, near the Angkor Conservation and the best hotels in town (which I will not name to avoid any controversy). It is at equal distance of the two main markets, the Psah Leu, the new market, and the Psah Chas, the traditional market, and center of town, which attracts both the locals and the tourists. The Psah Chas is about 5 minutes from the Villa (less than a mile). With about the same time to the site main entry and just more than two miles from the Angkor Wat temple majestic entry, we remain one of the closest accommodation places to Angkor without having to leave town for that.
Accommodation
All 8 rooms have a private bathroom, with hot shower and a large jar of fresh water for traditional bathing. All rooms have equally brand new air conditioners (with remote control) and large ceiling fans (one in the room & one on the terrace or the verandas), both well integrated in the design of the each room. These are remarkably fresh due to the thickness of the wood structure. The double beds are large (160 cm) and always have their own colonial mosquitoes net.
Electric outlets are generously distributed around the rooms and spots and wall lamps give an intimate atmosphere and highlight the beautiful materials used in the construction. On this page, photos of a double room, a twin room and of one of the two small suites:
In the garden, the various tropical species gives a refreshing and relaxing atmosphere. In the shade, you can enjoy our simple local cuisine or excellent food brought from our new garden restaurant in Town: ABACUS. Breakfast (with homemade jam and yoggourt) is served as from 6.30 am (sometimes earlier, at your demand, so you can go and admire the sun rise with a full stomach). The garden veranda is place of relaxation, where you will be able, if you wish, to meet with our other quality guests. Under this thatched structure surronded by greenery, cosy armchairs will let you appreciate a well deserved rest, a fresh drink in the hand. Several games at your disposal (cards and dices, chests and backgammon) together with local newspapers and a few books in English, French, German and Japanese.
The number of rooms of the garden floor has been reduced from six to four. The two aisle rooms have disappeared, and are part of the two-room units. As a result, two rooms, (a double bed room and a twin bed room) benefit now of their own private entrance and veranda with chairs and ceiling fan. The two-room units, or small suites, dispose of beach-chairs in the garden. They have enough to warm a baby bottle, prepare tea or coffee or keep things cold in a small fridge, even if the staff is always ready to provide to your needs. For couples, the price is 40 us dollars (including taxes and breakfast) and 45 in the small suites. For three person parties (not counting the young children of course), the price is set at 50 us dollars in the two-room units. Lonely Pilgrims to Angkor will pay 35 us Dollars in any room, 40 in the small suite. The design of the transformation allows a large group to share the garden floor. With three large double beds, two twin beds and two single beds, it can accomodate 10 adults in six air-con rooms (a cot and a baby-trailer for young children can be lended). Ask us for special Group price. On the contrary, by separating the entrances to the rooms, it can provide each units with more privacy. In a similar but different way, the terrace floor can accomodate eight guests.
General Information
Name : La Villa Loti
Destination : Cambodia
Location : Siem Reap
Seasons : All Seasons
Capacity (max no. guests) :
Accommodation
Room Types : Traditional rooms
Showers & toilets : wih hot showers,bathroom,private toilets
A/C : around rooms
Hot Water : Yes
Further Information
Electricity : 220V
Fire warning system : N/A
Fire extinguishers : N/A
Fire escapes : N/A
Entertainment : Air Condition,large ceiling fan,spots,photo of double rooms
browse all escapes & hideaways
* NOTE. Prices indicated on this website are shown as a guideline only and may be subject to currency fluctuations, banking fees and other changes outside our control. Pricing information is available in
other currencies
.