Thailand Escapes & Hideaways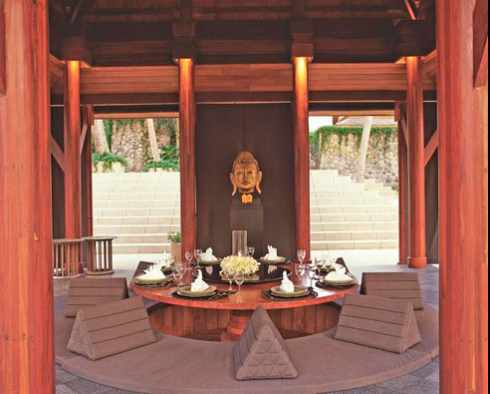 on the beach, Price upon request
Amanpuri Resort
Phuket, Thailand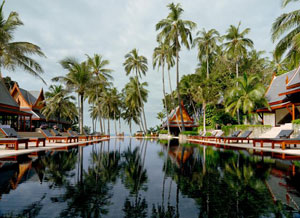 Amanpuri (which means "peaceful place" and opened in 1988) was the very first Amanresort. It is located within a former coconut plantation overlooking the Andaman Sea on the west coast of Phuket. Amanpuri is entirely self-contained on a verdant peninsula sloping down to Pansea Beach and its pristine, sheltered cove.
Accommodation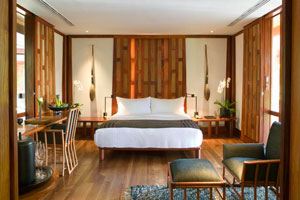 Forty pavilions and 30 Thai villa homes are interspersed throughout the coconut grove. The resort's pavilions are 115 square meters each, including the private outdoor terrace. Pavilion rates are determined according to view and location. All pavilions feature an outdoor sala, a king-size bed, separate bath and shower, refrigerator with fully stocked minibar, electronic safe, stereo CD cassette system, IDD services and air-conditioning. Pavilions 105 and 103 enjoy the best views of the Andaman Sea.Pavilions: These constitute the starting category and are set along the resort's internal passageway with six rooms in all.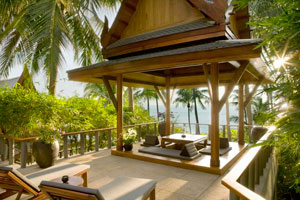 Superior Garden Pavilions: 25 garden pavilions are interspersed among the coconut palms.
Superior Ocean Pavilions: 4 pavilions have partial sea views.
Deluxe Ocean Pavilions: These 3 pavilions offer sea views.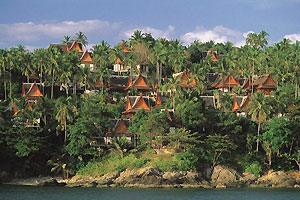 Villas Homes : Adjacent to the resort, almost hidden by coconut palms, are 30 Villa Homes, many with ocean-front settings. Each villa consists of two to six separate bedrooms finished with Thai furnishings, art and antiques. Villas also enjoy a private pool plus living and dining Thai salas . A live-in maid and cook attend to all guests' needs, including the preparation of Thai cuisine in a private kitchen. Amanpuri villas are ideal for small business meetings, weddings and special events.
Food and Dining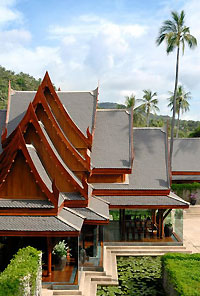 The Terrace restaurant offers casual, all-day dining in an alfresco setting and features Thai and European specialties. The Restaurant serves Italian cuisine and is open for dinner all year round and for lunch during high season. Both restaurants are located beside the swimming pool. Weather-permitting, lunches are held at the Beach Terrace and during high season, evening torch-lit beach barbecues. The Bar offers poolside drinks and snacks. At last light, half a dozen moulded-brass tables and pairings of teak, rattan-backed chairs are set out along the terrace between the pool and the steps leading to the beach. The view is to the sun setting on the Andaman Sea. Room service is available, 24 hours a day, in the privacy of the pavilions and outdoor salas.
Facilities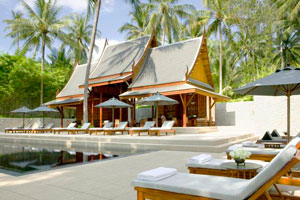 Aman Spa: The Aman Spa opened here in December 2001. The spa features three double rooms for couples and three single rooms. Each room has its own changing area, steam shower, treatment area, and outdoor sala (pavilion) for lounging. There is also a sauna and steam room. Spa services include a range of massage and holistic therapies, facials, scrubs, body wraps, baths and beauty treatments with salas for meditation and yoga sessions.
Swimming Pool: Amanpuri's 27m freshwater swimming pool is finished in midnight-blue tiling.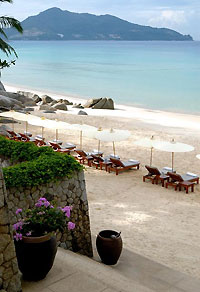 Beach Club: This is an informal spot immediately in front of the resort. The facility offers snorkelling equipment, sun beds and towels. Water-skiing with Amanpuri's own ski boat can also be arranged.
Gym: The beachside gym features floor-to-ceiling windows, with views to the sea and sunset. Equipment ranges from free weights to a variety of exercise machines. The facility is open 6am till 7pm.
Library: The sun-lit library keeps more than 1,000 books, ranging from novels to travel guides and coffee-table books on Southeast Asia. A large selection of CDs is available.
Tailor: A tailor is available and guests may choose from a large selection of fabric. Fittings can be arranged in the privacy of the Pavilions.
Board Room: Meeting facilities include a boardroom with audio equipment and an LCD projector.
Gallery: An exclusive selection of Asian jewellery, antiques, textiles and artefacts are featured. General amenities are available as well as a selection of gifts, souvenirs and Thai fabrics.
browse all escapes & hideaways
* NOTE. Prices indicated on this website are shown as a guideline only and may be subject to currency fluctuations, banking fees and other changes outside our control. Pricing information is available in
other currencies
.