Thailand Escapes & Hideaways
on the beach, Price upon request
Ban Talae Nok Village
Phang Nga, Thailand
Ban Talae Nok Village - A SEA-SIDE VILLAGE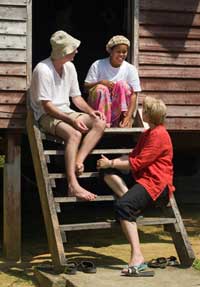 Ban Talae Nok is a pleasant village by a beautiful beach with a way of life that remains mostly unchanged. It is a great place to relax, swim, hike and explore. Walking through the village, you'll notice women sitting together outside their houses shelling cashew nuts, weaving palm roofs, or making fishing nets while children play around them.
The men of the village earn their living from the sea, and you can see them collecting their catch from the nets at the small pier. Once they've taken what they need for their family, they'll sell the rest at the market. Some families raise buffalo, cows, goats, chickens, and ducks in and around the village.
A group of tsunami widows established two handicraft cooperatives which provide supplementary income. Visitors to the village can join in a lively handmade soap or batik print workshop, a great chance to speak with the ladies about their lives and learn their moving tsunami experiences.
HISTORY
The village was founded over 100 years ago and predates other villages in the region. Originally, the pursuit of tin and its high value brought people to the site. Tin foraging was a profitable endeavor; by scouring the beaches, people could find up to five kilograms of tin a day, which was worth 120 baht per kilo.
Eventually the tin supply dried up and the villagers took to the sea. This income could be supplemented by making coal from the mangroves, and by baking wood in huge domed ovens. For environmental reasons, in recent years this practice has been banned as commercial activity but is still permitted for personal use.
Before the road into the village was built, access was by boat or a long trek through the jungle. Electricity came to the village in 1990, and the first westerners came to the village ten years later.
TSUNAMI STORY
Ban Talae Nok lost 46 villagers in the tsunami, 16 of whom were children. Before the tsunami, the village was divided into two: an upper and lower part. The lower village, located along the beach, provided easy access for the fishermen to go out to sea. The tsunami destroyed all 20 houses in the lower village. A new tsunami village was built up near the upper village.
ENVIRONMENT
Ban Talae Nok's 10-kilometre stretch of stunning beachfront has a distinctive golden tint, endowed by the presence of tin. Part owned by the National Park, it is bounded by casuarina pine trees, mangrove forests, and small lagoons that provide habitat and breeding grounds for an array of sea life.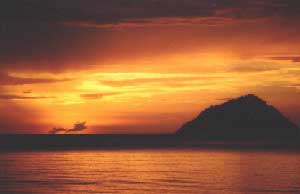 When the sun sets in a red glow many villagers gather on the beach with their lawa (shrimp nets) to catch the keruy (small shrimp), believing the arresting red hue signifies the arrival of shrimp.
The sea and islands dotted off the coastline from Ban Talae Nok are an important part of village identity. Each island has been named and is treasured for its unique features. These are:
- Bat Island (Koh Kang Kao) — with a big cave home to many bats.
- Japanese Island (Koh Yee Puun) — once inhabited by Japanese people pearl farming
- Kum Nui Island (Koh Kum Nui) — a smaller island with an abundance of shells.
- Kum Yai Island (Koh Kum Yai) — with spectacular white, sloping beach with clear blue waters, great for snorkeling.
- Lan Island (Koh Lan) — a barren, rocky island with a cave.
- Buffalo Island (Koh Kao Kwaay) — there is a subsidiary office of the National Park on this island. It is one of the most beautiful islands in the area. It has a curved beach and coral reef, and is a popular fishing site.
RELIGION IN BAN TALAE NOK
Ban Talae Nok is a traditional Muslim village. Islam shapes their daily lives and throughout the year there are several important ceremonies, presided over by the Imam (Muslim High Priest).
Some of these important cultural traditions are as follows:
- The beginning of Ramadan, when the villagers prepare for the Ramadan ceremony.
- Ramadan: lasting 30 days during which villagers must not eat or drink between sunrise and sunset.
- Eid-al-Fitr, big celebrations that mark the end of Ramadan.
- The Sunut cultural ceremony, which takes place when a boy is nine years old and a girl is fourteen years old.
- Nika (Marriage ceremony), both the man and woman consent to marriage.
- Funeral ceremony at the Koobo (graveyard).
- Lamaad (praying) where Muslim people pray five times a day.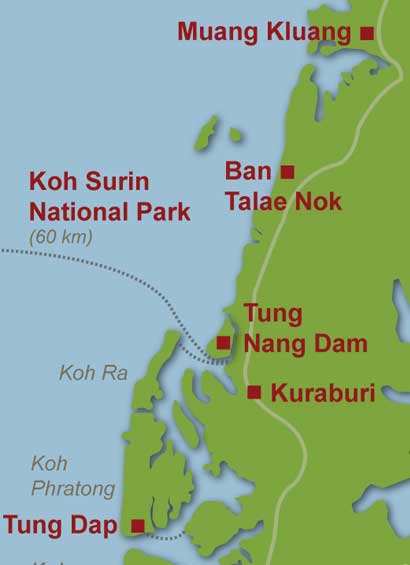 browse all escapes & hideaways
* NOTE. Prices indicated on this website are shown as a guideline only and may be subject to currency fluctuations, banking fees and other changes outside our control. Pricing information is available in
other currencies
.