Papua New Guinea Cultural Discovery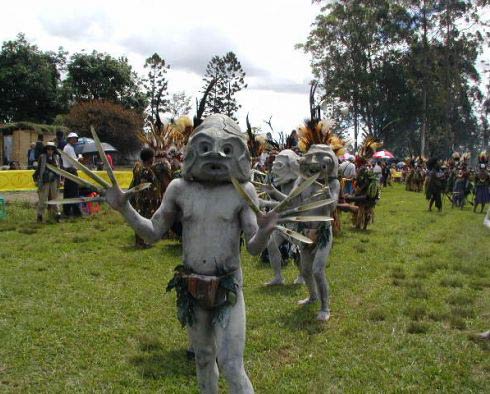 Price upon request
Mount Hagen Cultural Show
Overview
|
Discoverer
|
Highlights
|
Panorama
|
Vista
Choose where you sleep
Ambua Lodge

Karawari Lodge

Rondon Ridge

RV Sepik Spirit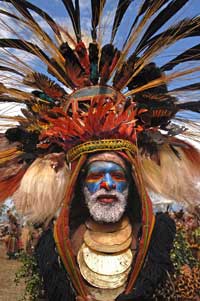 Perhaps the most famous cultural show in Papua New Guinea, the Mount Hagen Show brings together singsing groups from all over the country in an amazing conglomeration of colour, beauty and culture.

The Hagen show is held in August every year - and we are offering three escorted programs and one unescorted program in 2014. Escorted programs have the same guide throughout whereas, with unescorted programs, you still have guides to assist you at each location, the only difference being that guides change at the different locations.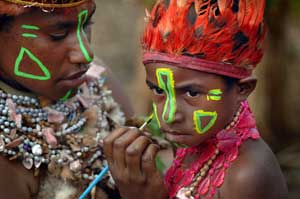 The Vista, a 13 day/12 night program, provides a wide perspective on Papua New Guinea, from shaking hands with a Huli Wigman to a journey through the Sepik Region. The tour culminates with the Mount Hagen Cultural Show. The Hagen Show brings together sing-sing groups from throughout Papua New Guinea, with the variety of cultures and groups represented in turn reflecting the diversity of Papua New Guinea's landscapes.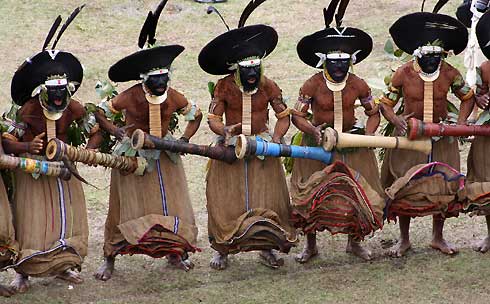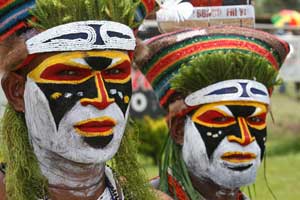 The Panorama is a fully escorted 12 day/11 night program that provides a stunning view of Papua New Guinea. The journey begins with the spectacular Mt Hagen Cultural show, providing an incredible vista of cultures from all over Papua New Guinea. In a land of nearly 800 languages, there is no better place to see so many gathered in one place.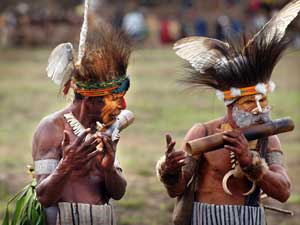 The Discoverer is a 11 day/10-night escorted program, providing a unique opportunity to discover the culture and ecosystems of the world's second largest island New Guinea. Papua New Guinea is a veritable smorgasbord of colour, culture and excitement. The highlight of the Discoverer program is attendance at the famous Mount Hagen Cultural Show, a world famous cultural gathering of many of the opulently decorated cultural groups of this incredibly diverse land.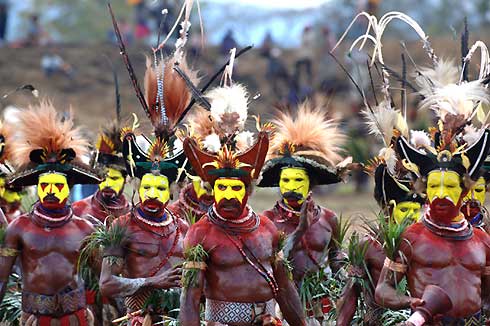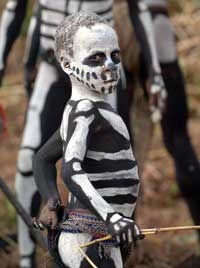 Highlights is an unescorted 13 day/12 night itinerary. You begin with exploring Papua New Guineas most culturally fascinating areas, staying at the country's premier remote lodges and then a visit to the Mount Hagen Cultural show.
Accommodation over the Mount Hagen Cultural Show weekend is at the Airport Resort, a simple, but clean, spacious and comfortable hotel close to the airport and the show grounds.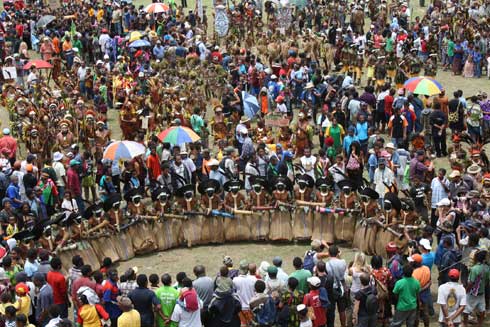 Notes
These sample prices shown below do not include any domestic flights.
* NOTE. Prices indicated on this website are shown as a guideline only and may be subject to currency fluctuations, banking fees and other changes outside our control. Pricing information is available in
other currencies
.