Papua New Guinea Escapes & Hideaways
in the bush, From £260.00
Ambua Lodge
Tari, Southern Highlands, Papua New Guinea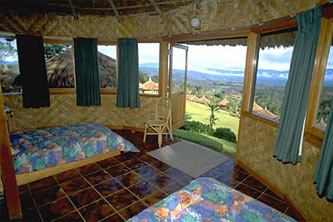 Ambua Lodge, located in the Tari Gap, Papua New Guinea's Southern Highlands Province, borders on pristine mid montane rainforest at the beginning of the valley grasslands. This location promises the visitor eternal spring weather and magnificent views of the Tari Valley. The forest canopy, a dense mass of interlocking tree tops of all shades of green and the occasional bright splash of color, provides a natural setting and an exhilarating climate for venturing along the nature trails - cross traditional vine bridges, discover a secluded waterfall, and spot high altitude orchids and rhododendrons.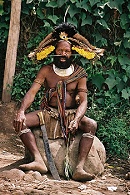 For nature lovers, the Tari Gap offers a chance to observe up to 13 species of the birds of paradise and an amazing array of orchids. The flamboyant Huli Wigmen of the Tari Valley have formed a strong bond between themselves and these beautiful birds; men revere the birds by imitating them in both daily and ceremonial life, decorating their human hair wigs with the plumage of only the most beautiful birds.
Comprehensive bird & orchid lists are available... please ask.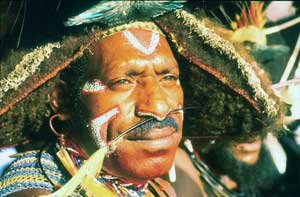 Tari is one of the few places left where men and women can be seen wearing traditional dress as part of daily living and men's wealth is still counted by the number of pigs and wives they possess.
The Lodge features Highlands architecture with a main building housing the lounge, bar, dining room, and a cosy central fireplace. Separate are the video room, heated spa, and sauna.
Guests are accommodated in thirty individual units set in a sea of flowers, each unit featuring 180 degree picture windows, modern bathroom, and electric blankets and continental quilts for the cool highland evenings. In 1991, Pacific Asia Travel Association's "Pacific Heritage Award" cited Ambua Lodge as a "superb example of culturally sensitive and ecological responsible tourism".
General Information
Name : Ambua Lodge
Destination : NewGuinea
Location : At 7,000 ft (2,100m), Ambua Lodge occupies a dramtic vantage point over the Tari Valley, home to the flamboyant Huli "Wigmen", high in the Southern Highlands Province of Papua New Guinea. Access is by private light aircraft to the lodge's own airstrip, or by a torturous though adventurous drive from Tari, about 2 hours away, depending on the road conditions.
Seasons : Year round
Capacity (max no. guests) : 60
Accommodation
Room Types : Individual units set in mature gardens, each featuring 180-degree picture windows overlooking tehe Tari Valley. Electric blankets and continental quilts for the cool highland evenings.
Showers & toilets : en suite
A/C : not needed
Hot Water : yes
Further Information
Electricity : 220V, generated by Ambua's own mini hydro-electric power plant
Fire warning system : N/A
Fire extinguishers : yes
Fire escapes : N/A
Entertainment :
browse all escapes & hideaways
* NOTE. Prices indicated on this website are shown as a guideline only and may be subject to currency fluctuations, banking fees and other changes outside our control. Pricing information is available in
other currencies
.