Papua New Guinea Photography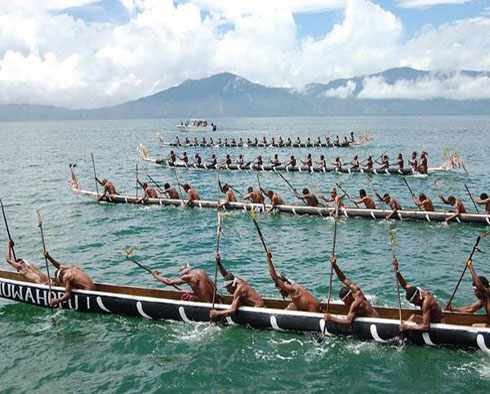 Price upon request
Kenu & Kundo War Canoe Festival
Overview
|
Kenu & Kundu Festival Tour
Choose where you sleep
Ambua Lodge

Karawari Lodge

Rondon Ridge
The Kenu and Kundu Canoe Festival is a spectacular event that showcases many of the fascinating cultures of Milne Bay including other participating provinces in Papua New Guinea. It takes place in the charming town of Alotau on the eastern tip of the Papua New Guinea mainland.

Milne Bay is known for its peaceful and friendly people and is an upcoming model for eco-tourism in PNG. The province has over 600 islands and is also known for its wide range of traditional canoes which play a significant role in Milne Bay culture.

Being one of the largest maritime provinces in Papua New Guinea, Alotau, (the provincial centre for Milne Bay) was selected by The National Cultural Commission and The PNG Tourism Promotion Authority as the ideal location to host this iconic event that has grown steadily in size and status over the past six years.

Both the Canoe and the Kundu were widely used in olden times in ceremonies and rituals and were meticulously crafted from special woods under strict customs, to derive the best results and to appease the gods.

The Kenu and Kundu Festival was first held in Milne Bay in 2003. The canoes that are used in the festival are crafted in the same way that the canoes were crafted many years ago by the people's ancestors. The colours and patterns reflect upon the tribe and the area the canoe comes from. The canoes and traditional dancing groups come from all over the Milne Bay province, including some parts of the Papuan Region. Thus, the festival is rich with variety of performances.

The event usually takes place early November on an annual basis. Prizes are given to winning groups and the canoes are assembled a day earlier at Wagawaga Island, to form a convoy before sailing to Alotau for the official opening ceremony.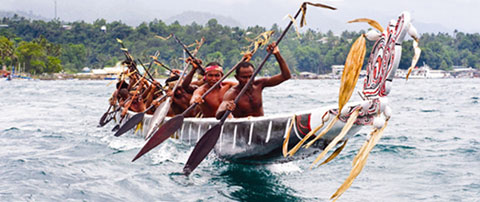 * NOTE. Prices indicated on this website are shown as a guideline only and may be subject to currency fluctuations, banking fees and other changes outside our control. Pricing information is available in
other currencies
.