Indonesia Cultural Discovery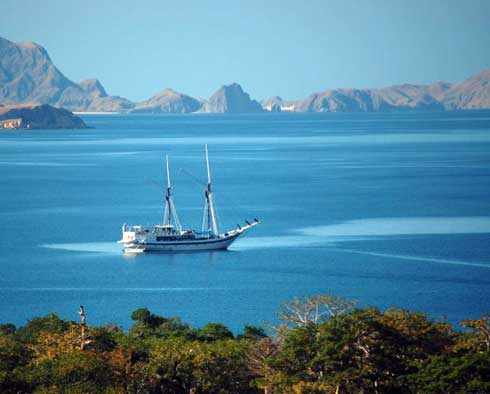 From £1812 per person*
Indonesia Sailing Cruises: Ombak Putih
Overview
|
7D Bali-Komodo-Flores
|
7D Flores-Komodo-Bali
|
Komodo National Park
|
West Papua
|
Maumere - Ternate
|
Ternate-Banda-Ambon
|
Halmahera-Raja Ampat
|
Ambon-Banda-Ternate
|
7D Flores-Komodo-Sumba-Flores
|
12D Maumere-Labuan Bajo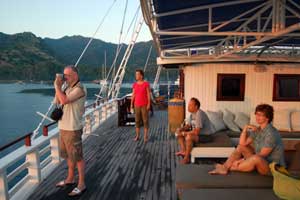 East of Bali there is a world of exotic cultures and breathtaking natural beauty. This area is as enchanting as it is remote. On board the Ombak Putih you will sail by smoldering volcanoes that arise from the sea and you can go ashore on uninhabited islands. You will visit quaint historic harbours, superb tropical beaches, pristine coral reefs and go to places where time has literally been standing still, such as the last remaining domain of the prehistoric Komodo dragon…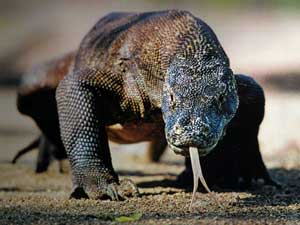 In the Indonesian language "Ombak Putih" means "White Wave" and her gracious beauty makes her instantly recognizable. She is a familiar sight from Bali to Papua and from Sulawesi to Savu. Having logged close to a hundred thousand miles over the past ten years, her captain and crew know more about the remote islands of Indonesia than most and there are very few bays in this part of the world where she has not yet anchored…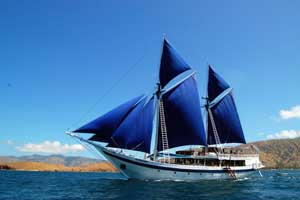 Whenever possible the Ombak Putih will raise her sails - more than six hundred square metres of them - but there often are long periods of very light winds so the engine is also used to safeguard the schedule.
An attentive but discrete crew takes care of everything. Most of the sailing is done at night and while you sleep, the captain is on the bridge to take you to yet another splendid anchorage or another lovely harbour. Every new day you will wake up to another surprise.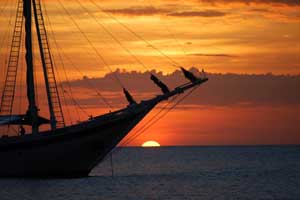 The Ombak Putih's chefs were trained by a well known Bali restaurateur and all meals are prepared with the freshest and best ingredients available: vegetables, fruits and poultry from the highlands of Flores, fish freshly caught by local fishermen and bread specially baked by a master French baker in Bali. All cruises are on a full board basis. Bottled water, coffee and tea are free of charge and available on self service basis 24 hours per day.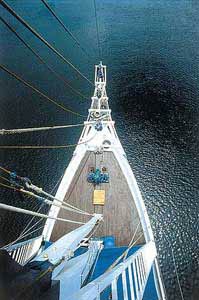 There is a well-stocked bar on board from which you may order a selection of alcohol and wines at reasonable prices. At the end of the cruise you only need to pay for beer, wines and spirits consumed during the cruise.
On every leisure expedition there is an experienced European cruise director on board. These are seasoned professionals who live most of their time in Indonesia, speak the local language and are very knowledgeable about the areas the Ombak Putih visits. Their task is to organise the shore excursions and they are on board to assist you and to answer any questions.
Daily radio/satellite telephone contact with the head office in Bali guarantees that both the guests and the crew are kept up to date with current events and everyone can be reached in case of emergencies.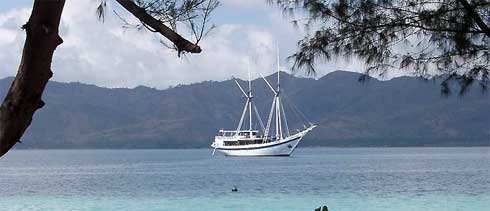 Notes
This sailing cruise can be incorporated into a Symbiosis tailor made holiday to Indonesia that can be adapted and tailored to meet your dates, preferences and passions. Please contact one of our bespoke holiday planners to create the ideal itinerary for you.
* NOTE. Prices indicated on this website are shown as a guideline only and may be subject to currency fluctuations, banking fees and other changes outside our control. Pricing information is available in
other currencies
.