Indonesia Cycle Touring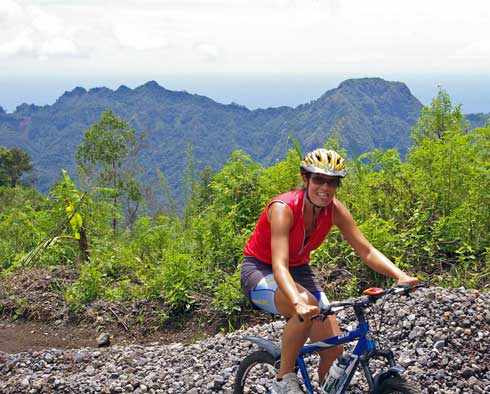 From £895 per person*
Flores by Mountain Bike
Overview
|
Trans Flores
|
Photos
|
8 Days Flores Biking
This challenging mountain bike ride will take you through the dramatic, volcano-strewn (14 active) island of Flores in Eastern Indonesia.
It is a trip I have wanted to do for a long time - ever since I visited in the late 90's and was awed by the rugged beauty of the island and the fascinating peoples who have largely been left behind by the developing world - and finally I managed to arrange it for a Swedish couple in December 07 who raved about it.
The trip starts in the eastern city of Maumere, located in a large bay on the northern coast - site of a devastating tsunami in 1992 that wiped out the entire population of an island just offshore, Pulau Babi. Before that event, the coral gardens and reefs offshore were regarded as the most beautiful marine garden in Indonesia.
Fifteen years later it is showing miraculous signs of recovery and scuba divers have returned to set up shop here.
The roads that will take you west to the fishing village of Labuanbajo on the westernmost tip of Flores will be rugged and challenging, climbing over the cordillera of volcanoes to the south coast and back into the mountains again before descending to the west. En route you will be able to explore several volcanoes, including the famous Kelimutu with its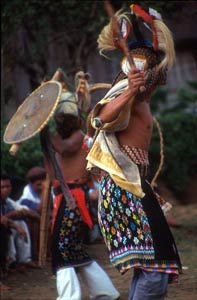 three different coloured crater lakes, ancient traditional villages and extraordinary and unique rice terrace formations that look like spiders' webs. You may have a chance to witness a caci - a ceremonial whipfight - and visit a village famous for its exquisite ikat weavings.
On arrival in Labuanbajo, you can, of course, then take a boat out into the stunning Komodo National Marine Park that lies between Flores and Sumbawa islands to look for Komodo Dragons, the world's largest living lizard, a true hangover from prehistoric times.
THIS IS A TRIP FOR ADVENTURERS ONLY! YOU WILL BE AMONGST A VERY FEW TO HAVE CYCLED THROUGH THIS ISLAND.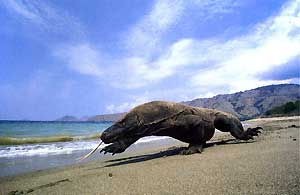 Cyclists will be backed up by 4WD support vehicles - number depend on how many of you decide to join us. If you are bringing your won bikes, make sure you also carry essential spare parts - we will be far from modern civilisation.
See a some more pics on the Symbiosis blog, courtesy of Tim Peterson and Louise Neilson who completed this trip in Sept 09.
Notes
This cycle ride can be incorporated into a Symbiosis tailor made holiday to Indonesia that can be adapted and tailored to meet your dates, preferences and passions. Please contact one of our bespoke holiday planners to create the ideal itinerary for you.
* NOTE. Prices indicated on this website are shown as a guideline only and may be subject to currency fluctuations, banking fees and other changes outside our control. Pricing information is available in
other currencies
.