April 9, 2014 – 7:10 pm
"Butanding interaction" is the Philippines' official term for swimming with whalesharks. Butanding, a Bicol dialect word, means blind shark, which is how local fishermen once thought, incorrectly, of these creatures. Local whaleshark guides are known as Butanding interaction officers – or BIO – a somewhat pompous term for a good ol' boy who has known these leviathans since long before they became ecotourism pin-ups.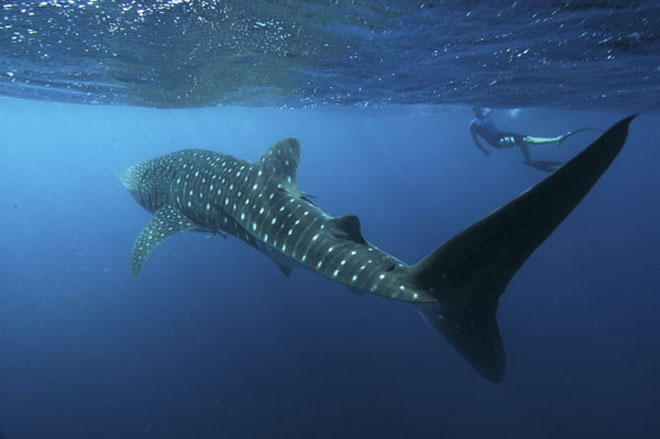 The docile giant cruises slowly through the slightly turbid waters of Donsol Bay on the southeast coast of Luzon. Some characters around Donsol claim they discovered whale sharks. These giant cartilaginous fish have probably congregated for eons in this wide, plankton and krill-rich bay in Sorsogon province, but it was only a decade ago that they came to public attention.
Whaleshark interactions occur for short periods each year off Western Australia's Ningaloo Reef, as well as in Belize and other tropical waters, but the highest concentration is thought to be at Donsol, where the whale sharks linger for almost half the year.
Donsol's whale shark industry is a textbook example of ecotourism succeeding on several levels. Fortunately, the discovery of the butanding, the subsequent influx of tourists and the close regulation of their interaction were virtually concurrent. As a result there are no entrenched jet-ski mafia, speedboaters or ride-the-whale-shark entrepreneurs to be battled against later.
Local fishermen immediately saw that the giant creatures were worth far more alive than dead. With more than 12,000 visitors a year, many Donsol families have found work in the industry and the small resorts that have sprung up along the shore, billed as whale shark capital of the world.
Whale sharks are common in Donsol from December to June; December-January is peak period. Definitely avoid the crowds during Easter Holy Week. The annual Butanding Festival is held at the beginning of May.