Indonesia Escapes & Hideaways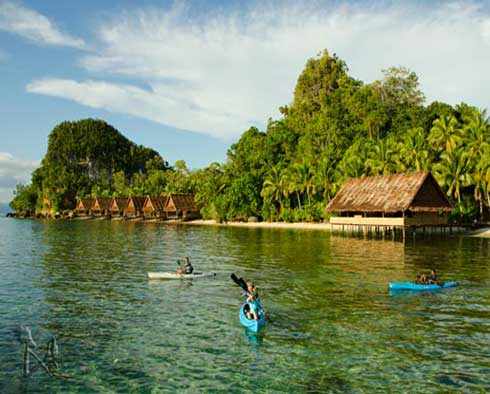 on the beach, From £347
Raja4Divers
Raja Ampat, Indonesia
RELATED: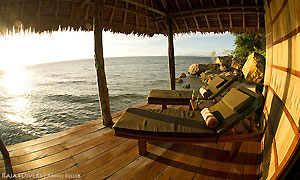 Pulau Pef is an exclusive private island under Swiss management, open year round, located 48 km south of the equator in remote central Raja Ampat West Papua, north of the Dampier strait, 109km from Sorong.
In all aspects, Raja4Divers fosters co-operation with the surrounding villages, from the first traditional island blessing ceremony to the daily resort activities, supporting the local economy by buying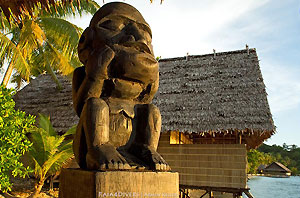 fresh fish and produce and using local materials at the resort, as well as employing and training many friendly Papuans from the nearby villages.
The landscape of Pulau Pef consists of mountainous terrain covered in lush jungle, surrounded by spectacular bays, white sand beaches, coconut palms, pristine blue water mangroves, hidden lakes, blue lagoons, limestone 'mushroom islands, ancient rock art, incredible fauna and flora and some of the world's richest reefs in every direction.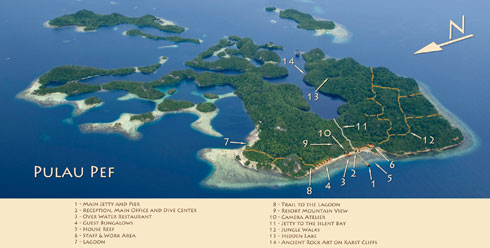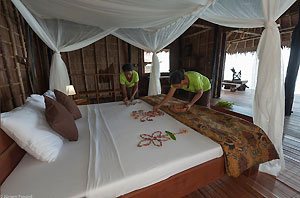 The Resort
an experienced, qualified and motivated team, under Swiss management
set on a palm-fringed beach, with the entire Pef island waiting to be explored
surrounded by the world's best dive sites
house reef, spectacular bays, hidden lakes, lagoons and beaches
limestone 'mushroom' islands with unexplored caves
climbable rocky outcrops and ancient rock art on karst cliffs
exotic birds and extreme nature
pristine blue mangroves and virgin jungle
spacious and authentic Papuan style water bungalows on stilts
each bungalow with large sunset deck and glorious sea views
indoor/outdoor bathroom en suite, hot and cold water
built accordingto traditionalPapuan methods, using local materials
furniture and fittings designed and created on site
exclusive and private with a maximum 6 bungalows
conveniently located professional Dive Center
hiking trails, volley ball court, private beach, kayaks, satellite internet, library
over-water restaurant serving a delicious cuisine using local produce and flavours
un-rivalled service levels and friendly staff...
Bungalows
Along a beautiful coconut palm fringed beach, Raja4Divers offers authentic Papuan style water bungalows on stilts. The bungalow measures 128sqm: bedroom 48sqm, deck 24sqm, open air bathroom 44sqm.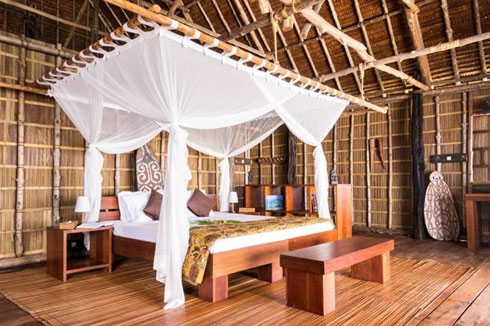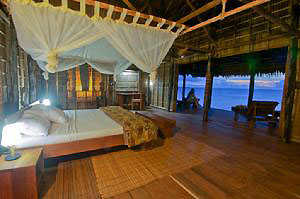 Extremely spacious, light and airy, each bungalow is equipped with every creature comfort: mini fridge, water dispenser, writing desk, mini safe, large en-suite indoor/outdoor bathroom, hot and cold water, amenities, bath towels, swimming towels, and on the large deck: sun loungers, hammock and steps into the water.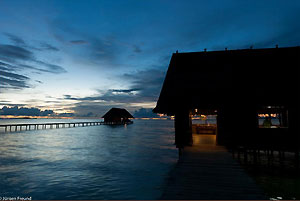 The design relies on proven traditional Papuan building methods, and blends with modern ideas in order to maximise airflow and promote well-being, without compromising the natural surroundings.
Each morning is a treat, with the sounds of exotic jungle birds in the forest off the beach and the large deck offers spectacular views particularly at sunset - an inescapable sense of being one with nature.

Diving & Snorkeling

The un-paralleled world class diving and snorkelling in the central Raja Ampat, is all about amazing diversity of species and habitats.
A myriad of dive sites and snorkelling locations can be found around Pulau Pef, with a large variety of habitats and experiences: lush colourful soft corals and gorgonians, hard coral gardens teeming with life, large schools of fish, superbly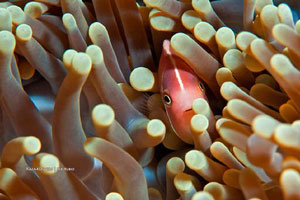 fishy reefs, caverns and overhangs, sea grass beds, pristine blue water mangroves, world war II wrecks, adrenalin filled drift dives, walls and slopes, giant Manta rays, wobbegong sharks, endemic walking sharks, macro critters, dolphins and whale sightings and pygmy seahorses as big as a grain of rice.

The Dive Centre offers Nitrox free of charge, there are no fuel surcharges for dive trips and the unlimited diving package offers the freedom to dive as much or as little as required. Diving is tailored to suit a fair mix of logistics, weather conditions, and guests' wishes. Depending on the diving plan, surface intervals are often spent enjoying a picnic on a beautiful beach or exploring mangroves and islands.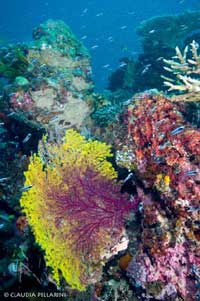 For underwater imaging enthusiasts, the Raja Ampat is a known to be a hot-spot - a 'wide angle' feast for the eyes and a 'macro' delight. Pulau Pef allows for a host of activities close to nature: Kayaking along it's many islets, bays, beaches, cliffs, lagoons and hidden lakes, for snorkelling, swimming, exploring, birding and photography; climbing to the top of the 'house' mountain for spectacular 360° views; hiking through the jungle; bird-watching; walking the jungle trail to private beach and aquamarine lagoon for sunbathing, relaxing and swimming; diving and snorkelling along the house reef's fishy colourful coral gardens, bommies and overhangs. Not to mention the many photographic opportunities: flora and fauna in the surrounding jungle, birds, views, beaches, islands and panoramic views on boat tours around the island.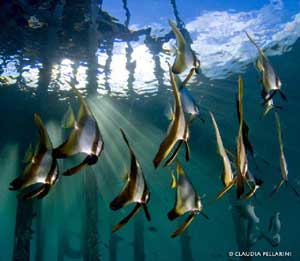 Pulau Pef House Reef
The house reef of Pulau Pef offers good diving and snorkelling opportunities, with a great variety of fish and critters. Night dives are convenient, colourful and productive, with the endemic Raja Ampat walking shark often sighted. At times a school of bat-fish reside under the pier making for good photographic opportunities, while the sun rays stream between the poles.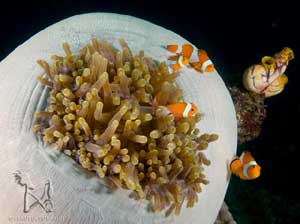 A snorkel along the reef reveals colourful coral gardens and whatever you happen to encounter - the possibilities are endless: clown fish in anemones, schools of bump head parrot fishes, napoleon fishes, every shape and size of reef fish, octopus, cuttle fish, resting wobbegong sharks, nudibranchs, stingrays, eagle rays....
At dusk, just underneath the jetty, underwater photographers can try their hand at capturing an image of the shy by beautiful mandarin fish, which only makes it appearance fleetingly as the light fades into night, sometimes even exhibiting a very brief mating display; and as dusk turns into night, the reef comes alive as the night critters become active.
Pulau Pef is, simply put, a mini Raja Ampat all in one...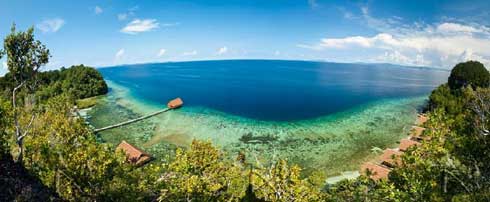 2016 Rates (EUR per person)
| | | | | |
| --- | --- | --- | --- | --- |
| Accommodation Only Packages (adults) | Double room for Single person | Double Room for 2 people/price per person | Double Room plus 1 extra bed for 3 people/price per person | Double Room plus 2 extra beds for 4people/price per person |
| 6 nights resort, 1 night Sorong hotel | 2,880 | 2,200 | 1,960 | 1,800 |
| 13 nights resort, 1 night Sorong hotel | 5,480 | 4,080 | 3,640 | 3,320 |
| 20 nights resort, 1 night Sorong hotel | 7,960 | 5,880 | 5,160 | 4,680 |
| 27 nights resort, 1 night Sorong hotel | 10,200 | 7,520 | 6,560 | 5,920 |
Includes:
Accommodation, all meals, extra snacks and fruits, tea, coffee, drinking water
NO fuel surcharges
Papua travel permit and registration (4 passport photos required)
Hotel in Sorong: bed, breakfast and airport transfers
Porter fees Sorong
Wi-Fi
Laundry service
kayak rental
joining the divers by boat for snorkelling or fun
Government taxes
Excludes: alcohol/canned/bottled beverages
*Extras: Scheduled boat transfer to and from Pulau Pef EUR €250/per person. SATURDAY: Sorong - Pef / FRIDAY: Pef - Sorong
*Non-shceduled boat transfer to or from Pulau Ref EUR €1,500 one way. Discounted rate: 1-10 people, luggage and resort supplies - subject to fluctuation without notice
Marine Park Fee IDR1,000,000 per person, strictly payable in Rupiah cash, valid for 1 calendar year.
2016 rates apply for all bookings made in 2016 for stays in 2017.
New 2017 rates will apply for all bookings made from 01 January 2017 on.
browse all escapes & hideaways
* NOTE. Prices indicated on this website are shown as a guideline only and may be subject to currency fluctuations, banking fees and other changes outside our control. Pricing information is available in
other currencies
.