Indonesia Escapes & Hideaways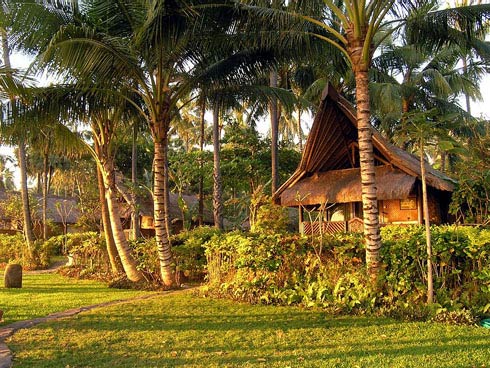 on the beach, Price upon request
Alam Anda Dive & Spa Resort
Bali North Coast, Indonesia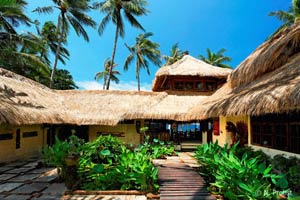 The Alam Anda has been an insider tip for many years and today it has almost a cult status with regularly returning guests. Occupying 420m of shoreline and far from Bali's mainstream tourism areas, it was originally built by German architect, Uwe Siegfriedsen, in pursuit of a personal dream to share with his Balinese family.
Uwe has recently retired from managing the place but still live next door and keeps a keen eye on it.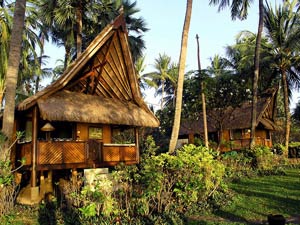 The resort's cottages are all built from natural materials, including palm wood, mahogany and bamboo, and thatched with the traditional Alang Alang grass -- even the varnish is natural -- and are scattered around a generous 2 hectare palm garden, with hundreds of shady coconut and Lontar palm trees, Kambodjas, Eucalyptus and banana trees. On the almost empty, pebble beach you might occasionally meet a fisherman or children playing -- but no sign of tourists other that your co-guests. Here it is still possible to enjoy the real Bali with its local hospitality and culture.
Accommodation
Seaview Bungalow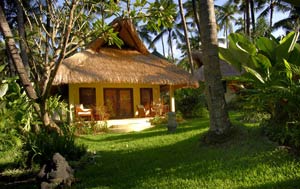 10 bungalows built on stilts, all with sea view. Generously spaced out, without any frills, therefore purely natural. The combined living room/bedroom is furnished with bamboo and the bathroom in marble. With local shower, warm and cold but ... have you ever heard of the "Mandi". Extra shower freshness, Asian style, is obtained by scooping water from a basin. The conventional shape of the room, copied from Sumatra's old building experts, makes use of the sea breeze as air conditioning and there is a 2m x 2m secluded cushioned "bale" day bed on the veranda too.
Deluxe Garden Bungalow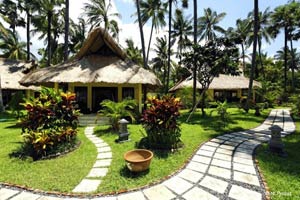 Twelve Garden Bungalows are spaciously embedded into a more than 5,000 m - tropical garden with ponds, fountains and - as you expect in Bali - statues of the various gods. Shady coconut palm trees and other trees as well as several bale (roofed relaxation areas) turn the garden into a real wellness area. All bungalows have a combined living room/bed room, minibar and a bathroom (partially open air) with shower/toilet. Room temperature is adjustable anytime by air conditioning. The three rearmost bungalows (60 m?) have an additional bed couch for a third person and they are shaped more spaciously. Every bungalow has its own private veranda.
Double bungalow Ambu Ambu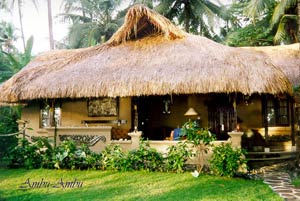 Located in its own private 900m?palm garden 20 meter away from the water?s edge, the Ambu Ambu has two bedrooms for four people, each with its own open air bathroom. Natural sea breeze air conditioning circulates through three openings just under the roof.
In the "Master Bed Room" there is a huge double bed. The other room can be used as a bedroom, living room or study. It is furnished with two sofas which can be arranged as two single or one double bed as required.
A small room respectively connects or divides these two rooms. In here there is a small pantry with sink, oven and fridge.
The are two sun loungers in the garden and two hammocks. The living / dining room is positioned on the side of the building towards the sea. It is open on three sides and contains a marble/rattan dining table and a 2m x 2m cushioned "bale".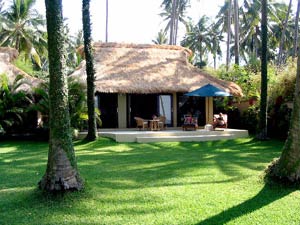 Junior Suites Bahari 1 + 2 ?? The detached Junior Suites are located at the west end of the Alam Anda grounds with unrestricted sea views. The Master Bedroom is equipped with air conditioning, the living room with ceiling fan. Connected to the living room there is a small pantry with fridge. Suites have a 1,000 m? garden located directly by the sea and with a 15 m? terrace.
Luxusvilla Lumba Lumba The detached ?Honeymoon?-Villa, is situated on it?s own at the east end on the ALAM ANDA grounds, 20m from the beach, with 25m private shoreline and with its own private swimming pool. The master bedroom has a 4 poster bed with sea view. There is also a second room for two more people, two open bathrooms, a small kitchen, CD player, safe, ALAM ANDA-House telephone. Breakfast is served daily in the villa
Apartment Alamari
The Apartment Alamari - approx. 80 m? - is surrounded by a small garden and has a separate entrance. The living area is approx. 55 m?. The apartment is furnished with typical Balinese style bamboo and rattan. There is a double bed with mosquito net and a small sitting area. The bathroom with shower, toilet and typical Indonesian Mandi (hot and cold water). A small kitchen with sink and refrigerator is part of the equipment as well as an approx. 4 m? roofed over day bed or bale in the garden.
browse all escapes & hideaways
* NOTE. Prices indicated on this website are shown as a guideline only and may be subject to currency fluctuations, banking fees and other changes outside our control. Pricing information is available in
other currencies
.