Indonesia Escapes & Hideaways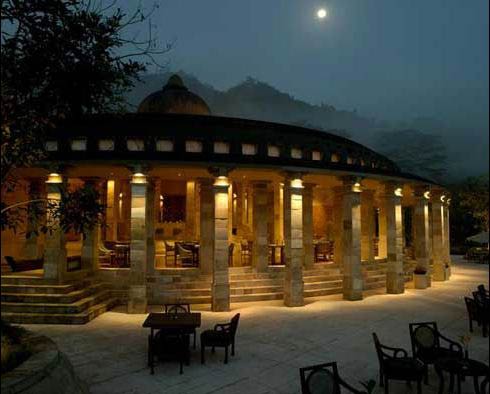 in the bush, Price upon request
Amanjiwo
Jogyakarta, Indonesia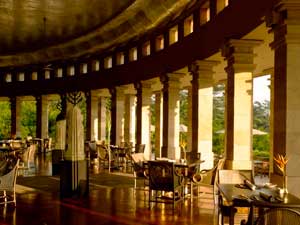 Amanjiwo (which means "peaceful soul" and opened in 1997) is a monumental resort fashioned out of limestone and takes its inspiration from the surrounding culture of Central Java.
The resort is located within a natural amphitheatre with the limestone Menoreh Hills rising directly behind, the Kedu Plain in front and four volcanoes - Sumbing, Sundoro, Merbabu and Merapi - gracing the horizon.
Amanjiwo looks out onto Borobudur, the largest Buddhist sanctuary in the world. Indeed, Borobudur is carefully mirrored in the resort's design and central dome. The view runs arrow-straight through Amanjiwo's entrance and the stone corridor that neatly cleaves the resort, up the steps to the soaring, bell-shaped rotunda, down to the Dining Room, on to the Terrace, past rice fields in an unwavering line to Borobudur itself. Several kampungs (small villages) are within walking distance.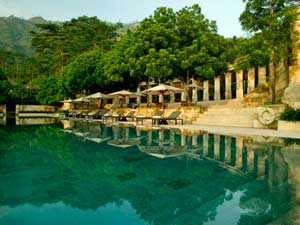 Amanjiwo is constructed from paras yogya - the local limestone. Thirty-six suites radiate outward from the main building in two deep crescents. These are rimmed by high, limestone walls set off by spider lilies and morning glory. The walls blend into the stone walkways that link the suites to the main building and the Pool Club. At the far end of the resort, in a lush tranquil setting, is the Dalem Jiwo - a large private suite.
ACCOMMODATION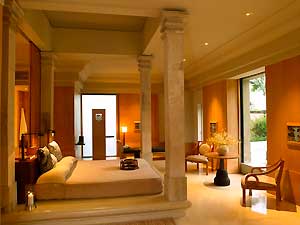 Amanjiwo's suites feature terrazzo flooring, high ceilings, domed roofs and sliding glass doors that open onto a garden terrace with a view of Borobudur. Fifteen suites come with private swimming pools. All suites include a thatched-roof gubug (pavilion) with a daybed for outdoor lounging and dining. Interiors include a central, four-pillar bed on a raised terrazzo platform, sungkai wood screens, coconut wood and rattan furniture, old batik pillows in classic Yogyakarta style, traditional glass paintings and a sunken outdoor bathtub.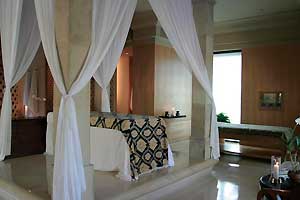 Suites: There are eight suites in varying locations with views of the
Menoreh Hills and terraced farmland. Each suite category has the same size
and room configuration as well as all the amenities and interior features mentioned above.
Deluxe Suites: Each of the 12 Deluxe Suites offer views of Borobudur and the surrounding valley.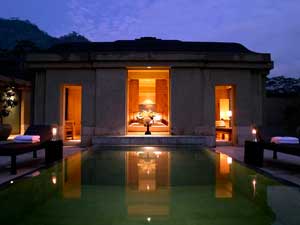 Pool Suites: Four pool suites have views of the Menoreh Hills and surrounding farmland. The natural stone pool stretches from the bedroom toward the outdoor pavilion. The pool is six metres by three.
Deluxe Pool Suites: All 10 suites in this category have views of Borobudur and Java's most sacred mountains - Merapi, Merbabu, Sumbing and Sundoro.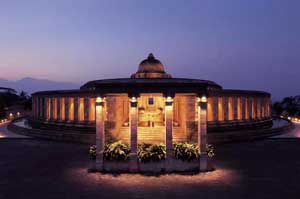 The Dalem Jiwo Suite: This retreat is set in a discrete compound complete with a private entrance, a classically styled rotunda and surrounding terrace with two separately walled bedrooms, each with stone steps descending to the suite's private swimming pool. The 15-metre pool, finished in a green Javanese stone known as hijau danau, is set into the rice fields. The Dalem Jiwo personal attendant, always on call, has separate quarters in the compound.
FOOD AND DINING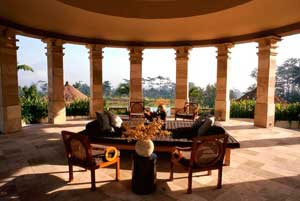 The rotunda Bar is a circular salon, with columns and drop fans, a coconut-wood bar and acid-etched bronze-drum tables.
The Dining Room, with its silver-leaf ceiling swirling with muted colours, is defined by a double row of stone columns. At either end, gold-leaf murals recreate scenes from the Hindu epic Mahabharata. The tables are of black terrazzo, the chairs silver-painted rattan with Yogya cushions. Indonesian and Western cuisine is served in an open-air setting. The specialty of the house is makan malan, a series of classic Javanese selections served in brass dishes.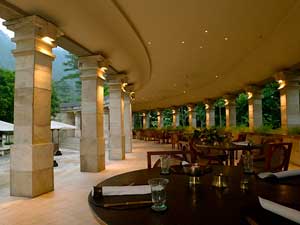 The Dining Room looks out onto the crescent-shaped Terrace, with its banquette seating, brass tables, teakwood chairs and Yogya batik cushions. The view from the Terrace is particularly arresting at dawn and twilight, or after a cleansing rain, when the views open up over the Kedu Plain. Borobudur is directly ahead. Drinks, snacks and light lunches are also available at the colonnaded Pool Club that stretches into the rice fields. From the deck or from the 40-metre, green-stone pool itself, guests can enjoy views to Mt. Merapi.
FACILITIES
Library: The library is large and bright, with a black terrazzo table and daybeds for two at either end. A selection of books on Indonesia is available in several languages, including Japanese and German. A variety of CDs, tapes and games can be borrowed.
Art Gallery and Studio: Regular exhibitions are held in the art gallery. Amanjiwo's informal artist-in-residence keeps a studio there, and guests are welcome to make use of the easel and paints on hand. For those inspired by the views from Amanjiwo, a box of watercolors is provided in each suite.
Meditation Garden: The Meditation Garden is hidden in a quiet corner of the resort below the Menoreh Hills. A stream runs past the terracotta-roofed pavilion and butterflies are abundant.
Swimming Pool: The resort features a 40m swimming pool.
Tennis Centre: Amanjiwo has two tennis courts with a thatched-roof pavilion for shaded breaks and refreshments.
Massage: Amanjiwo's masseurs and masseuses live in the villages surrounding Borobudur. They arrive with open smiles, bare feet, a bamboo tray of bottles and bowls, incense and a length of batik cloth. In their gifted hands, massage, or pijat, can be healing and relaxing. Facials, Javanese cream baths and beauty treatments are also available. Treatments can be taken in the privacy of your room, as well as in the suite specifically designed to cater for massage and beauty treatments.
Boutique: A wide variety of Javanese clothing and textiles, old and new, are available at the Boutique, which also features gamelan instruments, shadow puppets, old ceremonial baskets, jewellery and other Javanese craft and antiques.
Gallery: Exquisite hand-woven, hand-dyed and painted silk scarves, shawls and other pieces are featured here.
General Information
Name : Amanjiwo Resort
Destination : Indonesia
Location :
Seasons :
Capacity (max no. guests) :
Accommodation
Room Types :
Showers & toilets :
A/C :
Hot Water :
Further Information
Electricity :
Fire warning system :
Fire extinguishers :
Fire escapes :
Entertainment :
This rate is available until 30 April 2014
| | |
| --- | --- |
| Suite | Rates |
| Garden Suite | $ 850 |
| Borobudur | $ 950 |
| Garden Pool Suite | $ 1,050 |
| Borobudur Pool Suite | $ 1,150 |
| Dalem Jiwo Suite | $ 3,000 |
Notes
Rates are based on single or double occupancy.
Rates include airport transfers from Yogyakarta and Solo airports. A complimentary concierge arrival service is also included for international arrivals at Solo airport and available at a special rate of US$40 per person for arrivals from Jakarta.
Rates are subject to 10% service charge and 11% government tax.
Rates and government tax are subject to change without notice.
browse all escapes & hideaways
* NOTE. Prices indicated on this website are shown as a guideline only and may be subject to currency fluctuations, banking fees and other changes outside our control. Pricing information is available in
other currencies
.