Indonesia Escapes & Hideaways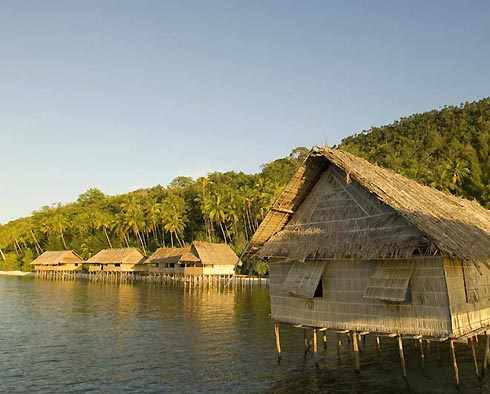 on the beach, Price upon request
Kri Eco Resort
Raja Ampat, Indonesia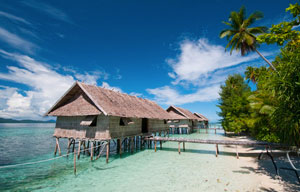 Established in 1994, Kri Eco was the first dive resort to open in Raja Ampat and has been beautifully maintained and renovated to keep to its high standard.
Kri Eco Resort is a simple, informal, but comfortable dive resort set in a pristine natural environment. This is a choice for people who like the back-to-nature experience - peaceful location, natural surroundings and tropical island beauty. It sits on the edge of mountainous Kri Island, and is shaded by palm trees that run along a long fine white sand beach.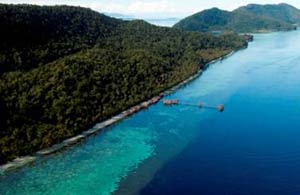 The resort is built from natural local materials by local craftsmen and has a low environmental impact. It is designed to naturally blend in with the unspoiled tropical surroundings.
The 13 beautiful guest rooms of a traditional Papuan design, the restaurant and lounge areas are built on stilts over the water to maximise the relaxing sound of the the sea. The rooms are a few steps from natural undisturbed jungle where the song of beautiful tropical birds can be heard from dawn to dusk. It gives the resort a truly close to nature feel and naturally relaxing feel.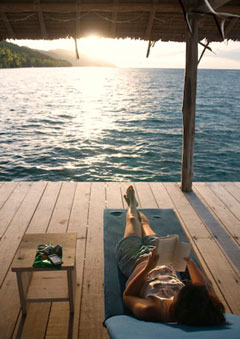 PAPUAN (located along the overwater walkway) and SUPERIOR PAPUAN (located along the beach, perched above the water) cottages are designed with shared 'mandi' type bathrooms with western toilet & hot mandis after a night dive (an Indonesian mandi is operated by pouring water over yourself).
DELUXE cottages are with ensuite private bathroom with warm water (western standards), and spacious private sundeck
Waking to the song of tropical birds is a wonderful way to start the day and after a days amazing diving or snorkelling, the end of the day is illustrated with a spectacular sunset.
For those wishing to relax in solitude the resort is small and spacious enough to enjoy personal space in one of the few remaining places on Earth that is still sparsely populated.
From the rooms, lounges and restaurant many aquatic creatures can be observed without needed to step into the water. The shallow water around the resort is a nursery for many different of species, including Juvenile Blacktip reef sharks which can been seen cruising up and down the waters edge.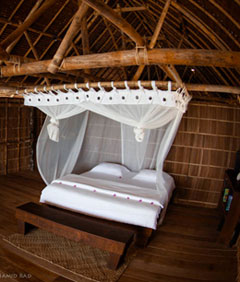 The restaurant serves delicious Indonesian inspired food in a relaxed, friendly atmosphere. There are many opportunities to meet interesting people and swap stories or aquatic discoveries from the day at the communal style tables. The food also includes a variety of local vegetables and fruits so vegetarian comfortably eat without special preparations. Drinking water, coffee and tea are provided free of charge, as are snacks for longer excursions on the boats. Fresh fruit juices, soft drinks and beer are available for an extra charge.
General Info
Name : Kri Eco Resort
Destination : Indonesia
Location : Raja Ampat Islands of West Papua Province. Fly to Sorong via Manado or Makassar, boat from there. One and a half hours by boat from Sorong
Seasons : Year round
Capacity : 28 (max. no. guests)
Free Wifi available in guest rooms and lounge areas (Fair usage policy applies)
Free laundry service
Nitrox: Free 32%
Own dive center and equipment
Retal equipment available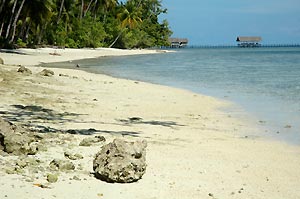 Room Facilities
Electric fan (24/7)
Western style bed and mattress
Mosquito nets
24h electricity
Fresh drinking water
Soap, tissues and fresh towels
Camera table with several sockets
Safety
Fire warning system : N/A
Fire extinguishers : Yes
Fire escapes : N/A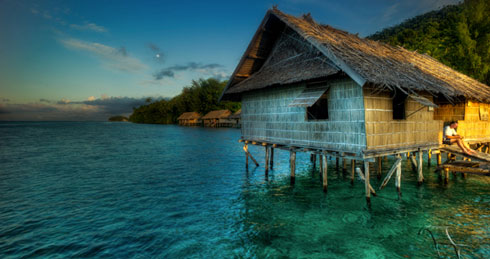 2015 Kri Eco Resort Rates - Only applicable for stay taking place in 2015
Rates per person in EUR
Papuan Cottage
Superior n Cottage
Deluxe Cottage
7 nights
805 Dbl/Twin
1,015 Single
938 Dbl/Twin
1,162 Single
1,197 Dbl/Twin
1,449 Single
10 nights
1,125 Dbl/Twin
1,425 Single
1,311 Dbl/Twin
1,631 Single
1,674 Dbl/Twin
2,034 Single
14 nights
1,525 Dbl/Twin
1,945 Single
1,579 Dbl/Twin
2,027 Single
2,268 Dbl/Twin
2,772 Single
17 nights
1,831 Dbl/Twin
2,341 Single
2,133 Dbl/Twin
2,677 Single
2,723 Dbl/Twin
3,335 Single
21 nights
2,236 Dbl/Twin
2,866 Single
2,606 Dbl/Twin
3,278 Single
3,326 Dbl/Twin
4,082 Single
Child sharing 4-7 yrs
25% of adult rate
Child sharing 8-11 yrs
50% of adult rate
Child sharing 12-13 yrs
75% of adult rate
2016 Kri Eco Resort Rates
Rates per person in EUR
Papuan Cottage
Superior n Cottage
Deluxe Cottage
7 nights
890 Dbl/Twin
1,100 Single
1,089 Dbl/Twin
1,322 Single
1,357 Dbl/Twin
1,609 Single
10 nights
1,210 Dbl/Twin
1,510 Single
1,471 Dbl/Twin
1,791 Single
1,834 Dbl/Twin
2,194 Single
14 nights
1,610 Dbl/Twin
2,030 Single
1,739 Dbl/Twin
2,187 Single
2,428 Dbl/Twin
2,932 Single
17 nights
1,916 Dbl/Twin
2,426 Single
2,293 Dbl/Twin
2,837 Single
2,883 Dbl/Twin
3,495 Single
21 nights
2,321 Dbl/Twin
2,951 Single
2,766 Dbl/Twin
3,438 Single
3,486 Dbl/Twin
4,242 Single
Child sharing 4-7 yrs
25% of adult rate
Child sharing 8-11 yrs
50% of adult rate
Child sharing 12-13 yrs
75% of adult rate
Day of arrival & departure transfers between Sorong & Kri: 7, 14 or 21 nights: Sunday/Sunday; 10 or 17 nights: Thursday/Sunday or Sunday/Wednesday
Prices include accommodation based on double/twin sharing in chosen category, meals, snacks, coffee, water, tea, wifi, registration (Surat Jalan), access to a computer for photo editing, laundry service.
Prices do not include the Raja Ampat Marine Park Entry Permit of IDR500,000.00, valid for one year. Fee of €17 for Saturday "Red Bird of Paradise" excursion to donate to guide/village. Soft drinks and alcoholic beverages
Extras:transfer fee (between Sorong airport & Kri Eco Resort) per person per journey = €75 (for 2015) & €85 (for 2016) for stay less than 7 nights.
Others: Non-scheduled transfer boat charter from Sorong is €550 per way (for 2015) and €600 (for 2016) (this cost can be shared amongst guests on boat). Fast public Ferry to Waisai and pick up from Waisai harbour is €95 (for 2015) and €110 (for 2016) per person per way (ferry does not operate on Indonesian Public holidays, please check)
Returning guests: 1st time returnee receives 15% off, 2nd or more time receives 20% off.
Snorkel packages: by boat, guided, within 10km around the resort.
| | | |
| --- | --- | --- |
| Snorkel Packages/ EUR per excursion per person | 2015 | 2016 |
| 1-5 snorkelling excursions | 22 | 24 |
| 6-10 snorkelling excursions | 21 | 22 |
| 11-15 snorkelling excursions | 20 | 21 |
| 16+ snorkelling excursions | 19 | 20 |
*House reef snorkelling is free of charge, unguided
browse all escapes & hideaways
* NOTE. Prices indicated on this website are shown as a guideline only and may be subject to currency fluctuations, banking fees and other changes outside our control. Pricing information is available in
other currencies
.