Indonesia Escapes & Hideaways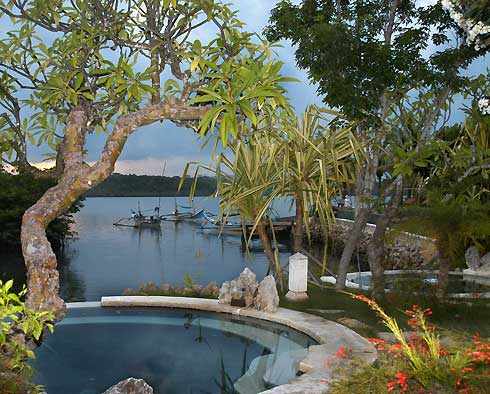 on the beach, Price upon request
Mimpi Menjangan
Bali North Coast, Indonesia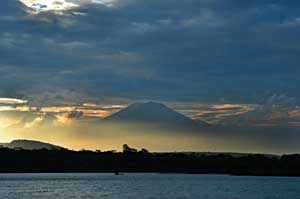 Set on the shore of a lagoon-like bay in the northwestern coast of Bali neighboring the Bali Barat National Park and the famous diving site of Menjangan Island, the Mimpi Menjangan Resort is built to simulate a Balinese village with 30 terraced patio rooms and 24 walled courtyard villas.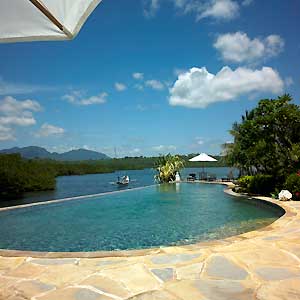 All villas feature their own hot spring tub and six of them have private natural stone plunge pool. Its location is ideal setting for diving and snorkeling to the renowned Pulau Menjangan, plus canoeing in the lagoons, sea-biking and exploration trips to discover the flora and fauna of the Bali Barat National Park.
A fully-maintained PADI Dive Center is available on site to cater for both beginner and experienced divers. Safe and easy diving begins with well-trained and attentive professional staff and well-maintained equipment.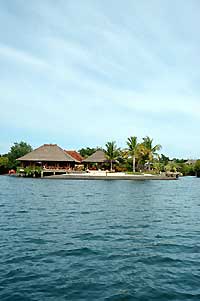 Daily boat dives are arranged to visit Menjangan island. Boats depart at 0900 am after breakfast from the resort's beach and take approximately 30 minutes to reach the island. After 2 dives it returns to the resort at around 1430 allowing ample time to enjoy the resort. Soaking in the hot spring after diving is an unique privilege. Secret Bay or Mimpi Channel just across the resort bay can be easily explored from the resort.
For non-divers but watersport enthusiasts, snorkeling, canoeing and sea-biking are available.
Accommodation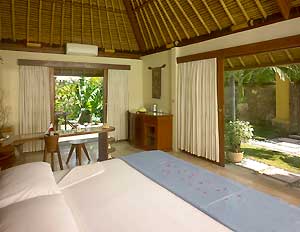 The 30 Patio Rooms are landscaped facing the lush greenery of a tropical garden. Each room features a large verandah with comfortable day beds and furniture for relaxing. In traditional Balinese style, Bathrooms are set in a small garden and open to the sky, allowing more contact with nature whilst showering. Rooms are cool with marble floors and high wooden ceilings.

A natural hot spring pool is provided in the garden in front of the patio rooms for outdoor bathing. The entrance to each villa is private with thatched-roof gate ensuring complete privacy. The villas' courtyards are walled enclosing their own tropical gardens, each equipped with a traditional " bale bengong " (day bed) for relaxing. A natural stone tub is featured as part of the gazebo area for private natural hot spring bathing.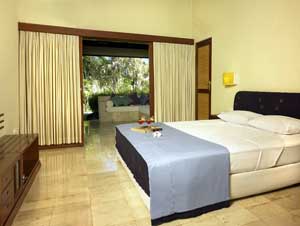 The villa bedrooms are detailed with traditional ambience - cool marble floor, spacious thatched-roof ceiling and natural wooden furniture. The bathroom features wooden sink table and open shower walled in natural stone. A small wooden door is uniquely attached connecting the shower ground to the courtyard garden to allow direct access from the garden to the shower. Six of the 24 courtyard villas feature their own private plunge pools built from natural blue stone. The grand villas have wooden decks with outdoor dining tables overlooking a hidden lagoon in the shadow of a natural park.
Restaurant And Bar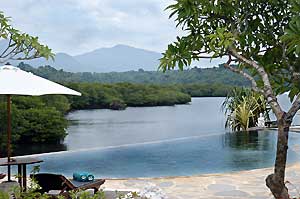 A half-floating restaurant is beautifully set up right at the waters edge of the bay. The view overlooks a waveless lagoon-like bay surrounded by lush mangrove vegetation and untouched monsoon forest. The summit of East Java's Mount Ijen can be easily seen, shrouded in mist in the early morning and sillouhueted at sunset.
Spa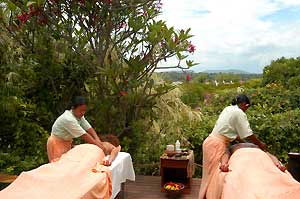 Six treatments are carefully selected to rejuvenate body and soul after an active day. Some of the treatments use the resort's natural thermal hot spring water. Try the traditional or aromatherapy massage, lulur body scrub, or take the two-hour spa combination mixing massage and facial treatment.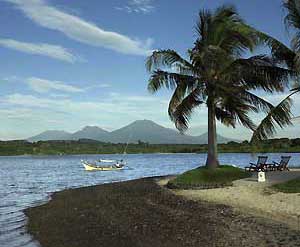 General Info
* Name : Mimpi Menjangan Resort
* Destination : Indonesia
* Location : Bali & the Lesser Sundas
* Seasons : Year round
* Capacity : 72
Room Facilities
* Room Types :
* Showers & toilets : en suite, open air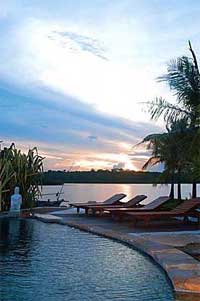 * A/C : yes
* Hot Water : yes
* Entertainment : diving, snorkeling, kayaking, swimming, nature walks, water skis
* Electricity : 220V
Safety
* Fire warning system : Yes
* Fire extinguishers : Yes
* Fire escapes : N/A
Dive location & resources
* Dive location : Pualu Menjangan
* Dive facilities : In house PADI dive centre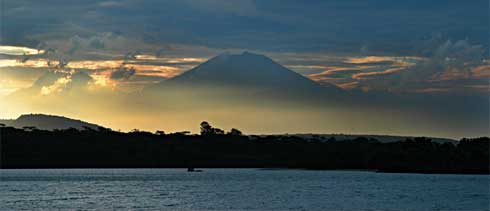 browse all escapes & hideaways
* NOTE. Prices indicated on this website are shown as a guideline only and may be subject to currency fluctuations, banking fees and other changes outside our control. Pricing information is available in
other currencies
.