Indonesia Escapes & Hideaways
on the beach, Price upon request
Misool Eco Resort
Raja Ampat, Indonesia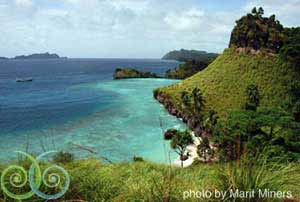 Misool Eco Resort is located in the remote southern part of Raja Ampat, West Papua, Indonesia. This small resort is located on its own private island, Batbitim, nestled deep in a vast archipelago of uninhabited islands, 165 kilometers from the nearest port and the nearest village is 20km away by boat.
Batbitim is fringed with powder-white beaches, protected by stunning clear lagoons and abundant reefs. With a maximum capacity of just 40 guests and a staff-to-guest ratio of 3 to 1, it offers exclusive diving holidays, surrounded by the world's richest reefs.
ACCOMODATION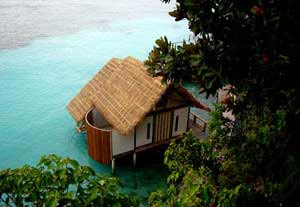 Misool Eco Resort was built entirely of reclaimed tropical hardwoods, milled on site with its own portable sawmill. All accommodations have been meticulously designed for comfort, privacy, and sustainability. Featuring Balinese-style open air bathrooms, air-conditioning, fresh hot and cold showers, mini-bars, in-room safes, and handcrafted furniture and fittings.
Its eight rustically luxurious Water Cottages are located in the North Lagoon, just steps from the Dive Centre and restaurant. The Water Cottages are built on stilts over the water. For lazy afternoons with a good book, there is a hammock built right into the veranda. The view from your veranda is framed by a traditional grass roof, offering a high degree of privacy as well as shade. Stairs lead down from your veranda to the North Lagoon, and the House Reef is just a few fin kicks away.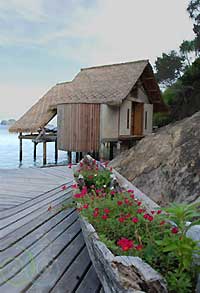 For those seeking a bit more space and seclusion, we suggest one of the Villas or Residences:
Utara Residence, also built on stilts on the western edge of the North Lagoon, overlooks the House Reef and the spectacular dive sites of Fiabacet beyond. This Villa features two en-suite bedrooms, a shared common area with a half bath, a loft, and a massive veranda. We especially recommend this Villa for families or groups of friends.
Villa Kalanme is located on the secluded South Beach. This Villa, named after one of its island's most important spirits, is a complex of three separate en suite bedroom units, with a shared round-roofed living area and huge outdoor living space. This Villa is particularly well-suited to those who enjoy greater privacy and gorgeous white-sand beaches. Access to this Villa is either by water taxi (on call and reachable by radio), or by a scenic but steep paved path.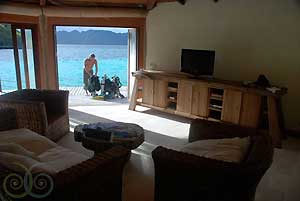 Villa Santai and Villa Tenang, its newest Villas, are located at the far end of the South Beach. Two stunning en suite bedroom units are built under the shady coconut palms, with expansive views over the Southern horizon from the huge terraces. Access to Villa Santai and Villa Tenang is either by water taxi (on call and reachable by radio), or by a scenic but steep paved path.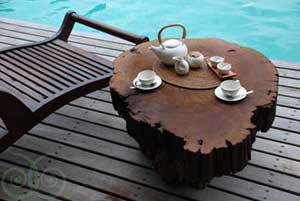 Villa Tabisasu is located on the eastern edge of the North Lagoon. This Villa, named after the local word for 'orchid,' features an en-suite bedroom and conjoining living area. The outdoor living-area face east and enjoys glorious sunrise views, all your own. This Villa is perfect for couples who appreciate a bit more space.
Villa Nasnoos and Villa Wakachom are also constructed on stilts over the North Lagoon. Each of these Villas features an en-suite bedroom with an adjoining living space that could be used for a third person.
DINING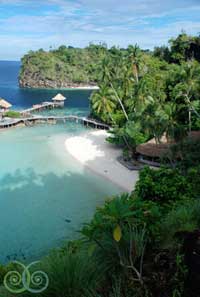 The restaurant is located on the beach overlooking the North Lagoon. The airy, round-roofed structured is tucked under the coconut palms, offering a perfect respite from the mid-day heat. The restaurant's terrace is the ideal place to enjoy a sunset cocktail or a bottle of wine while watching the baby sharks and long-toms hunt schools of circling sardines.
The restaurant offers a broad range of Asian and Western cuisine, with a focus on fresh, local, and organic fare. The resort offers four meals per day, plus afternoon tea on the terrace, with freshly baked treats like lemon and cardamom biscotti or island-fresh banana fritters with shaved white chocolate. We have a selection of wine available.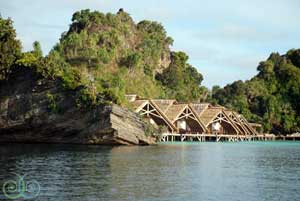 Snacks and drinks are available throughout the day. They can easily accommodate vegetarians, vegans, and other dietary needs and restrictions - just let them know in advance so they can prepare. Please note that out of respect for the Muslim hosts the resort does not serve pork. They also do not serve reef fish or prawns due to unsustainable fishing practices. All of the fish is line-caught outside their No-Take Zone. If you're lucky, you'll see the tuna fishing boat stop by to make a delivery during your stay.
They are slowly shifting to more and more home-grown produce as their orchard matures. Ask the resort for a tour of their organic banana and papaya plantation, and they'll be happy to show you around.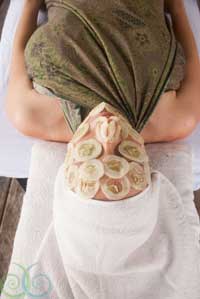 The Misool SPA
MER's massage, body treatments, and beauty treatments feature Misool Eco Resort's signature range of natural products, many of which are freshly created each morning in the resort's own kitchen, using only food-grade ingredients, and choose local organic products whenever possible. You'll find scrubs hand-blended from local ingredients such as candlenut and our own coconuts, face toner derived from freshly pressed cucumber, body wraps using their home-grown aloe plants and freshly harvested banana leaves, aromatherapy using fragrant hand-pressed coconut oil, and scrubs using coffee from the highlands of Papua. Their essential oils are of the highest quality. Enjoy our massage and beauty treatments in the privacy of your own room or at The Lookout.
DIVE CENTER
Misool Eco Resort's Dive Centre is located in the North Bay, built on stilts over the water. The Dive Centre is spacious and airy, with dedicated wet and dry areas to suit professional videographers, photographers, and recreational divers alike.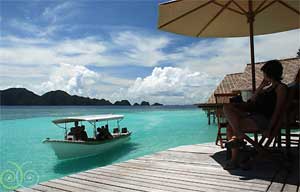 The wet room is 52.5 sq meters and is furnished with plenty of camera tables and work stations. Each cottage is assigned its own kit storage area in the Dive Centre. The kitting up platform is quite roomy, with 75 sq meters. Within the 48 sq meter dry area, you'll find computer stations, comfortable lounge chairs, and a monitor for viewing the day's images. The sunny veranda is 120 sq meters, perfect for drying out between dives and enjoying the topside views.
Misool Eco Resort's Dive Centre is located in the North Lagoon, built on stilts overlooking the turquoise water. The Dive Centre is spacious and airy, and well-suited to professional photographers and videographers. The 50sq meter wet area is equipped with a massive work station, perfect for setting up cameras, charging torches and laptops, etc. The adjacent dry area is furnished with comfortable lounge chairs, a small library, and a monitor for reviewing the day's images. There is also a sunny 120sq meter veranda just outside, perfect for warming up between dives. Access to the water from the Dive Centre is either from stairs leading directly down into the North Lagoon, or by way of the jetty, where their 4 dive boats moor up.
The centre generally schedules 3 guided boat dives per day, as well as either a dusk dive or a night dive. Because dive sites are so close, they usually come back to the resort for the surface interval after each dive. The centre is very flexible, and happy to tailor the dives to your needs - just let your dive guides know what you're interested in seeing, and they'll do their best to accommodate you. Free Nitrox is included to qualified divers.
Safety is priority here so they don't allow deco diving or dives deeper than 30m due to the resort' remote location and distance from the nearest decompression chamber.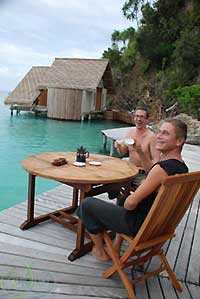 The Misool Conservation Centre
The Misool Conservation Centre will be located on a small beach on the north side of the Batbitim. A UK-registered non-profit, the Conservation Centre will provide a well-equipped, functional base for
scientific research and conservation projects, as well as accommodation for visiting researchers and scientists. It is MER's aim to facilitate continuing research, with hopes of filling a critical gap in our understanding of this complex and important ecosystem.
One of the Conservation Centre's first projects will be to assemble a local team to patrol and enforce the No-Take Zone.
Sustainability Commitment + No-Take Zone
Misool Eco Resort is strongly committed to a policy of environmental responsibility. MER has reached an agreement with their local hosts to create a No-Take Zone.
There simply are no richer reefs on earth, and Misool's 1220sq km (465sq mi/300,000 acre) Marine Protected Area ensures that this region will be preserved for generations to come.
Their first No-Take Zone was established in late 2005, encompassing 425sq km of reef surrounding the resort island in Southeast Misool. The area was leased directly from the local village of Yellu, located outside the No-Take Zone. Unlike the rest of Indonesia, Papuan villages retain traditional tenure rights over the sea. The villages of Raja Ampat have a long tradition of opening and closing fishing seasons to maximise their yield, called 'sasi.'
However, as the demographics of eastern Indonesia have undergone radical changes in the past 15 years the number of newcomers to Papuan villages has increased dramatically. These shifts have shaken the foundations of Papuan communities, and many traditions, including 'sasi,' are disappearing.
When the Misool Eco Resort first approached the villagers and proposed the idea of a conservation zone, they already understood the inherent benefits and needed no convincing. They asked for their help to preserve their local tradition of 'sasi.'
In 2010, they were approached by community leaders from a second village, asking that they create a conservation area in their tenure area as well. The resort's No-Take Zone expanded to include the distant islands of Daram, bringing the total No-Take Zone to 828sq km.
In 2010, the resort's Rangers and the local community created a punitive system for offenders. Any fishing boats found inside the No Take Zone are escorted by the Rangers back to the local village. Usually these boats are not from the local community but from other parts of Indonesia. The boats are then impounded and any catch is confiscated. The community leaders assemble a traditional Papuan court and levy a steep fine. The fine is quite steep, usually several months' wages per vessel. This fine then enters the community coffers. The incidence of infractions in the No-Take Zone is now extremely low, and local support remains high. In this way, the also support the traditional power structures of a Papuan village.
Perhaps most importantly, MER is dedicated to safeguarding the local community in which it operates. The labour force is drawn largely from Yellu, the closest village and MER offers them good working conditions, health benefits, job training, and English lessons.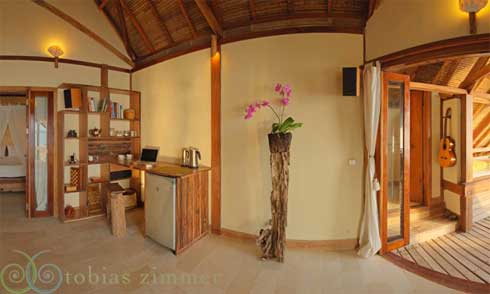 General Info
Name : Misool Eco Resort
Destination : Indonesia
Location : Misool Eco Resort is located in the remote southern part of Raja Ampat, Indonesia. This small resort is located on its own private island, Batbitim, nestled deep in a vast archipelago of uninhabited islands, 165 kilometers from the nearest port and the nearest village is 20km away by boat.
Seasons : Year round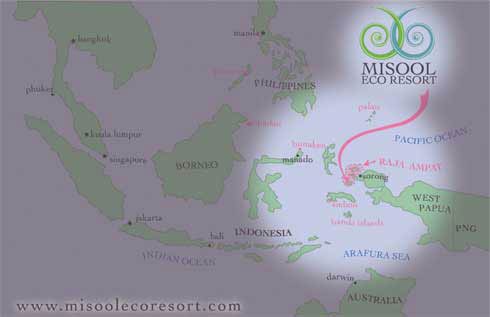 browse all escapes & hideaways
* NOTE. Prices indicated on this website are shown as a guideline only and may be subject to currency fluctuations, banking fees and other changes outside our control. Pricing information is available in
other currencies
.