February 24, 2009 – 11:09 am
I recently visited a community deep in the Cardomom Mountains, western Cambodia that, until recently existed to plunder the rainforest of trees and wildlife.  
Chi Phat is a former logging community a 2 hour boat trip up river from the newly refurbished road linking Koh Kong to the rest of Cambodia and the largest settlement within what is now the Cardomom Mountains protected area, and it is here that the Wildlife Alliance (formerly known as Wildaid) have been driving a community based eco-tourism initiative to ween the local people off hunting endangered wildlife and chopping down the rich rainforests.
Already the commune of 4 villages and 520 families has 4 guest houses established and almost daily arrivals of Western tourists, thanks to a mention in Nick Ray's recently published, latest edition of the Lonely Planet Cambodia. 
According to the Wildlife Alliance, 94% of the families have now thumb printed an agreement to participate in the eco tourism project, and to desist from illegal wildlife and timber trading.  Expectations must be pretty high for a quick economic result.  But I wonder if they really understand the changes that tourism will bring to their community, and I also wonder how they will moderate tourism arrivals such that the tourism itself does not drive tourism away again.
The big dilemma – how do you stop tourism from loving what it loves to death?  Most backpackers heading to a place like Chi Phat will be doing so to try to get a closer look at an authentic rural community, unadulterated by modern development or by tourism. Many will also be going there for the kudos of having gone to a place that few outsiders know about.  So what will be their response when they find that there are already dozens of foreigners wandering around the village, bathing in the waterfalls and generally "intruding" on their uniquely personal experience?
For the moment the visitors are coming in their ones and twos.  The community needs to be aware of the risks of over selling and compromising the charm of their product.  Meanwhile, they need to keep the income growing so that there is not the temptation to revert to illegal wildlife collecting.
Chi Phat's attraction: While I was there I went for a 2 day trek into the rainforest, sleeping overnight in hammocks under a jungle shelter.  Most of the walk was through secondary forest, sometimes following former logging tracks, now heavily overgrown.  The group was too big and noisy for any real chance to see wildlife, though we did see and hear fly-overs by 2 different hornbill species – pairs of Greater Hornbill and several large flocks of Pied Hornbill.  In a natural clearing near the campsite we disturbed a large group of wild pig.
To start the trek we too a very scenic, early morning boat ride along mist-shrowded, winding rivers through dense forests.  Such expanses of seemingly undamaged, natural growth is a wondrous thing to see and heart warming to find that Cambodia still has large expanses of unspoiled wilderness.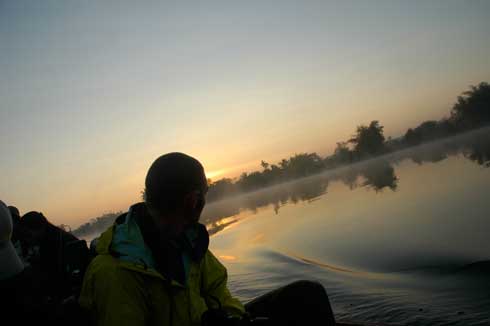 The second day we used mountain bikes to explore sandy tracks and trails, and to visit dramatic waterfalls.  That was great and, for people who enjoy exploring on 2 wheels, worth a two or three day visit.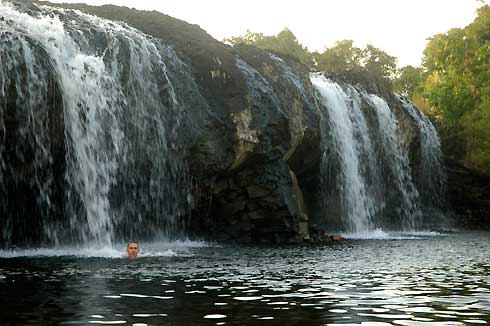 There is talk of building a hide near to one or both of the natural clearings where there are watering holes for the wildlife.  If this happens, then I think that Chi Phat could become a magnet to wildlife watchers… although it will be years of rebuilding trust between the nature and humans before you are likely to see very much here.