October 22, 2009 – 12:25 pm
Cambodia is amazing for exploring on a mountain bike, whether you are an experienced biker or not.  This is mainly because it is still very underdeveloped with few black-top roads… extremely rural in a way that makes Thailand look like a shopping mall. And… flat!  But it is changing quickly as the country races to catch up with with its more affluent neighbours.
The Mekong River trail from the Laos border to Phnom Penh and then on down into Vietnam's Mekong Delta area is perhaps one of my favourite routes – numerous simple villages, wonderful river views. sandy tracks and trails… Amazing!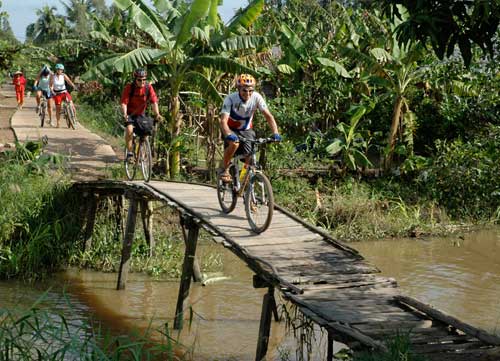 Once you get into the Delta, navigation becomes a challenge as you search for bridges and ferry crossings to leap the latticework of waterways.  Again, narrow trails winding through rural villages (many still without electricity), rice paddies and fruit orchards, using monkey bridges and mini ferry boats to hop over canals. Brilliant!