January 27, 2010 – 2:46 pm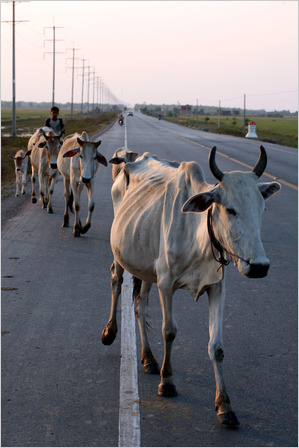 By THOMAS FULLER
Published in The New York Times: January 18, 2010
SIEM REAP, CAMBODIA — Bullet by bullet, workers removed the detritus of Cambodia's past. They pulled 300 land mines and 30,000 rounds of ammunition from the red dirt and then laid down a thick layer of asphalt. Today, what would pass for a very ordinary road in wealthier parts of the world is precious pavement for a country motoring toward prosperity and trying to leave its bloody past behind.
This was the original route for Symbiosis Expedition Planning's Bangkok to Saigon Cycle Challenge which first took place in 2000.  Each year we have to resurvey to find new trails that keep us away from the main roads which, even if they are not busy, are hot and dull to cycle.
This year's Bangkok to Saigon Cycle Challenge will be the 10th and last – fortunately there are still a few routes that show you the rural beauty of Cambodia. Dates: 6-23 November 2010.