September 19, 2013 – 11:00 am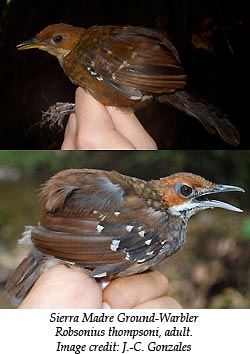 A ground-warbler from the Philippines is the twenty-third species of bird described in 2013.
The species, dubbed Robsonius Thompsoni, is described in the August issue of the journal The Condor. It was discovered after researchers from the University of Kansas, the Universidad Nacional Autónoma de Mexico, the University of the Philippines Los Baños, and the Philippine National Museum distinguished it from two closely-related ground-warblers. The first clue was the bird's coloration, according to University of Kansas biologist Pete Hosner.
"When we noted the different plumage coloration between adult birds in the Cordillera and the Sierra Madre in northern Luzon, we sequenced DNA to determine if the plumage differences were individual variation within a species, or if the two plumage forms were also genetically diagnosable," Hosner said. "We found that Cordillera and Sierra Madre birds were highly divergent in their DNA, almost as different as the distinctive Bicol Ground-Warbler in southern Luzon."
The new species is named after Max Thompson, a retired professor from Southwestern College and a research associate in the Biodiversity Institute at the University of Kansas (KU).
The Sierra Madre Ground-Warbler is the twenty-third species of bird described for the first time in 2013. There are around 10,000 bird species known to science.