November 13, 2013 – 10:23 am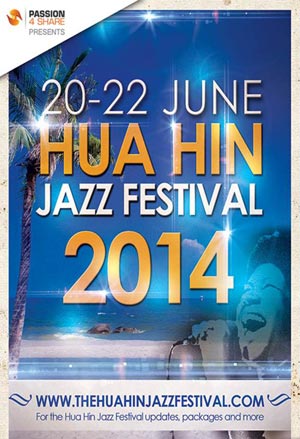 The next edition of the Hua Hin Jazz Festival will take place between 20-22 June 2014, though the exact dates have yet to be officially confirmed by the organiser.
In the Kingdom of Thailand's Jazz scene, the Hua Hin Jazz Festival is one of the most recognised and established jazz festivals, attracting more than 15,000 locals and travellers to the beachside town of Hua Hin, which is just 2-3 hours drive from Bangkok.
The Jazz Festival was first started by a collection of forward thinking hotels in Hua Hin. They took the lead to organise the Jazz Festival on the beach with the aim of attracting more travellers.
You can follow developments of the 2014 Jazz Festival and how the event plans to grow at http://www.thehuahinjazzfestival.com. Why not include it in your next trip to Thailand? Contact us at Symbiosis Custom Travel to discuss.