February 12, 2014 – 11:30 am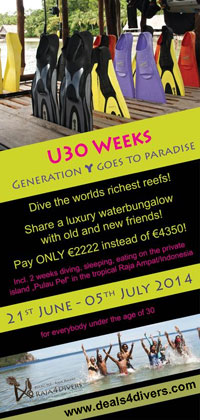 Amazing opportunity for young divers to experience some of the world's best diving in Indonesia's Raja Ampat islands, West Papua.
Raja4Divers is running an Under 30s only fortnight at an extra special price of only EUR 2,222 (normal price € 4,350) in June/July 2014.
Dates: 21st June – 05th July 2014
The offer also includes free Nitrox for anyone with an Enriched Air certification card and limited free dive gear rental (60 days notice needed of what items are required).
More: If you can manage to get a group together of 7 or more people, one will stay for free!
For full information contact Symbiosis Custom Travel NOW. An offer like this will not be available for long!!
Symbiosis can also help you to arrange flights, book additional accommodation as needed, and advise on other travel arrangements for you in Indonesia and South East Asia.