October 25, 2014 – 5:13 pm
The Elephant Conservation Centre (ECC) in Sayaboury, Laos, is a program dedicated to helping protect the endangered Asian elephant, helping to preserve this endangered species. Launched in connection with the NGO ElefantAsia, the ECC is creating an elephant nursery, offering access to veterinary care at a permanent hospital and training mahouts while protecting the existing population of wild elephants.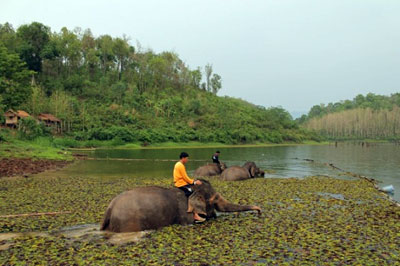 The centre prides itself on their natural and ecologically aware approach to working with these animals. The elephants inhabit a 106 hectare protected forest set by the Nam Tien Lake where there is sufficient natural food and visitors can watch them in their natural habitat without causing a disturbance to their daily activities.
Facilities at the Elephant Conservation Centre are also ecologically friendly, utilising solar power and water from the lake for filtration. To reduce the use of new building materials, ECC's infrastructure uses traditional Lao houses that have been relocated to the centre.
A trip to the Elephant Conservation Centre will compliment any visit to Laos, providing the opportunity to see up close and gain a greater understanding of these endangered animals.
Contact Symbiosis Custom Travel to start planning your visit to Laos.