November 7, 2014 – 11:15 am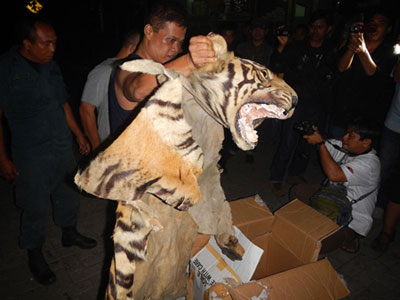 Two online merchants of tiger parts have been arrested in Indonesia. The bust was the result of a coordinated effort between local and national authorities, and the Wildlife Conservation Society (WCS) which supports 'Wildlife Crimes Units' operating throughout the country. The arrests are a small success in the battle to curtail the trafficking of wildlife parts online—where sellers can readily connect with a broad international customer base.
One individual was arrested in Bandar Lampung, the capital of Lampung Province located 90 km from Bukit Barisan Selatan National Park, critical habitat for the Sumatran tiger (Panthera tigris sumatrae). He allegedly sold tiger parts via social media networks, advertising their mystical and healing properties. The other was detained at the port of Merak on the western tip of Java, a critical shipping link between the two islands and a popular exit point for smuggled wildlife. His online offerings reportedly included a variety of 'home decorations,' including tiger skins as well as stuffed tigers, bears, and lions. The stuffed tigers listed for $5,000-7,000.
Read the full story by Loren Bell, Mongabay-Indonesia correspondent, November 04, 2014