July 31, 2015 – 3:34 pm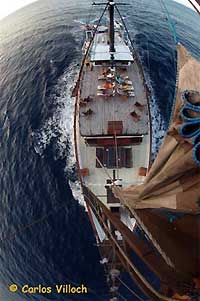 The Amazing Wild East: From Maumere to Alor
We all like well known names and places, they make us feel secure…..but so often we miss outstanding opportunities simply because we do not recognise the names, and this cruise is just one of those occasions. Everyone has heard of Komodo but not many know about the incredible diving in Indonesia's straits to the east of Komodo.
If you like adventure, great diving and to be surrounded by pristine Nature, join Ondina for this fantastic dive cruise to the Wild East of Indonesia's Lesser Sunda islands at a superb price, you will not regret it! Book fast!!
Offer: 8 night sailing cruise aboard the lovely SMY Ondina, 24 dives
Dates: 21 to 29 September
The Route: Maumere Bay, once the site of a renowned UW world championship, to Alor island through Adonara, Lembata and Pantar, the Komodo sister straits and the reputed Kalabahi Bay in Alor, the kingdom of the Mandarin fish
Price: 1.430 euros/person sharing a cabin (Normal Price: 1.680 euros/pax = 250 euros off).
Nitrox: Free
Contact Symbiosis Custom Travel for more info and to book.