February 13, 2017 – 1:29 pm
7 February 2017 / Della Syahni – Mongabay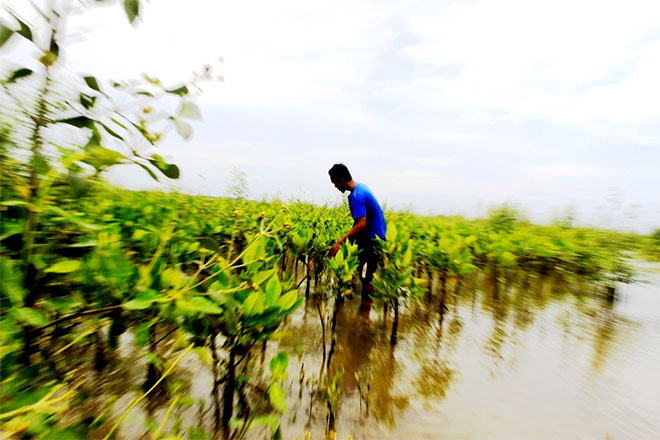 A Pandansari resident tends mangroves plants. Photo by Donny Iqbal
Indonesia's national energy strategy relies on large fossil-fuel plants, but remote villages show alternatives are possible.
An estimated 1.6 million poor households in Indonesia are not connected to the electricity grid.
Indonesia's national energy plan, which targets 35,000 megawatts of new generating capacity, relies primarily on coal and other fossil fuels.
In rural, off-grid areas, the government has shown more support for renewable energy generation, but progress remains slow.
In the meantime, villages like Reno on Flores Island have built their own small-scale renewable energy sources.
In a country where much of the rural population lives off the grid, villages on the Indonesian island of Flores boast their own renewable energy sources — all built by local communities.
Reno village on Flores hosts only 134 homes. The local economy revolves around weaving, raising chickens and selling snacks. Now, a micro-hydroelectric generator is powering the village.
Rural electrification is a persistent and evolving challenge for Indonesia, especially for remote communities on the fringes and uplands of the vast archipelago. By the end of 2015, Indonesia's electrification ratio stood at 88.3 percent, behind Southeast Asian neighbors like Singapore and Thailand. An estimated 1.6 million poor households are not connected to a grid.
Indonesia is currently planning to add 35,000 megawatts to the national power grid, but it is projected to continue to overwhelmingly depend on fossil fuels, with plans to build 117 new coal-fired plants as part of the expansion policy.
Catholic Pastor Marselus Hasan had a different idea for Reno village.
Full story on Mongabay