Indonesia Escapes & Hideaways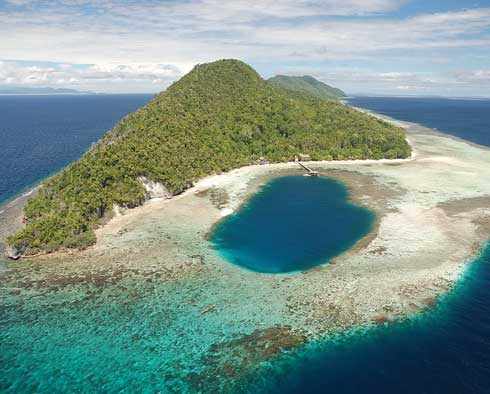 on the beach, Price upon request
Sorido Bay Resort
Raja Ampat, Indonesia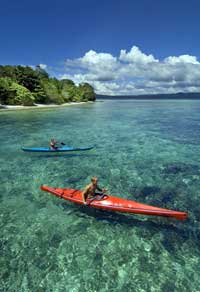 Sorido Bay Resort, opened in early November 2005, remains the most comfortable land-based option to explore the exceptional diving around the Raja Ampat Islands of West Papua.
The resort allows guests to experience Western style comforts in a traditional Papuan setting. Located on a beautiful deep lagoon and white sand beach on Kri Island, the dive resort is central to the most spectacular dive sites in the Raja Ampat.
The house reef is "Cape Kri" where Dr. G.Allen recorded 374 different species of fish during ONE dive - making this not only the richest fish dive site known to science, but also the richest house reef anywhere!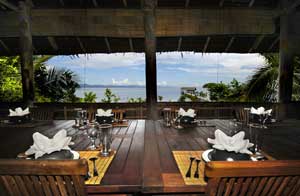 The resort features one main building with a lobby, office, restaurant, kitchen, storage rooms, library /computer-internet room/souvenir shop. There is a spacious dinning area with splendid views over the bay. The attached library offers a range of books on local fish and coral species and also offers internet access.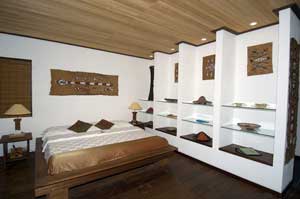 Accommodation comes in 2 styles, Sentani and Kaimana. Each bungalow is decorated/furnished in a special Papuan style using museum quality artifacts, and is equipped with air-conditioning, hot shower, television, refrigerator, etc. All bungalows are spacious and built on the seashore. The Kaimana cottage offers additional space for even more comfort, just like the Sentani cottage the room offers splendid ocean views. The cottage has a separate living room that can also be transformed into an additional bedroom for adults with children. A very popular option for families or two couples vacationing together.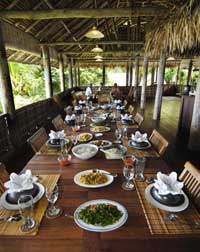 Great attention is given to the smallest detail. The resort is very photographer friendly. Each building has a 60 x 330 cm table especially for camera work with good light, both 110V and 220V built-in electricity outlets, and sink with running water. Every bungalow has a back entrance with a back yard (privacy) with a place to hang wet suits and the like.
The whole resort is built by divers for divers. On the jetty there are fresh water showers and a camera dedicated area (power 220V & 110V and running fresh water).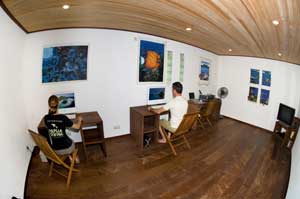 Next to the resort is a Research and Conservation Center. All the buildings are integrated into the natural environment and are partly hidden by lush vegetation. There are many ground orchids and lots of birds within the resort grounds.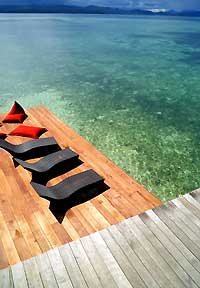 General Info
Name : Sorido Bay Resort
Destination : Indonesia
Location : Raja Ampat, West Papua. Fly to Sorong from Manado or Makassar, then by private boat to Kri Island.
Seasons : Year round
Capacity : 20 (max. no. guests)
Room Facilities
Room Types : "Sentani" which is 60m2 (Double room), total of 5 rooms good for 1-2 guests. "Kaimana" which is 90m2 (Family room), total of 2 rooms, good for up to 3-4 guests.
Showers & toilets : en suite
A/C : Yes
Hot Water : Yes
Entertainment : Diving, Snorkeling, internet, library & TV, beach
Electricity : 110V and 220V, supplied by generator
Safety
Fire warning system : N/A
Fire extinguishers : Yes
Fire escapes : N/A
Dive location & resources
Dive location : Raja Ampat Islands
Dive facilities : Papua Diving
2015 & 2016 Sorido Bay Resort Rates
Rates per person in EUR
Sentani Bungalow
Kaimana Bungalow
Kaimana Bungalow + 1 extra bed, 3pax sharing
Kaimana Bungalow + 2 extra bed, 4pax sharing
7 nights
2,050 Dbl/Twin
2,750 Single
2,180 Dbl/Twin
3,020 Single
1,950
1,880
10 nights
2,800 Dbl/Twin
3,800 Single
2,940 Dbl/Twin
4,140 Single
2,700
2,640
14 nights
3,680 Dbl/Twin
5,080 Single
3,850 Dbl/Twin
5,730 Single
3,580
3,480
17 nights
4,220 Dbl/Twin
5,920 Single
4,420 Dbl/Twin
6,460 Single
4,120
4,020
21 nights
4,930 Dbl/Twin
7,030 Single
5,150 Dbl/Twin
7,670 Single
4,830
4,730
Child sharing 4-7 yrs
25% of adult rate
Child sharing 8-11 yrs
50% of adult rate
Child sharing 12-13 yrs
75% of adult rate
Day of arrival & departure transfers between Sorong & Kri: 7, 14 or 21 nights: Sunday/Sunday; 10 or 17 nights: Thursday/Sunday or Sunday/Wednesday
Prices include accommodation in chosen category, meals, snacks, coffee, water, tea, wifi, registration (Surat Jalan), access to a computer for photo editing, laundry service.
Prices do not include the Raja Ampat Marine Park Entry Permit of IDR500,000.00, valid for one year. Fee of €17 for Saturday "Red Bird of Paradise" excursion to donate to guide/village. Soft drinks and alcoholic beverages
Extras:transfer fee (between Sorong airport & Kri Eco Resort) per person per journey = €75 (for 2015) & €85 (for 2016) for stay less than 7 nights.
Others: Non-scheduled transfer boat charter from Sorong is €550 per way (for 2015) and €600 (for 2016) (this cost can be shared amongst guests on boat). Fast public Ferry to Waisai and pick up from Waisai harbour is €95 (for 2015) and €110 (for 2016) per person per way (ferry does not operate on Indonesian Public holidays, please check)
Returning guests: 1st time returnee receives 15% off, 2nd or more time receives 20% off.
Snorkel packages: by boat, guided, within 10km around the resort.
| | | |
| --- | --- | --- |
| Snorkel Packages/ EUR per excursion per person | 2015 | 2016 |
| 1-5 snorkelling excursions | 22 | 24 |
| 6-10 snorkelling excursions | 21 | 22 |
| 11-15 snorkelling excursions | 20 | 21 |
| 16+ snorkelling excursions | 19 | 20 |
*House reef snorkelling is free of charge, unguided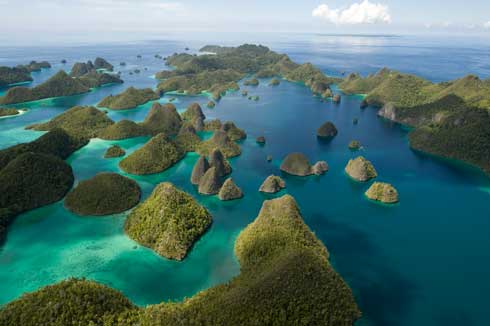 browse all escapes & hideaways
* NOTE. Prices indicated on this website are shown as a guideline only and may be subject to currency fluctuations, banking fees and other changes outside our control. Pricing information is available in
other currencies
.